Continuing the series of Nike Risk Everything, the American based sports giant has launched new ad commercial for 2014 FIFA World Cup. We have seen one of the best advertisement of Nike in past few weeks of same series. Now, the sports kit supplier has introduced an animated version of Nike Risk Everything for their fans in order to promote their football products for upcoming biggest football event. In this article, we are going to share the video of "The Last Game" which is recently launched by Nike.
Nike "The Last Game" Cartoon Ad Commercial Video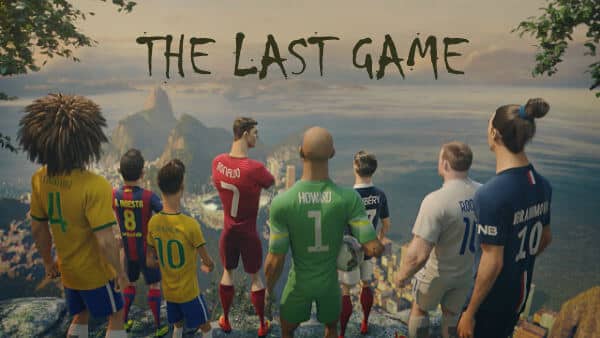 Given below is the new ad video of Nike called "The Last game" for FIFA World Cup 2014. The ad video begins with a match between Nike brand Ambassadors Cristiano Ronaldo, Wayne Rooney, Neymar, Zlatan Ibrahimovic, Franck Ribery, David Luiz Andres Iniesta & their goalkeeper Howard. In the beginning of this ad video, the Risk everything team lost a match over a team of clones & sent out of the business. The Genetic scientists wants to take risk with one of the best footballers like Ronaldo, Rooney, Neymar, Ibrahimovic & others players with team of clones. The video charged up with a new gear. You will also watch your favorite players like Wayne Rooney as a fisherman, Ronaldo as a statue, Neymar as a barber after defeat over soulless clones by a scientists. The Brazilian legend Ronaldo re-build a team of Risk everything & takes all of them to a winner-takes-all match against the clones. He gives them all that equipments for their biggest test to save the football on planet. Along with special effects, there are extremely high ended graphics used in this commercial. Now, Nike is adding some great stories to their advertisements as we have enjoyed in last part of Risk Everything. After a complete training, Ronaldo's team faces team of clones for the last time to decide which team will take all. Last scenes of this ad video are one of the most impressive one that have added extra impressiveness to this commercial. Both team had to score one goal in order to win the game. This means no other goal in last match. Team of soulless souls were about to win, but the Brazilian defender David Luiz made a perfect defense & saved from defeat. The scientist then makes change & inserts more souls to game. Portuguese star striker Cristiano Ronaldo shows his skills, scores the winning goal. Enjoy the 5 minutes cartoon ad video of Nike Risk everything.