Nike Hypervenom Phinish White Orange 2015 Boots Launched: The all new white and orange Nike Hypervenom Phinish 2 football boots have been launched. Few weeks ago we showed you the leaked pictures of Hypervenom phinish 2, and now the cleats are available on stores. These soccer shoes will be worn by Manchester United forward Wayne Rooney and Tottenham Hotspur forward Harry Kane. Let's take a close look on these new boots with pictures and photos.
Nike Hypervenom Phinish White Orange 2015 Boots
New Nike Hypervenom phinish boots are build with Flywire to the Hypervenom which are combined with a super soft NikeSkin upper. This series is one of the most popular series of Nike and they don't want to stop it right now. These new boots are also the successor of Nike Hypervenom phantom boot.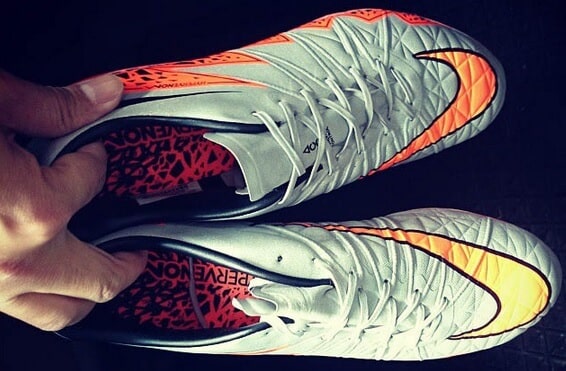 New white orange Hypervenom phinish boots are featured with a traditional low cut ankle design. The second generation of the Nike Hypervenom 2015 Soccer boot introduced the cutting edge dynamic fit collar which are called as Hypervenom phantom 2. In order to create a fresh design on its upper surface, Nike made a striking design which is not identical to most of its cleats. An orange colored Nike swoosh is designed on the upper surface with black colored boundaries. Bottom area is featured with some spikes in orange appearance on which black crystals are there.
A suede like touch is provided on its upper surface which is combined with All Conditions Control. It means the boot provides you better control in dry as well as in wet conditions. Also, there is a super soft one-piece, tongue less Nikeskin upper with Flywire threads for more stability. Talking about outsole of boot, the conical spikes are provided at the bottom for more grip on ground.
Price of Nike Hypervenom Phinish 2 Boots
You can buy these new football boots of Nike at price tag of US$200 or 160 GBP. The Nike Hypervenom phinish 2 white orange football boots are available in some selected outlets. So grab your new boots now.