Nike new Hypervenom 2 white and orange football boots are leaked. We are able to show you some leaked pictures of New Nike Hypervenom 2 Phinish 2015 football boots. According to shoes manufacturer, these will be low cut version of Nike's next gen Hypervenom Phantom 2 Silo.
Nike Hypervenom 2 Phinish Boots
The successor of Phantom soccer cleats are featured with white, grey and orange color. The second generation of the Nike Hypervenom 2015 boots will introduce the cutting edge dynamic fit collar, the new Nike Hypervenom Phinish boots comes with a tradition low cut ankle design.
The all new Hypervenom 2 Phinish boots featured with a super soft one piece, tongue less Nike Skin on the upper surface. Also, a suede like touch that is combined with All conditions control technology for better ball control in all weather conditions.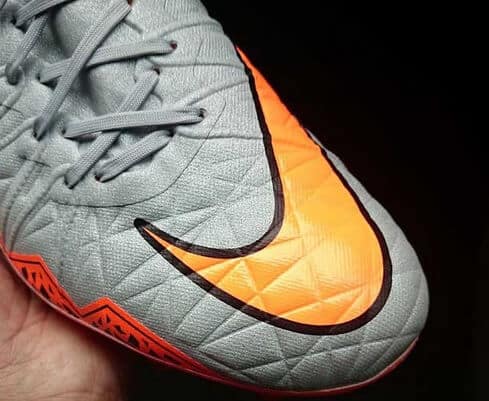 Nike also added a striking orange new graphic pattern on the upper creating a fresh look. A yellow colored Nike swoosh with black boundaries is also designed on the front area of boot. Orange colored spikes with black bots are designed at the bottom. On orange spikes boot series name "Hypervenom" is also written.
Read also: CR 7 New Nike Mercurial Vapor X
Just like on first generation of Hypervenom, these grey boots are also featured with a similar stud configuration. The conical studs of the Nike Hypervenom Phinish cleat are made for more agility on firm grounds. Laces are also in grey appearance.
Read also: Nike Indoor football boots
Sole of white / orange / grey Hypervenom boots is featured with 10 spikes in. A black colored Nike swoosh printed on sole. Inside boots, "Hypervenom" trademark is written with black applications on orange background.
There are no confirmations about the release of the football boots, but it is expected that they may hit the stores in summer 2015. How much you like them?