Nepal vs India second leg 2018 FIFA World Cup Pre-qualifier football match preview with time and TV telecast channels information.
The Indian National Football Team begun their 2018 World Cup qualification round with first win over Nepal in first leg of first round. Now, the return leg is scheduled to be held at Dasarath Rangasala stadium located in Kathmandu, the capital of Nepal. The Blue Tigers have lead of two home goals but they will be surely looking to register another win. Qatar referee Khamis Al Marri will be the main official of this match.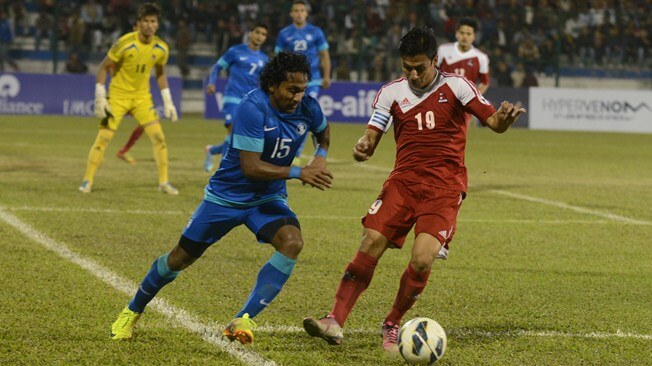 Nepal vs India 2nd Leg Time, TV Telecast Channels
MATCH SCHEDULE
Competition
2018 FIFA World Cup Qualifiers
Date
17 Mar [IST & NPT]
Time
3:00 pm [India], 3:15 pm [Nepal]
Stadium
Dasarath Rangasala Stadium
Seating capacity
17,800 spectators
Home team
Nepal
Away team
India
Round
First round [2nd leg]
Telecast channels
Nepal Channel Kantipur TV, Kantipur Gold
Nepal vs India 2018 World Cup Qualifier Match Preview
Current form

Possible Line-ups

Predictions
Nepal: LLLLL
India: DWDLW
Nepal: K. Chemzong, B. Maharajan, S. Rai, R. Chand, S. Thapa, Rabin Shrestha, B. Silwal, J. Shreshtha, B. Lama, B. Khawas, B. Magar.
India: S. Pal, S. Dey, Arbab Mondal, P. Kotal, S. Jhingan, L. Rodrigues, L. Ralte, F. Fernandes, E. Lyngdoh, S. Chhetri, Robin singh.
Live Streaming link of Nepal vs India 2nd leg qualifier: click here
In first leg of first round, Sunil Chhetri was the man of the match who scored both goals for his side. They player had opportunity to score hat-trick when he got the opportunity to score third via penalty. He took good penalty, but the goalkeeper made an excellent save.
The football ground of Kathmandu have seating capacity of more than than 17,000 spectators. It is expected that this ground will be jam packed for the second leg. In first leg, total of 11,200 spectators witnessed the first leg between India and Nepal.
Total of five players made international debut against Nepal. These are Eugeneson Lyngdoh, Saumik Dey, Sandesh Jhingan and Pritam Kotal making it to the starting line-up while Jackichand Singh coming in as a substitute in the 57th minute.
Winning team with aggregate score will qualify for second round where they will play group stage round-robin matches. Second round will be played between 40 teams which are divided into 8 groups [5 teams each]. Here is the schedule of 2018 World Cup Asia qualifier.
What do you think which team will make it to the second round of