Nepal vs India second leg 2018 FIFA World Cup Pre-qual­i­fi­er foot­ball match pre­view with time and TV tele­cast chan­nels inform­a­tion.
The Indi­an Nation­al Foot­ball Team begun their 2018 World Cup qual­i­fic­a­tion round with first win over Nepal in first leg of first round. Now, the return leg is sched­uled to be held at Dasarath Ran­gas­ala sta­di­um loc­ated in Kath­mandu, the cap­it­al of Nepal. The Blue Tigers have lead of two home goals but they will be surely look­ing to register anoth­er win. Qatar ref­er­ee Kha­mis Al Mar­ri will be the main offi­cial of this match.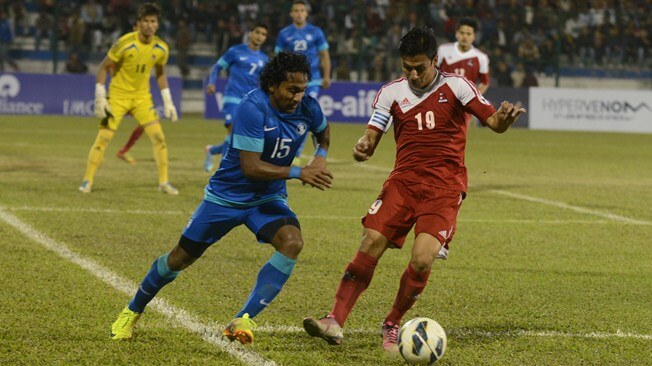 Nepal vs India 2nd Leg Time, TV Telecast Channels
MATCH SCHEDULE
Com­pet­i­tion
2018 FIFA World Cup Qual­i­fi­ers
Date
17 Mar [IST & NPT]
Time
3:00 pm [India], 3:15 pm [Nepal]
Sta­di­um
Dasarath Ran­gas­ala Sta­di­um
Seat­ing capa­city
17,800 spec­tat­ors
Home team
Nepal
Away team
India
Round
First round [2nd leg]
Tele­cast chan­nels
Nepal Chan­nel Kan­ti­pur TV, Kan­ti­pur Gold
Nepal vs India 2018 World Cup Qualifier Match Preview
Cur­rent form

Pos­sible Line-ups

Pre­dic­tions
Nepal: LLLLL
India: DWDLW
Nepal: K. Chemzong, B. Maha­ra­jan, S. Rai, R. Chand, S. Thapa, Rabin Shrestha, B. Sil­w­al, J. Shresh­tha, B. Lama, B. Khawas, B. Magar.
India: S. Pal, S. Dey, Arbab Mon­dal, P. Kotal, S. Jhingan, L. Rodrig­ues, L. Ralte, F. Fernandes, E. Lyn­g­doh, S. Chhetri, Robin singh.
Live Stream­ing link of Nepal vs India 2nd leg qual­i­fi­er: click here
In first leg of first round, Sunil Chhetri was the man of the match who scored both goals for his side. They play­er had oppor­tun­ity to score hat-trick when he got the oppor­tun­ity to score third via pen­alty. He took good pen­alty, but the goal­keep­er made an excel­lent save.
The foot­ball ground of Kath­mandu have seat­ing capa­city of more than than 17,000 spec­tat­ors. It is expec­ted that this ground will be jam packed for the second leg. In first leg, total of 11,200 spec­tat­ors wit­nessed the first leg between India and Nepal.
Total of five play­ers made inter­na­tion­al debut against Nepal. These are Eugeneson Lyn­g­doh, Saumik Dey, Sandesh Jhingan and Prit­am Kotal mak­ing it to the start­ing line-up while Jackichand Singh com­ing in as a sub­sti­tute in the 57th minute.
Win­ning team with aggreg­ate score will qual­i­fy for second round where they will play group stage round-robin matches. Second round will be played between 40 teams which are divided into 8 groups [5 teams each]. Here is the sched­ule of 2018 World Cup Asia qual­i­fi­er.
What do you think which team will make it to the second round of