To promote football in India, we are taking baby step in our home town Naya Gaon. For the first time, we are organizing our first ever football tournament "Naya Gaon Super Cup". Our whole team is super excited to host this campaign to explore football talent of India. The main motive of this tournament is to spread this world's most popular sport in every corner of India.
Shortcuts Format Venue Fixtures Winning Prize Terms & Conditions
Tournament Format of Naya Gaon Super Cup
It is being sponsored by Nayagaon.in and Footballwood.com. The tournament will be a knockout tournament of eight teams. Winning team will proceed further which means losing team will be knocked out of the competition. As it is our first campaign, we have planned to organize a short competition. All matches will be played on Saturday. Every match will be consist of two halves [each of 30 min.] After first half, 15 minutes of rest will be given. No extra time will be given after injury time of second half. If both teams fails to score or finishes at same score, then penalties will decide winner of particular game.
Venue of Tournament
The Multipurpose ground of Rajendra Park [Sector 1 near Naya Gaon — Chandigarh barrier] will host all matches of Naya Gaon Super Cup. Have a look on Google map below for directions:
Tournament Date Fixtures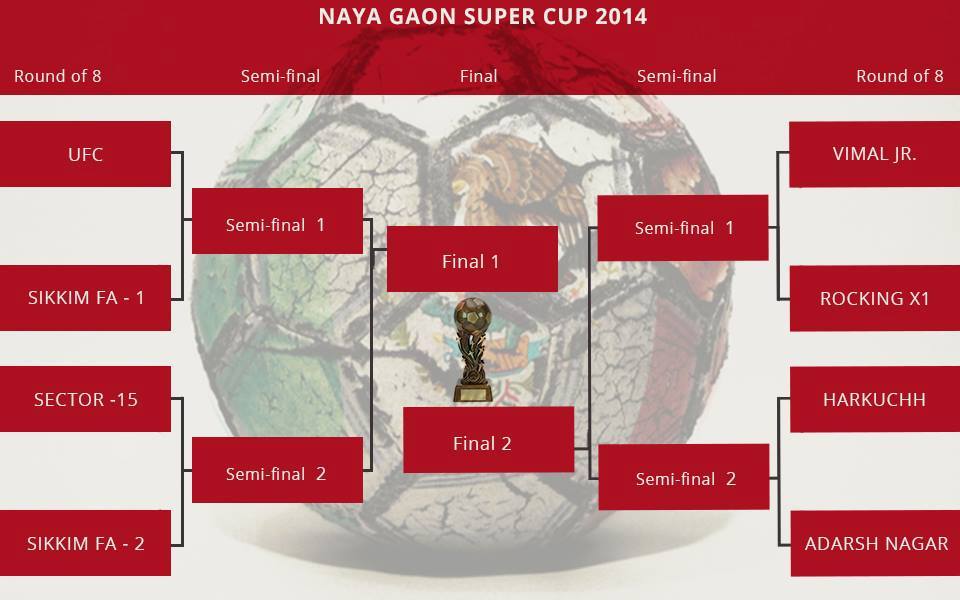 For the fixtures of quarter final round, a draw of 8 teams was conducted at Rajendra Park. All eight tams got their rivals for the first round. Given below are the fixtures of Quarter final round. Match 1: UFA vs Sikkim FA 1 [11 Oct, Saturday morning 7:00am] Match 2: Sikkim FA vs Sector 15 [11 Oct, Saturday morning 9:00am] Match 3: Vimal Jr. vs Rocking XI [11 Oct, Saturday afternoon 2:00pm] Match 4: Harkuchh team vs Adarsh Nagar [11 Oct, Saturday evening 4:00pm] As it is tournament of eight teams, therefore first round will be quarter final round in which 8 teams will face their respective rivals and winning team will book ticket of semi final round. All Quarter finals will be played on 11 October 2014 [Saturday] at Rajendra Park. Semi finals will be played on next Saturday [18 October 2014] with final match in evening.
Winning Prize & Trophies
Winners and runners-up of this tournament will be awarded with winning prize money and trophy also. We will also honour the top goal scorer with golden boot award and best player with Golden ball award.
Winners: Trophy + ₹2,100/-
Runner-ups: ₹500/-
Top Goal Scorer: Naya Gaon Super Cup Golden Boot Trophy
Best Player: Naya Gaon Super Cup Golden Ball Trophy
Terms & Conditions
Kindly read all terms and conditions carefully before playing in this tournament
Kindly arrange the jersey of your team for better vision. If you can't afford it, then you can still play. So arrange same colour.

None player is allowed to play bare footed. Each and every player must bring football cleats to avoid unnecessary injuries.

Each and Every player including captain of the team is playing this tournament at his own risk. We'll be not responsible for any serious injuries. But first aid will be provided to injured player instantly.

Any player above 13 years of age is allowed to player. A player below 13 years can play with a signed application from his parents.
Fore more information, Kindly contact us at 9781691585 [Sanjeev Singh] or 9988334421 [Krishan Kumar]. So start your preparations and show the best of you. Wish you very best of luck!!!