Adidas has unveiled new football kits of Mexico National football team for FIFA World Cup 2014. After launching new kits for other teams, the German based sports brand has launched new kit for national team. Both home as well as away Kits uniforms are revealed which will be used in summer World Cup of Brazil. Adidas has revealed new kits for Spain, Germany, Argentina & now kits of Mexico are launched.
New Home Kit of Mexico for World Cup 2014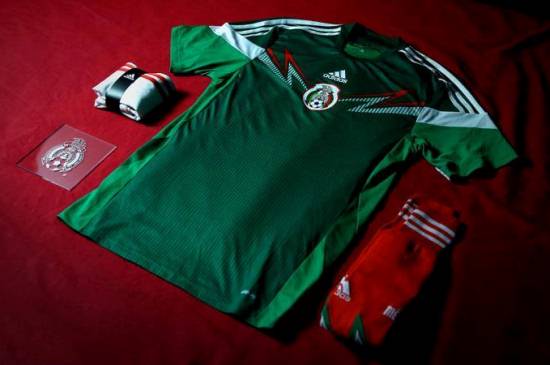 Jersey: The all new home jersey of Mexico is green in major appearance. The kit supplier designed this new kit comes with 2 tone green base & features an impressive front graphic which represents the power of Mexico. At the front of Jersey, thin vertical stripes are made from chest to bottom of waist. Adidas has designed this jersey quite different from that of other teams. On shoulders, 3 stripes of Adidas in white color starting from neck to center of arms. On this shirt, the logo of Mexico football team is made at the center of chest. Above this logo trademark of Adidas is designed. There are some red colored appearance in zig-zag manner from center of chest to shoulders. At the back of collars, the name of national team is written in capital letters in white appearance. Some horizontal stripes white & red color are also made on back of shoulders. The jersey looks cool & is really different in layout from other shirts. Shorts: The shorts are in white color with combination of red applications. Stripes are designed with red color & logo of Adidas is also in same appearance. Badge of national team is punched at the bottom of short. Socks are also in red color with addition of white colors.
Mexico Away Kit for 2014 World Cup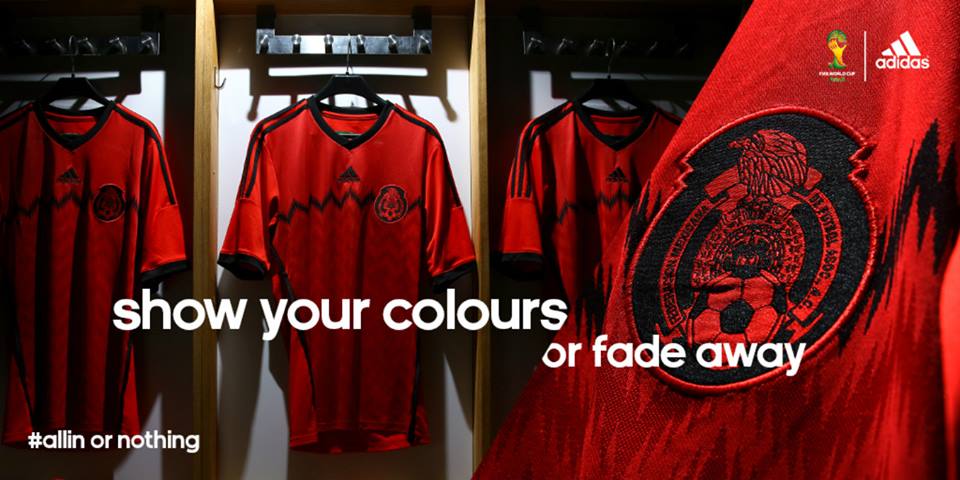 The away kit is looking very stylish & players of Mexico also appreciate this new jersey for world cup 2014. The away Jersey is red in color with combination of black color which is used for stripes & other designs. It gives orange appearance at some extent when looked from distance. Stripes on shoulders are also in black color. Black colored Adidas logo is at the center of chest with horizontal zig-zag appearance which is also in same appearance. The ends of arms are also in black applications. Like home Jersey, name of National team in capital letters is also written in white color at the back of Jersey. Shorts are in Black color as major appearance with red stripes. The Jersey of Goalkeeper is in green color with applications of black colors. Colors of logo, stripes are in black appearance in goalkeeper kit. So how much you like the all new kit of Mexico for FIFA World Cup 2014 which will start from 12 June.