After the com­ple­tion of qual­i­fic­a­tion matches & draw of all 32 teams, FIFA has announced match sched­ule of World cup. The cere­mony of tour­na­ment will be organ­ized on 12 June 2013 & from next day the world tour­na­ment will begin. On 1st match day, 2 matches will be played one of which is of host team & the oth­er one is of Mex­ico Vs Cameroon. The home team Brazil will play first match against Croa­tia in Sao Paulo. So here we are shar­ing all match date of FIFA World Cup 2014.
Match schedule of FIFA World Cup 2014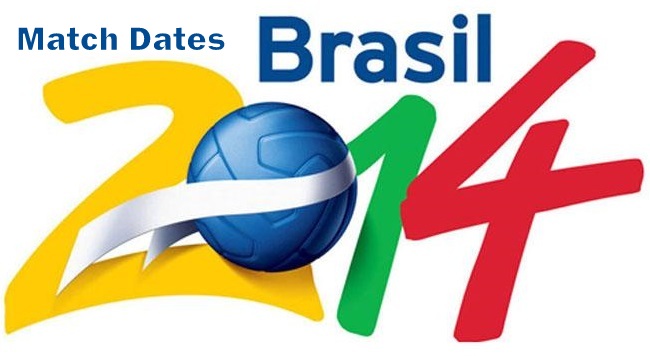 This world cup is con­sidered as the best tour­na­ment right from first match. The cur­rent world Cham­pi­ons Spain will play its first match of group stage against cur­rent vice cham­pi­ons Neth­er­lands. Neth­er­lands faced close loss in the finals of last world cup which was organ­ized in South Africa. So it's great to see both teams once again against each oth­er right from first match.
From 13 June 2013, Group stage matches will be played & on 26 June, last match will be played. That means group matches will end on 26 June.
2 days later, the round of 16 will be held in Belo Hori­zonte & Rio de Jan­erio. The qual­i­fied teams form group stage will enter into Round of 16.
On July 4 & July 5 2013, matches of quarter finals will be played. On July 8 & 9, the semi finals will be played.
On 13 July Sunday, final match between the two final­ists will be played & the cham­pi­on of world cup will be awar­ded with the golden trophy.
Dates & Venues of World Cup 2014
Match
Date
Head to Head
Ven­ue
GROUP A

1

13–06

Brazil Vs Croa­tia

Sao Paulo

2

13–06

Mex­ico Vs Cameroon

Nat­al

17

18–06

Brazil Vs Mex­ico

Fortaleza

18

18–06

Cameroon Vs Croa­tia

Manaus

33

24–06

Cameroon Vs Brazil

Bra­sil­ia

34

24–06

Croa­tia Vs Mex­ico

Recife

GROUP B

3

14–16

Spain Vs Neth­er­lands

Sal­vador

4

14–06

Chile Vs Aus­tralia

Cuiaba

19

19–06

Spain Vs Chile

Rio de Jan­erio

20

18–06

Aus­tralia Vs Neth­er­lands

Porto Alegre

35

23–06

Aus­tralia Vs Spain

Cur­it­iba

36

23–06

Neth­er­lands Vs Chile

Sao Paulo

GROUP C

5

14–06

Colom­bia Vs Greece

Belo Hori­zonte

6

15–06

Cote d'Ivor­ie Vs Japan

Recife

21

19–06

Colom­bia Vs Cote d'Ivor­ie

Bra­sil­ia

22

20–06

Japan Vs Greece

Nat­al

37

25–06

Japan Vs Colom­bia

Cuiaba

38

25–06

Greece Vs Cote d'Ivor­ie

Fortaleza

GROUP D

7

15–06

Uruguay Vs Costa Rica

Fortaleza

8

15–06

Eng­land Vs Italy

Manaus

23

20–06

Uruguay Vs Eng­land

Sao Paulo

24

20–06

Italy Vs Costa Rica

Recife

39

24–06

Italy Vs Uruguay

Nat­al

40

24–06

Costa Rica Vs Eng­land

Belo Hori­zonte

GROUP E

9

15–06

Switzer­land Vs Ecuador

Bra­sil­ia

10

16–16

France Vs Hon­dur­as

Porto Alegre

25

21–06

Switzer­land Vs France

Sal­vador

26

21–06

Hon­dur­as Vs Ecuador

Cur­it­iba

41

26–06

Hon­dur­as Vs Switzer­land

Manaus

42

26–06

Ecuador Vs France

Rio de Jan­erio

GROUP F

11

16–06

Argen­tina Vs Bos­nia Herzegov­ina

Rio de Jan­erio

12

17–06

Iran Vs Niger­ia

Cur­it­iba

27

21–06

Argen­tina Vs Iran

Belo Hori­zonte

28

22–06

Niger­ia Vs Bos­nia Herzegov­ina

Cuiaba

43

25–06

Niger­ia Vs Argen­tina

Porto Alegre

44

25–06

Bos­nia Herzegov­ina Vs Iran

Sal­vador

GROUP G

13

16–06

Ger­many Vs Por­tugal

Sal­vador

14

17–06

Ghana Vs USA

Nat­al

29

22–06

Ger­many Vs Ghana

Fortaleza

30

23–06

USA Vs Por­tugal

Manaus

45

26–06

USA Vs Ger­many

Recife

46

26–06

Por­tugal Vs Ghana

Bra­sil­ia

GROUP H

15

17–06

Bel­gi­um Vs Alger­ia

Belo Hori­zonte

16

18–06

Rus­sia Vs Korea Repub­lic

Cuiaba

31

22–06

Bel­gi­um Vs Rus­sia

Rio de Jan­erio

32

23–06

Korea Repub­lic Vs Alger­ia

Porto Alegre

47

27–06

Korea Repub­lic Vs Bel­gi­um

Sao Paulo

48

27–06

Alger­ia Vs Rus­sia

Cur­it­iba