After the completion of qualification matches & draw of all 32 teams, FIFA has announced match schedule of World cup. The ceremony of tournament will be organized on 12 June 2013 & from next day the world tournament will begin. On 1st match day, 2 matches will be played one of which is of host team & the other one is of Mexico Vs Cameroon. The home team Brazil will play first match against Croatia in Sao Paulo. So here we are sharing all match date of FIFA World Cup 2014.
Match schedule of FIFA World Cup 2014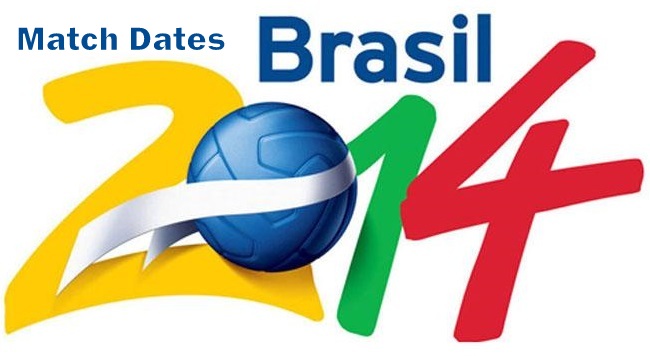 This world cup is considered as the best tournament right from first match. The current world Champions Spain will play its first match of group stage against current vice champions Netherlands. Netherlands faced close loss in the finals of last world cup which was organized in South Africa. So it's great to see both teams once again against each other right from first match. From 13 June 2013, Group stage matches will be played & on 26 June, last match will be played. That means group matches will end on 26 June. 2 days later, the round of 16 will be held in Belo Horizonte & Rio de Janerio. The qualified teams form group stage will enter into Round of 16. On July 4 & July 5 2013, matches of quarter finals will be played. On July 8 & 9, the semi finals will be played. On 13 July Sunday, final match between the two finalists will be played & the champion of world cup will be awarded with the golden trophy.
Dates & Venues of World Cup 2014
Match
Date
Head to Head
Venue
GROUP A

1

13–06

Brazil Vs Croatia

Sao Paulo

2

13–06

Mexico Vs Cameroon

Natal

17

18–06

Brazil Vs Mexico

Fortaleza

18

18–06

Cameroon Vs Croatia

Manaus

33

24–06

Cameroon Vs Brazil

Brasilia

34

24–06

Croatia Vs Mexico

Recife

GROUP B

3

14–16

Spain Vs Netherlands

Salvador

4

14–06

Chile Vs Australia

Cuiaba

19

19–06

Spain Vs Chile

Rio de Janerio

20

18–06

Australia Vs Netherlands

Porto Alegre

35

23–06

Australia Vs Spain

Curitiba

36

23–06

Netherlands Vs Chile

Sao Paulo

GROUP C

5

14–06

Colombia Vs Greece

Belo Horizonte

6

15–06

Cote d'Ivorie Vs Japan

Recife

21

19–06

Colombia Vs Cote d'Ivorie

Brasilia

22

20–06

Japan Vs Greece

Natal

37

25–06

Japan Vs Colombia

Cuiaba

38

25–06

Greece Vs Cote d'Ivorie

Fortaleza

GROUP D

7

15–06

Uruguay Vs Costa Rica

Fortaleza

8

15–06

England Vs Italy

Manaus

23

20–06

Uruguay Vs England

Sao Paulo

24

20–06

Italy Vs Costa Rica

Recife

39

24–06

Italy Vs Uruguay

Natal

40

24–06

Costa Rica Vs England

Belo Horizonte

GROUP E

9

15–06

Switzerland Vs Ecuador

Brasilia

10

16–16

France Vs Honduras

Porto Alegre

25

21–06

Switzerland Vs France

Salvador

26

21–06

Honduras Vs Ecuador

Curitiba

41

26–06

Honduras Vs Switzerland

Manaus

42

26–06

Ecuador Vs France

Rio de Janerio

GROUP F

11

16–06

Argentina Vs Bosnia Herzegovina

Rio de Janerio

12

17–06

Iran Vs Nigeria

Curitiba

27

21–06

Argentina Vs Iran

Belo Horizonte

28

22–06

Nigeria Vs Bosnia Herzegovina

Cuiaba

43

25–06

Nigeria Vs Argentina

Porto Alegre

44

25–06

Bosnia Herzegovina Vs Iran

Salvador

GROUP G

13

16–06

Germany Vs Portugal

Salvador

14

17–06

Ghana Vs USA

Natal

29

22–06

Germany Vs Ghana

Fortaleza

30

23–06

USA Vs Portugal

Manaus

45

26–06

USA Vs Germany

Recife

46

26–06

Portugal Vs Ghana

Brasilia

GROUP H

15

17–06

Belgium Vs Algeria

Belo Horizonte

16

18–06

Russia Vs Korea Republic

Cuiaba

31

22–06

Belgium Vs Russia

Rio de Janerio

32

23–06

Korea Republic Vs Algeria

Porto Alegre

47

27–06

Korea Republic Vs Belgium

Sao Paulo

48

27–06

Algeria Vs Russia

Curitiba