Marco Reus Puma evoSpeed Football Boots: Puma has unveiled the all new football shoes Puma Evo-speed for their brand ambassador Marco Reus. The German and Dortmund footballer will be seen in completely new soccer shoes in next games. These new cleats are inspired from Borussia Dortmund colors as blue and black appearances are visible on them. Let's have a close look on new Marco Reus football boots designed by Puma.
Marco Reus Puma evoSpeed Football Boots
The all new soccer cleats of Marco Reus are featured with black and yellow tone just like Borussia Dortmund. Puma has unveiled just the kid version of these boots. It is also stated that this is the first ever Marco Reus signature football boots ever released by Puma. Related: Lionel Messi 15.1 Ice Football Boots The design of the out step of the new Puma evo speed Marco Reus kids reminds us of some of the classic Puma Boots from the 1970s. It may look like old design, but remember, old is gold. Black and yellow colors are brilliantly featured on new Puma boots with a stylish text written on sides of boots. Related: Adidas 99 gram Adidas Football Boots New Puma Evo speed boots of Marco Reus are featured with a soft synthetic leather upper with tradition stitching. Tongue of boot is designed with black, yellow and white appearance with logo of Puma at the center of boot. Laces are in yellow and a single wide stripe dividing boot into two halves is also designed on the outer edge. Spikes are in black with yellow endings. Take a look on its back heel and you will notice Dortmund's player name "Marco Reus" above which his signature "MR" is also written. Related: Puma evoPower Graphic Dragon Boots
Price of Marco Reus Puma evo Speed Boots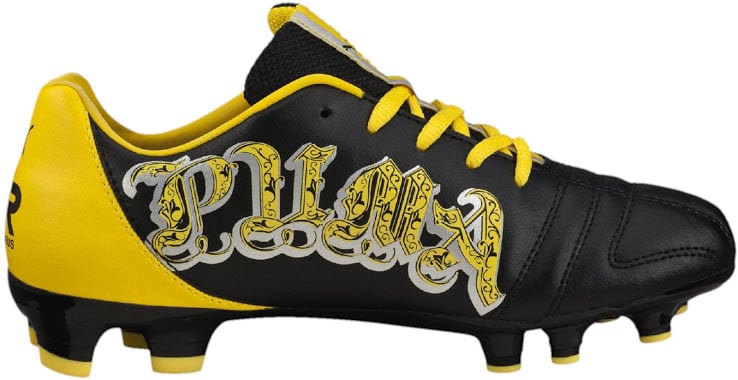 The price of Marco Reus Puma Evo Speed black and yellow Borussia Dortmund boots is $50 for kids version. Did you like the new launch of Puma? Let's have a good conversation in the comment box below this article.