The German midfielder Marco Reus extended his current contract with Borussia Dortmund until 2019 who was linked with Spanish and British football clubs in last transfer window. The player was the most active person in winter transfer of 2015. Lots of football giants showed interests in signing him, but none of them were were able to complete his move away from Signal Iduna Park.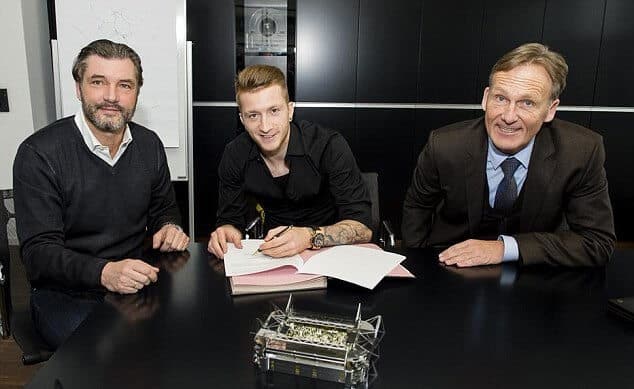 Marco Reus Extended His Contract With Dortmund Until 2019
The player who missed last FIFA World Cup due to injury was still favorite of clubs like Real Madrid, Barcelona, Manchester United, Manchester City, Arsenal. On Tuesday [10 Feb 2015], he signed a new contract that will keep him to play for Borussia Dortmund until 2019.
In a club interview, Marco Reus said "I am happy to have extended the contract. When I came here [in 2012] I said I wanted to do things. I have the feeling that it's not over even in this situation. We fall together and we win together, it is a decision for life. I did not think about it that long for no reason."
Borussia Dortmund also tweeted on twitter with only a hashtag "#reus2019" that represents he will be with BVB until 2019.
#reus2019 pic.twitter.com/GdDPJCjh7p — Borussia Dortmund (@BVB) February 10, 2015
Hans-Joachim Watzke, the managing director of Dortmund compared the impact and legacy that Reus could have at the club to that of Steven Gerrard at Liverpool, while the sporting director, Michael Zorc, also expressed his delight. Michael Zorc said "He has shown that his heart beats for his hometown and for his hometown club with this decision. He is very important part of Borussia Dortmund's future."
After 20 matches in Bundesliga 2014–15, Borussia Dortmund are at sixteenth spot, only on point ahead of VfB Stuttgart who are at last spot. After singing his contract extension, Reus proved that who much he loves to play for the club for which he is currently playing for. It is an extraordinary step of faith by Marco Reus to commit to Dortmund who are in relegation zone with almost negligible chances of qualifying for 2015–16 UEFA Champions league.