Before kick off of Premi­er league sea­son 2014, Man United are sched­uled for United States tour. Dur­ing USA tour, the club will face oth­er club in upcom­ing friend­lies games start­ing from 23rd of July. After a dis­astrous sea­son, the club is look­ing to regain its crown. Have a look on 2014 pre sea­son sched­ule of Manchester United & tour of USA.
Manchester United Pre Season 2014 Fixtures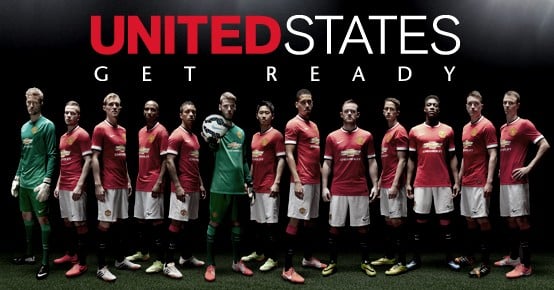 | | | | |
| --- | --- | --- | --- |
| Oppon­ent | Date | Time | Loc­a­tion |
| LA Galaxy | 23 Jul 2014 | 10:30 pm | Rose Bowl, Pas­adena, CA |
| AS Roma | 26 Jul 2014 | 04:10 pm | Sports Author­ity Field, Den­ver, CO |
| Inter Mil­an | 29 Jul 2014 | 07:00 pm | Fed­Ex Field, Wash­ing­ton D.C. |
| Real Mad­rid | 2 Aug 2014 | 04:05 pm | Michigan Sta­di­um, Ann Arbor, MI |
| TBD | 4 Aug 2014 | 08:00 pm | Sun Life Sta­di­um, Miami, FL |
Man United new man­ager Louis Van Gall's first test will be to face LA Galaxy. The match is sched­uled to be played on 23rd. Rose Bowl sta­di­um will host this match. The Dutch man­ager did not include Robin Van Per­sie in this tour & decided to allow him for rest after Brazil World Cup.
He fin­ished sum­mer World Cup at 3rd spot after defeat­ing host nation Brazil 3–0 in 3rd place match. Luke Shaw & Rafael Pereira da Silva are strong names who could fill vacant place of Van Per­sie dur­ing USA tour.
Manchester United fin­ished last sea­son of Premi­er league at sev­enth spot. The failed not only to qual­i­fy for Cham­pi­ons league of 2014–15 but also failed to book tick­et of UEFA Europa League. Red Dev­ils fans have huge expect­a­tions from Louis Van gall.
The Bel­gian mid­field­er Fel­lani & Car­rick would play the role of mid­field­er. The Span­ish play­er Juan Mata is also good option for Dutch coach who had decent last sea­son with the Red Dev­ils.
Last match of Manchester United is not sched­uled so far. Van Gall's tough tests would be against AS Roma, Inter Mil­an & Real Mad­rid. While, look­ing on recent sign­ings of Real Mad­rid in names of Toni Kroos & James Rodrig­uez, it would be tough task for new man­ager to pre­pare a squad for new sea­son of Premi­er league.