Before kick off of Premier league season 2014, Man United are scheduled for United States tour. During USA tour, the club will face other club in upcoming friendlies games starting from 23rd of July. After a disastrous season, the club is looking to regain its crown. Have a look on 2014 pre season schedule of Manchester United & tour of USA.
Manchester United Pre Season 2014 Fixtures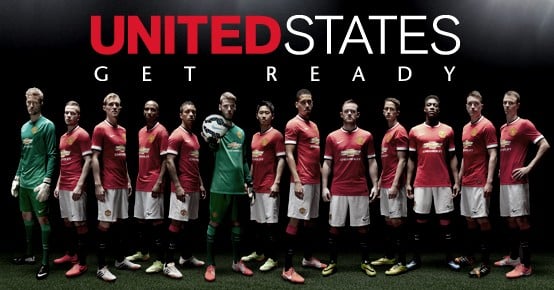 | | | | |
| --- | --- | --- | --- |
| Opponent | Date | Time | Location |
| LA Galaxy | 23 Jul 2014 | 10:30 pm | Rose Bowl, Pasadena, CA |
| AS Roma | 26 Jul 2014 | 04:10 pm | Sports Authority Field, Denver, CO |
| Inter Milan | 29 Jul 2014 | 07:00 pm | FedEx Field, Washington D.C. |
| Real Madrid | 2 Aug 2014 | 04:05 pm | Michigan Stadium, Ann Arbor, MI |
| TBD | 4 Aug 2014 | 08:00 pm | Sun Life Stadium, Miami, FL |
Man United new manager Louis Van Gall's first test will be to face LA Galaxy. The match is scheduled to be played on 23rd. Rose Bowl stadium will host this match. The Dutch manager did not include Robin Van Persie in this tour & decided to allow him for rest after Brazil World Cup. He finished summer World Cup at 3rd spot after defeating host nation Brazil 3–0 in 3rd place match. Luke Shaw & Rafael Pereira da Silva are strong names who could fill vacant place of Van Persie during USA tour. Manchester United finished last season of Premier league at seventh spot. The failed not only to qualify for Champions league of 2014–15 but also failed to book ticket of UEFA Europa League. Red Devils fans have huge expectations from Louis Van gall. The Belgian midfielder Fellani & Carrick would play the role of midfielder. The Spanish player Juan Mata is also good option for Dutch coach who had decent last season with the Red Devils. Last match of Manchester United is not scheduled so far. Van Gall's tough tests would be against AS Roma, Inter Milan & Real Madrid. While, looking on recent signings of Real Madrid in names of Toni Kroos & James Rodriguez, it would be tough task for new manager to prepare a squad for new season of Premier league.