Nike has launched last kits for Manchester United. After launching home & away kit, Nike has now launched third kit of Man United for season 2014–15. With simplicity in design, the red devils will wear two blue tones kits from new season. All kits of Man United are now available for online purchase also. Have a look on new third kits uniform of Man United.
Manchester United 2014–15 Third Kits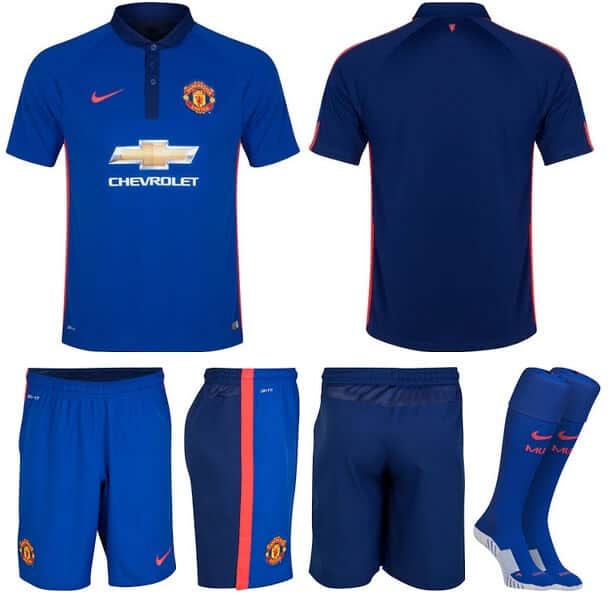 Jersey: The new third kit of Manchester United featured with blue as main color. Actually, 2 tones of blue appearances are used for its manufacture. At the front of jersey, the logo of red devils is designed on left chest & that of Nike is on right chest in red appearance. After new deal with Chevrolet, the sponsor logo of new sponsor company is available at the center of t‑shirt. On both sides jersey, a single thin lining is provided which is giving an impressive physical appearance. The collars are made in classical way & this time three buttons are also provided on collars. Shorts & Socks: Shorts are also made with same color combination as that of t‑shirts. These new shorts are designed with striking orange applications on sides. orange colored Nike logo & MUFC is written on blue background of socks. All are in rich and vibrant on the front & dark tone at on the back side.
Manchester United 2014–15 Goalkeeper Kit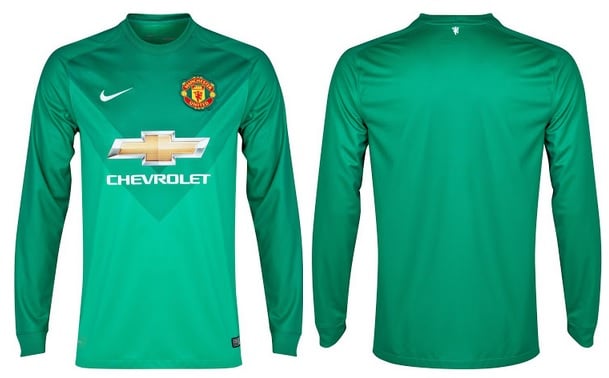 New home kit of Man United Goalkeeper kit is designed in green & black appearance. On its front V‑shaped triangular pattern is also designed. Logo of Nike is in white color on right chest. The away kit of goalkeeper for 2014–15 season is available in two shades of black color. Remaining layout is same & there is just color difference in it. So buy new kits of Manchester United today & support your team to win maximum titles this season.