The kit supplier of Manchester City Nike has unveiled new home as well as away kits of Manchester City for season 2014–15. On 25th of July, the new away kits of Man City were unveiled which are now available for purchase also. With minor changes in home & major changes in away kits, the current champions of Premier league 2014–15 are ready for another tough season. Go through these new kits of Man City.
Manchester City 2014–15 New Home Kits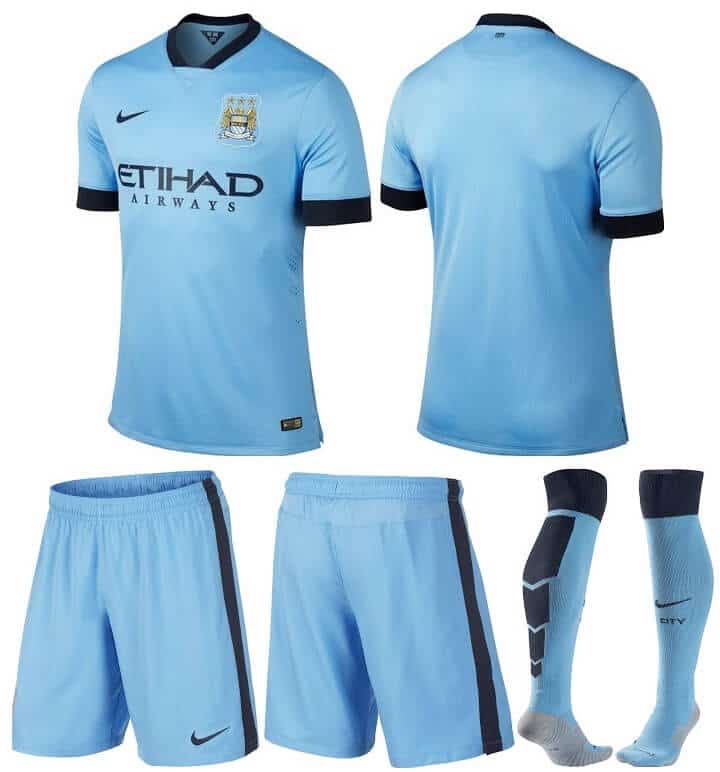 Jersey: As expected the home jersey of the sky blues is designed with blue as main- color which is featured with black applications. Inside the back, there is a text in dark blue pennant in bold statement which is "We are City". The collars are in classical designed in black appearance in round shape. At the front of jersey, name of sponsor company "Etihad Airways" is written in capital black letters. Along with sponsor name, club badge is also there on left chest. Logo of kit supplier Nike is also marked on right chest in black application. The sleeves ends are provided with round shapes in black application. On back of it, player name & number is written. Shorts & Socks: Shorts are in same appearance as that of jersey. There is a single wide stripe starting from waist to bottom of short in black. Both club & kit supplier logos are also designed on bottom of every leg. Starting from bottom, socks are made with combination of sky blue & black. Four V‑shaped layouts are also available on back side of socks.
Manchester City 2014–15 Away Kits
Away kits are quite impressive in terms of color selection & layouts. It is great combination of dark blue & light blue. Color becomes dark when you take a look from bottom to top of away T‑shirt. Minor black color of home jersey is replaced by yellow one which is used for sponsor logos. Shorts are also in navy blue with applications of yellow colors. All additional designs are on same spot as they are designed in home kits. The current champions will use these kits from next match onwards.
New Goalkeeper Kit of Man City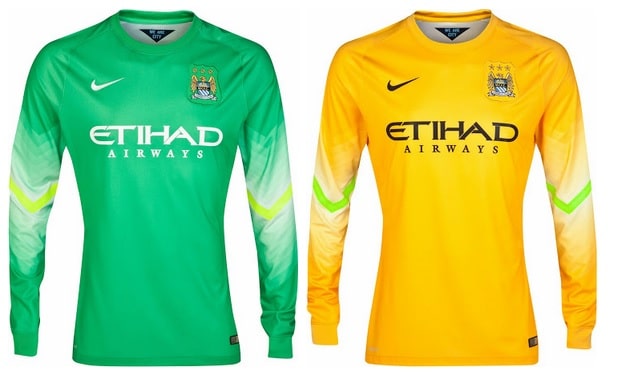 2 Goalkeeper kits are launched by Nike which are available in green and yellow applications. The layout is almost same in the manufacture its manufacture. So this was all about the new kits of Manchester City for season 2014–2015. There are no words about the third kit. But it is expected that, third kit will be launched in second week of August.