New Balance Liverpool kits for 2015–16 season revealed: On 10th April 2015, New Balance officially unveiled new kits of Liverpool for next season. Few weeks ago, we showed you the leaked kits of Liverpool 14–15 and now the official kits of British clubs are revealed. New Balance is probably the first club that have unveiled new kits for next season. These are featured with classical kit design with minor changes on current uniform.
Liverpool New Balance 2015–16 Home Jersey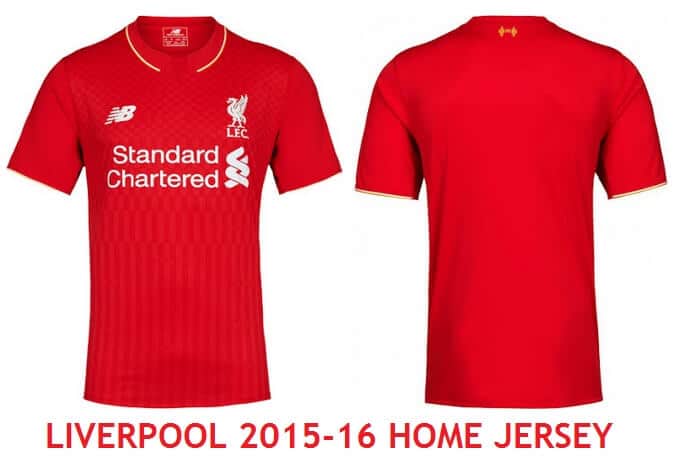 Jersey: The home jersey of the reds for next season is mainly designed with red in addition with white applications. chequered boxes are made at the front home t‑shirt that were not available in last jersey with classical collar. Back of jersey is plain in design.
Liverpool white bird, kit supplier's trademark logo are at same spot as described in leaked kit. The logo of sponsor company "Standard Chartered" is at the center of jersey in white appearance. At the top, yellow and white linings are there with a v‑shaped patter at the joint of collars.
Shorts & Socks: Home shorts and socks of Liverpool are also in red featured with white and yellow. There is a single stripe at the top of socks in yellow.
Related: Manchester United 2015–16 leaked kits
Liverpool 2015–16 Away & Third Kit
The away kit will be in white with red featuring a simple design with several special details. The white new Balance Liverpool away shirt featured a unique and modern red collar, while a red line is printed on both sleeves.
The third kit is black having grey horizontal linings at the front. Logos and other layouts are in white appearance.
Liverpool 2015–16 New Balance Goalkeeper Kit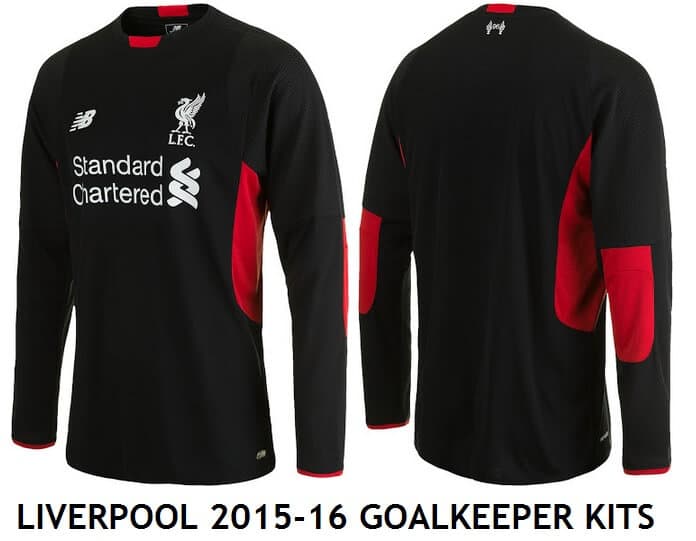 The goalkeeper kit of LFC for next season has been also unveiled. It is manufactured with black as major appearance on which red and white layouts are added. Simple classical collars are in black. On the sides of goalkeeper home jersey, unique red pattern is added for the first time.
At the back of sleeves, there is a unique pattern in red appearance. The reds will use these new kits from season 2015–16. What do you say about these new launch of New Balance?