The unstoppable Lionel Messi faced doping test by UEFA after his perfect performance in previous games. The twenty seven year old Barcelona player along with his team mates Jordi Alba, Claudio Bravo, Ivan Rakitic and Andres Iniesta had to go for doping tests on last Monday. Doping test was controlled by an agency of Spain for the protection of health in sport which is also a part of Sports Council.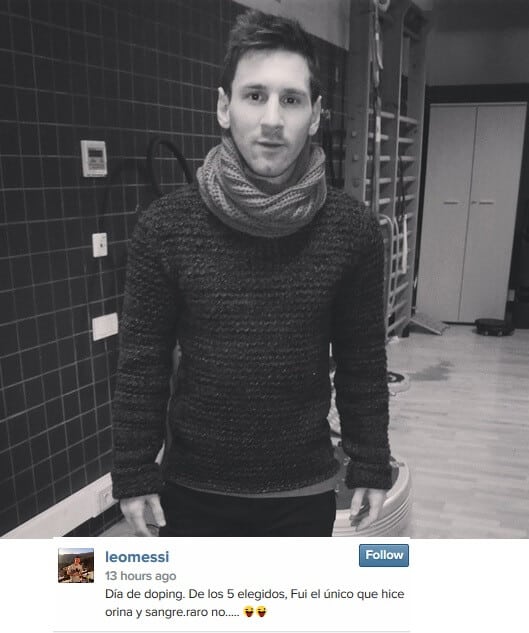 Interesting fact is that Messi was tested twice and he was the only one who had to give samples of his blood and urine. The Argentine captain said "Doping control. Of the five chosen, I was the only one who had to give urine and blood samples… bit strange isn't it?" Doping test came just after one day when he scored his last hat-trick against city rivals Espanyol beating them by 5–1.
Former Argentina captain Diego Maradona remains the only football player ever to have failed in doping test. There has been a conspiracy theory about the anti doping body of football, quite popular in Argentina, that it is only a wing of the higher footballing administration.
Read also: Lionel Messi bottle on head incident
Obviously Lionel Messi is not happy with it. He posted a picture on Instagram and said "the only one who did both urine and blood tests." It looks like the governing body of European football just wants to make sure that Messi is normal person.
So far in this season of domestic league La Liga, Lionel Messi have scored total of fourteen goals in first fourteen games. Also, he has netted seven times in first five matches of UEFA Champions League. Messi will now face Paris Saint Germain in upcoming match of UEFA Champions League in return leg at Estadio Camp Nou. Can he continue his brilliancy?