The all time highest goal scorer of La Liga Lionel Messi hit on head by a bottle after winning goal of Busquets against Valencia at Mestalla. Sergio Busquets's goal was responsible for this incident as all Barca players were celebrating their victory. Busquets scored the winning goal in stoppage time of last minute of second half. It was a close encounter and another big test of Blaugrana, but they successfully grabbed three points.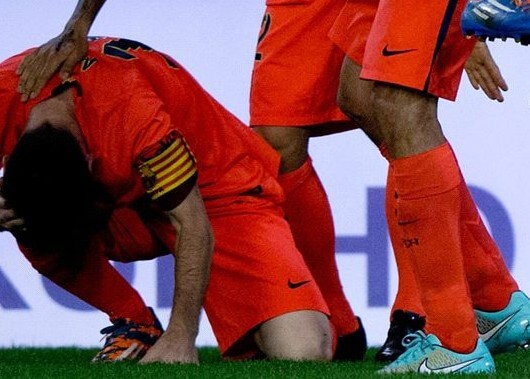 The visitors began heading back to the center circle after goal celebration, Messi was still down on the ground clutching and rubbing his head. Rafinha helped him, picked up the bottle with which Messi was hit and threw it out of field. That bottle was thrown from home crowd section obviously. Have a look on the video of the incident below.
Thereafter, he ran to the referee and protested with hand on his head. But the referee was no interested and showed a yellow card to Barca captain for wasting time. Referee blown final whistle just after re-start of Busquets's goal.
Barca players celebrated another win despite being visibly irritated by the incident. Messi continue to rubbing his head and rushed to referee for second time. In the end, he thanked to home support with an iconic thumbs up signal and entered the tunnel.
Read also: David Beckham injured in car Accident
Former Liverpool player Luis Suarez is yet to open the scoring for his new club in domestic league La Liga. Barcelona should have been ahead in the fourteenth minute when Diego Alves, goalkeeper of Valencia denied Luis Suarez goal.
Behind this precious victory, Claudio Bravo also did his job, made great saves. After the match, the goal scorer Sergio Busquets said "We were lucky in the last minute to grab the three points. A draw is never enough and we had to try until the very end."
Barca have finished 13th week of La Liga at second spot having 31 points followed by Atletico Madrid [29 points] and Sevilla FC [26 points]. This is the third loss of the cats in this season of La Liga.