The most shocking news of the season has shocked almost every football fan. The Argentina and Barcelona forward Lionel Messi has reportedly agrees a €500m deal for Real Madrid move. According to recent reports, he will leave his current club at the end of this summer. Real Madrid previously offered him €250m but he refused to leave Barca, but now, lots of things have been changed and he could now say goodbye to Football Club Barcelona. Read what Lionel Messi said about Real Madrid Move.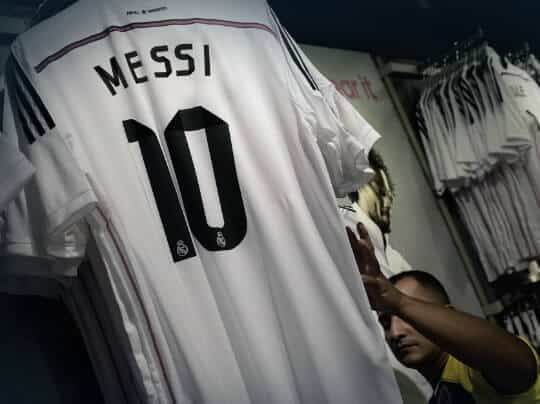 Lionel Messi Agrees €500m Deal For Real Madrid Move
The five times best footballer of the year will cost Real Madrid €250m to buy and approximately the same again in agent fees, commissions and wages. It was announced before the upcoming El Clasico scheduled for 2nd April 2016.
Read also: El Clasico 2015–16 IST schedule
During a press conference, Messi said "With Financial Fair Play, Barcelona could not give me what I wanted and deserved. I recommended they fund my contract by selling the Camp Nou, but for some reason they valued the club more than me."
"When I learned this, I was heartbroken and our relationship was finished. A man of my status should have a 2000 meter long mega yacht, staffed and powered at all time Like Roman Abramovich. The purchase and operating costs alone demand that I take home €50m per year after tax. Minimum. Is that took much to ask?"
Read also: Iceland Euro 2016 kit
Real Madrid forward Cristiano Ronaldo is delighted to welcome the Argentine at Santiago Bernabeu. "Looking forward to receiving his support from the wing," Cristiano Ronaldo said.
Barcelona are expected to replace Lionel Messi with Leicester City's Jamie Vardy, who will be mentored by Luis Suarez. He is the first choice of Barca in their transfer radar.
Meanwhile Lionel Messi will play against Real Madrid in next game at Camp Nou. Barcelona thrashed Real Madrid by 0–4 at Santiago Bernabeu in the first leg.
Do you think Lionel Messi should leave Barcelona or he should stick with his current club. Have your say in the comment box below.
Happy 1st April! 😉