The home jersey of Real Madrid for season 2016–17 has been leaked. Today we are able to provide you first look on Real Madrid's home jersey for the next season. This time Adidas has made big changes just like on kits of Euro 2016. Fans of the club are going to love this kit. It would be correct to say that Adidas has introduced another impressive jersey of one of the most known football clubs of the world.
Leaked: Real Madrid 2016–17 Home Kit — Jersey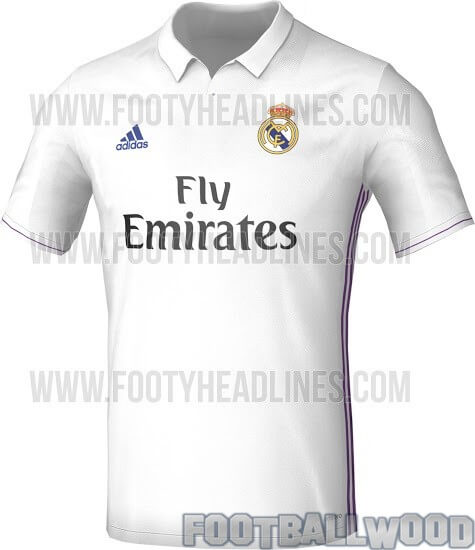 The all new home jersey of Real Madrid for 2016–17 features a very traditional design that is made with the combination of white and purple with addition of blue. It is inspired from the design of 1990s. Crystal white is used as main color on which you can see blue and purple applications are brilliantly applied. Read also: Spain Euro 2016 kits The front of 2016–17 Real Madrid home jersey is featured with club's crest, Adidas logo and sponsor banner of Fly Emirates. While, back with jersey number and name of player. A traditional polo collar rounds off the look. At the end of sleeves, single single stripe of purple color is also provided and it is looking incredible. Read also: Germany Euro 2016 Kits We have seen three stripes on the sides of jersey instead on shoulders in Euro 2016 kits launched by Adidas. So the manufacturer applied same design on Real Madrid 16–17 kits. Yes, the three stripes are on the sides of t‑shirt. Home shirt stands in stark contrast to the last few Real Madrid home kits which featured bold new accent colors for the most part. White shorts and white socks completes are expected to launch with white t‑shirt of Real Madrid. Stripes on shorts are expected to be in purple appearance with original colors of club crest. So this is the leaked jersey of Real Madrid for the season 2016–17. Did you like it?