New kits of Liverpool football club for 2015–16 have been leaked: Right now, only the pictures of new home and away jersey are available. New Balance is all set to unveil these kits on 10th of April 2015. If you are wondering that Liverpool have signed a deal with new kit supplier, then you're wrong. It's the same, only name of the kit supplier have been changed because warrior football re-branded as New Balance. Check out the leaked kits of Liverpool below.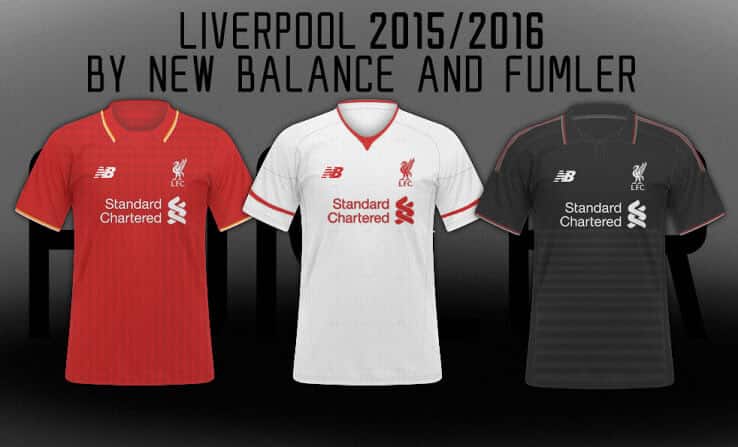 Liverpool 2015–16 Home Jersey [Leaked]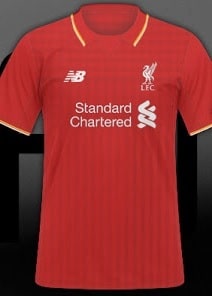 The home jersey of LFC is mainly in red applications, featured with white layouts. Chequered pattern at the front of whole jersey are designed. Unique collars are made with yellow endings. Inside neck, trademark logo of kit supplier is marked in white appearance.
In addition with these, white Liverpool bird and New Balance logo are printed on left and right chest respectively. Below these crests, sponsor logo of Standard Chartered is also there at the center of Liverpool home jersey.
Few words about the shorts and socks of Liverpool 2014–15 home kits have been spoken. Shorts and socks are expected to be in red appearance.
Liverpool 2015–16 Away Kit
Simple in design, yet impressive. Liverpool new 2015–16 away kit are in white appearance on which white colored layouts are there. In short, red color is replaced by white and white be red in away kit.
Collars are made in red. There is a single stripe on sleeves of away jersey. White shorts and socks will complete the away kit of Liverpool which will be used in season 2015–16.
Third kit of Liverpool for 2015–16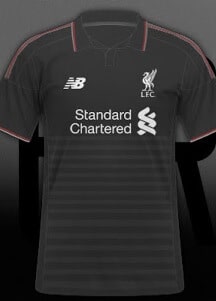 Black appearance is used for Liverpool 14–15 third kit. Some work has been done on the shoulders in the form of linings. Also, horizontal stripes are marked at the front of black away jersey. Remaining elements are at same spots. Shorts and socks are also in black.
Home kit of Liverpool for 2014–15 season will be revealed on April 10 this year. Did you like the new kits of LFC by New Balance?