Adidas X 2015 Multicolor Football boots have been leaked
Today we are able to provide you the leaked images of new Adidas X 2015–16 Multicolor Boots. The all new Adidas X 2015 spectacular prototype soccer boots features a unique upper design with white, red and blue colors. It is the only one pair in the world and expected that the stunning Adidas Chaos Prototype Football Boot will never be released. The Adidas multicolor soccer cleats are a must have for anyone who want to collect the totally new Adidas X 15.1 Cleats. Check out leaked information of Adidas X 2015 Multicolor Cleats.
Leaked: Adidas X 2015 Multicolor Boots
The new Adidas multicolor boots is based on the Adidas X 2015–16 Boots. The new special Adidas X Cleats features combine the clean main white color with blue for the trademark tech fit fit collar, sole plate and laces. For the final of Champions League 2014–15, The German sports manufacturer launched Lionel Messi 15.1 Ice football boots that he wore in final against Juventus.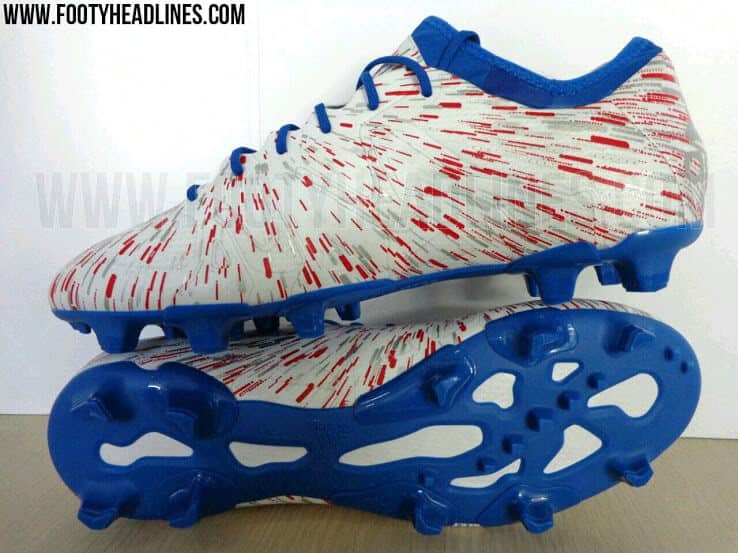 Related: Nike Hypervenom 2 Phantom Green Black boots
To create the different look, the upper part part of the Adidas X 2015–16 Boots features a special graphic pattern which is inspired by the look of Meteor Showers. The unique design showcases the chaos created by players wearing the Adidas X 2015–16 Boots which were developed under the working title Adidas Chaos.
Don't Miss: Bayern Munich 2015–16 Away Kit
In the Adidas X Prototype Boots, the same technology is used as the regular version of the Adidas X 15.1 Boots. The thin synthetic technology is used in the upper part and an external cage for more stability in the midfoot area. You can also watch Adidas Ace 2015–16 football boots.
The Adidas has manufactured only one pair of Adidas X 2015 multicolor cleats which emerged in eBay. It is expected that these boots will never be released. The eBay implies described on their article that the Adidas X Multicolor Cleats will never hit the stores. Therefore, the new Adidas X 2015–16 Meteor Showers football boots will become a rare collector item for football fans.