The new football boots Adidas Adizero for world cup are leaked. These boots will be launched just before the start of 2014 FIFA World Cup which begins from 12 June 2014. Recently, new cleats designed for Lionel Messi were leaked & now we got some new shoes with some pics also. These are designed with color combination of Neon orange black & white. So check out new leaked boots of Adidas.
Adidas Adizero F50 Battle Pack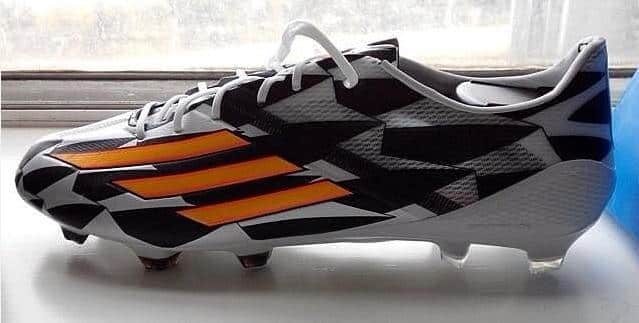 With an advanced technology & brilliant color combination, these are looking quite impressive. The new Adidas Adizero boot comes with a geometrical upper design with the colors combination of orange / black / white. The German based giant have used triangular design pattern for its manufacturing, On its surface, there are black & white colored triangle shaped layouts. Whereas, plain out-sole is designed on its outside. With top view, it gives appearance of a black & white colored snake.
Spikes are made more harder that helps in controlling the speed of footballer. These are not specially designed Messi as there is not Messi trademark at its back. This means other players can also use them in upcoming world cup competition in summer. On sides of it, 3 Adidas stripes are there in orange appearance. Inside these shoes, the number fourteen is written which reflects the world cup of Brazil. Adidas has also used 3D grip texture for tits manufacturing. These are specially designed for the Brazil world cup & the players who could use these football cleats are Marcelo, Arjen Robben & Karim Benzema. There are no confirmations about the price of these & for that we might have to wait. For this world tournament, Adidas & its competitor are preparing lots of accessories to make their players & teams one of the best of world. We've also seen latest kits of team which qualified for the finals & after launching kits, these brands have started preparing to launch some other accessories. Still, there is long way to go, but till then have a look on other stuffs.