New football boots, Adidas Adizero Next Generation are leaked. The German based sports kit supplier giant has not revealed these boots, but there are some pictures & details are available. These Adizero are designed differently from last boots of this series. Earlier, Adidas has launched new boots for Lionel Messi in special edition, but these boots will be available for all. The Kit supplier calls it shoes of the next generation. Design shape & layouts of new next generation boots are completely different.
Adidas Adizero F50 Next Generation 2014 Boots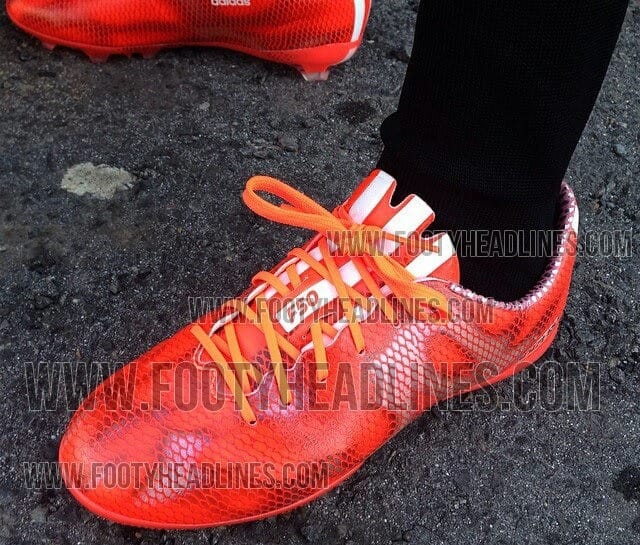 The complete official name of these cleats is Adidas Adizero V 2015. Layout of it is designed in a spider web manner that gives the appearance of spider net. We've seen the stripes of Adidas on sides of past few boots, but this time they've decided to design these stripes on some other area. We are able to show you pictures of red & white colored new boots.
Three stripes of Adidas are designed on the tongue of shoes in white appearance. While, red is used as the main color for its manufacture. The new upper material of the these new cleats looks nearly as shiny as the Adidas Carneval Pack.
Also 3 stripes mark on back of heels with same color which starts from top to the bottom. Spikes are made in combination of red with crystal color. Adidas has used special fiber technology which makes it light in weight & makes a player comfortable during play.
Spikes at the bottom are made extra strong in order to have a better control on ball & speed during wet conditions. Laces are available in orange applications. The brand name is also written on inner side of shoes in white color.
Right now, there are no words about the price & release dates of Adidas Adizero F50 Next Gen Red White. There are still some weeks to go for its launch. Till then have a look at its pictures.