Bad news for Barca fans as Liga de Futbol Professional [LFP] will submit a formal complaint over chants suggesting Cristiano Ronaldo "is a drunk" from some supporters. During last game of Barcelona vs Levante, some Barca fans were spotted chanting Cristiano Ronaldo. The case will be passed to the anti violence committee who will then decide whether or not to go ahead with an investigation.
Incident's match videos and audios will be submitted as evidence. The decision comes after the LFP decided to review videos of the match posted on social media which are spreading with a rapid rate.
The official LFP complaint "The shouting of chants withing the stadium, during the game, in minute 65 from a group of around approximately 200 home supporters located in the lower stand behind the south goal."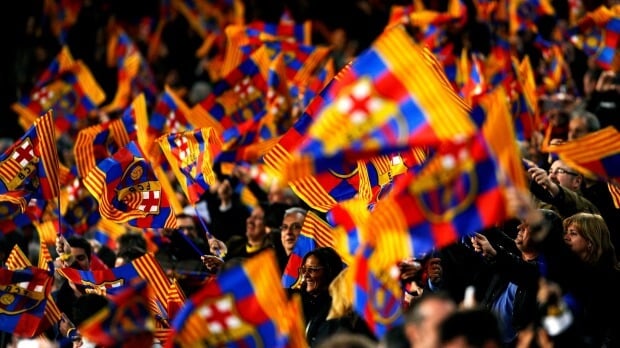 "In particular, the group known as Almogavers, located with a banner identifying the group, started to sing the following chant. 'Es un Borracho, Cristiano es un Borracho' in reference to the Real Madrid player Cristiano Ronaldo".
It is also explained on the official website of LFP that the chant was not been taken up by the rest of the crowd and their behaviour was "completely correct during the whole game." Cristiano Ronaldo, who celebrated his 30th birthday just after few hours of 4–0 defeat at the hands of Atletico Madrid.
Watch the video of chants from Barca fans to Cristiano Ronaldo below
The LFP expressed intentions of using the same yardstick it used for the Bernabeu last year, after derogatory chants towards Lionel Messi by the Real Madrid fans.
LFP president Javier Tebas and government minister Jose Ignacio Wert and Miguel Cardenal all said insulting chants and songs constitute "symbolic violence" which can lead to physical violence, while of official aim is to rid stadia of all racist and xenophobic expressions.