La Liga 2015–16 Top Goal Scorers List: Footballwood presents you the list of top 10 most goal scorers of Spanish football league La Liga. The list is based on the players who scored the most goals in Liga BBVA 2015–16. The eighty fifth edition of this competition begun on 22nd of August 2015. Defending champions Barcelona will be looking to defend its title as some teams are performing great this season. At the end of each season, every highest goal scorer receives Pichichi trophy for scoring most number of goals. Can you guess who will score the most goals in this season of La Liga? But take a look on the leading scorers of this campaign.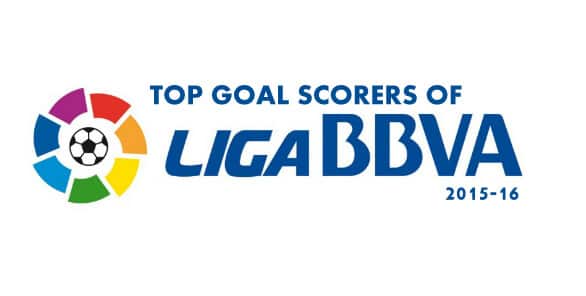 La Liga 2015–16 Top Goal Scorers List
| | | | |
| --- | --- | --- | --- |
| Rank | Player name | Club | Goals |
| 1 | Cristiano Ronaldo | Real Madrid | 30 |
| 2 | Luis Suarez | Barcelona | 26 |
| 3 | Lionel Messi | Barcelona | 22 |
| 4 | Neymar | Barcelona | 21 |
| 4 | Karim Benzema | Real Madrid | 21 |
| 6 | Antoine Griezmann | Atletico Madrid | 20 |
| 7 | Aduriz | Athletic Bilbao | 17 |
| 7 | Borja Baston | Eibar | 17 |
| 7 | Ruben Castro | Betis | 17 |
| 10 | Lucas Perez | Deportivo | 16 |
Note: The list was last updated on 16 April 2016
Last season top goal scorer
Cristiano Ronaldo: Real Madrid's winger Cristiano Ronaldo is the top goal scorer of La Liga last season. The Portuguese footballer scored on 30 occasions so far in this season. Along with scoring goals, he also provided 11 assists. Barca's Luiz Suarez is the second most goal scorers of last season totaling 26 goals and 12 assists. This means Cristiano Ronaldo was the defending winner of Pichichi trophy which was given to the top goal scorer of La Liga. Will he defend this trophy this year? We'll find out at the end of the season.
Pichichi Torphy Most Time Winner
We have talked about the highest goal scorer of this season. No, it's time to know who won this award on most occasions. This award is named after the famous Athletic Bilbao player Rafael Moreno "Pichichi". A similar award for goalkeepers is called the Ricardo Zamora Trophy. Read also: Premier League 2015–16 top goal scorers Hugo Sanchez: He is the only footballer in the history of Liga BBVA who won this trophy four times from 1984–85 to 1987–88. The player dominated the league with his goal scoring technique and you can call him a goal scoring machine. A prolific footballer known for his spectacular strikes and volleys, in 1999, the International Federation of Football History and Statistics voted him the 26th best footballer of the 20th century, and the best from CONCACAF. He tasted huge success at Real Madrid for which he played from 1985 to 1992 in which he played 207 games and netted 164 goals. Hugo Sanchez is currently the third highest all time goal scorer of this competition. So these are the top goal scorers of La Liga 2015–16. If you like this article, then you can share it with the other football fans using the social buttons below.