Benzema said: We Can Still Qualify For World Cup
After a long struggle, The Francis & Real Madrid Forward player Karim Benzema is back in his form. But his national football team is not in its form. Recently, Ukraine defeat France in World Cup qualifier First Leg match with a goal score of 2–0. But the Striker said that France can book its ticket to Brazil.
France faced defeat at Olympic stadium of Ukraine & the team was not able to score even a single goal. Neither team scored any goal in first half, but in second half Roman Zozulia & Andriy Yarmolenko scored 1 goal each in 61min & 82 min respectively. Second goal was scored by penalty kick.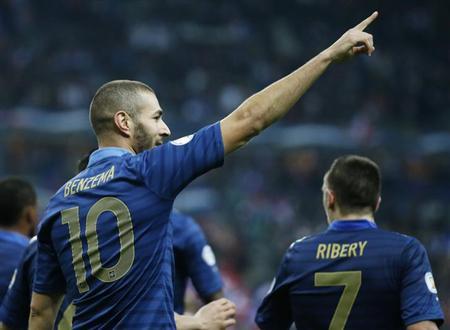 Karim Benzema said: "There is still a match to go against Ukraine. We know that it will not be easy but we are not giving up." Before the start of match Benzema said, France can win over Ukraine but they won't.
The second leg match of Group Play-offs match will be played on 20 November 2013 (Tuesday). He said "We are ready for Ukraine knew we were in for a tough task. It is not as if they were more determined than we were."
"We are the better team. It is not just about the talent. For win, the physical factor is also important." France has qualified for World Cup 13 times & they are the world Champions of 1998 World Cup. But this time their way is not looking easier.
France is the team in which there are world class player like Patrice Evra, Franck Ribery, Karim Benzema, Olivier Giroud. But they need to play a team game. Will France qualify for World Cup? Well we can tell you after the result of next match.