The K‑leather black and white football boots of Adidas called Adizero F50 have been leaked. The interesting news is that these are the first ever boots featured with a kangaroo leather in upper case. With super soft and light weight Kangaroo leather, the all new white-black boots are all set to be launched for the first time. Let's take a deep look on this fresh foot weapon of Adidas.
Adidas Adizero F50 K‑Leather Boots Leaked
As we have discussed earlier, the upper phase of these new boots is completely designed with K‑leather [Kangaroo leather]. On the sides of boots, there are three white colored Adidas trademark stripes are marked from center to front of boots. The forefoot area is black, made from upper soft Kangaroo leather for better ball control.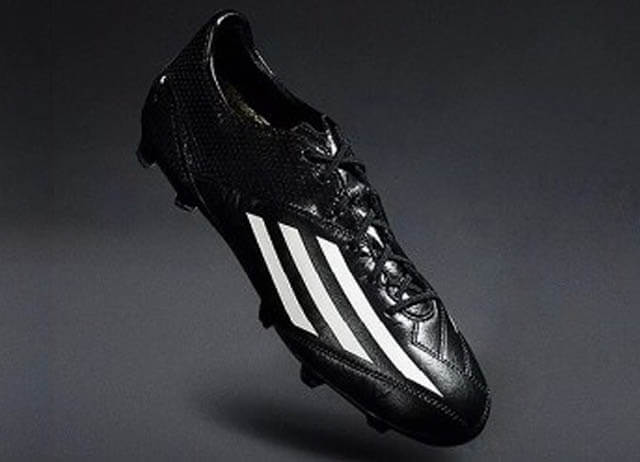 In order to design the outsole of boots, the German based manufacturer have used light weight sprint frame sole plat from the 2014 F50 Adizero Boot. Yes, the kit supplier don't know how footballers will review it, but one thing is clear that Adidas doesn't feel uncomfortable in introducing new soccer cleats.
Kangaroo leather is also used for the heel area of the boot that creates an upper completely made from K‑leather. Two more variants of this pack are also leaked. On second variant the three stripes are available at the center of boot, while in third one, 3 stripes are marked at the back of boots just like in Adidas Predator 2014 boots.
Read also: Adizero F50 2015 Next Gen Boots
Inside the boots, its name "Adizero F50″ is written with black appearance on yellow background. If you are looking to buy Kangaroo leather soccer shoes pack, then it will cost you total of 260 Euros from 15 December 2014. These will be only available from selected retailers. So rush to your outlets and try the new invention of Adidas now.