Juventus vs Monaco is an upcom­ing match of UEFA Cham­pi­ons League that will be played on 14th April 2015. Home ground of Zebras, Juventus Sta­di­um will host this game. The Itali­an side Juventus holds record of unbeaten run against any French team in this com­pet­i­tion. They were elim­in­ated in group stage of last Cham­pi­ons League sea­son, but the giants of Italy are look­ing dom­in­ant this sea­son. Have a look on match pre­view, time and TV tele­cast chan­nels of this game below.
Juventus vs AS Monaco Time, TV Channels
MATCH SCHEDULE
Com­pet­i­tion

Cham­pi­ons League 2014–15

Date

14 Apr [Italy], 15 Apr [India]

Time

8:45 pm [Italy], 12:15 am [India]

Sta­di­um

Juventus Sta­di­um

Seat­ing capa­city

41,000 spec­tat­ors

Home team

The Zebras

Away team

Les Rouge et Blanc

Round

Quarter final [1st leg]

Tele­cast chan­nels

Sky Go Italia, Ten Sports etc.
World­wide tele­cast chan­nels of Juventus vs AS Monaco
Italy: Sky Cal­cio 1, Sky Go Italia, Sky Sports 1 HD Italia
India / Bangladesh: Ten Sports
Argen­tina: Fox Play Lat­in Amer­ica, Fox Sports Cono Sur
Brazil: ESPN
Canada: Sports­net World, Sports­net World Now
Cyprus: Cyta­v­i­sion Sports 2
Ecuador: Fox Sports Premi­um, Fox Sports Cono Sur
France: beIN Sports Con­nect
Ger­many: Sky Go Deutsch­land
Israel: Sport +5, Sports +5 Live
New Zea­l­and: ESPN Aus­tralia, ESPN Pacific Rim
Nor­way: Viasat Fot­ball Nor­way, Viaplay Nor­way
Por­tugal: Sport TV2
Switzer­land: RTS Sport, Tele­club Sport Live, RTS Deux
Sweden: Viaplay Sweden
United King­dom: Now TV, Sky Go, Sky Sky Sports 5 / HD
United States: Fox Soc­cer Plus, Fox Sports 2 USA, Fox Depor­tes, Fox Sports Go
Juventus vs AS Roma Match Preview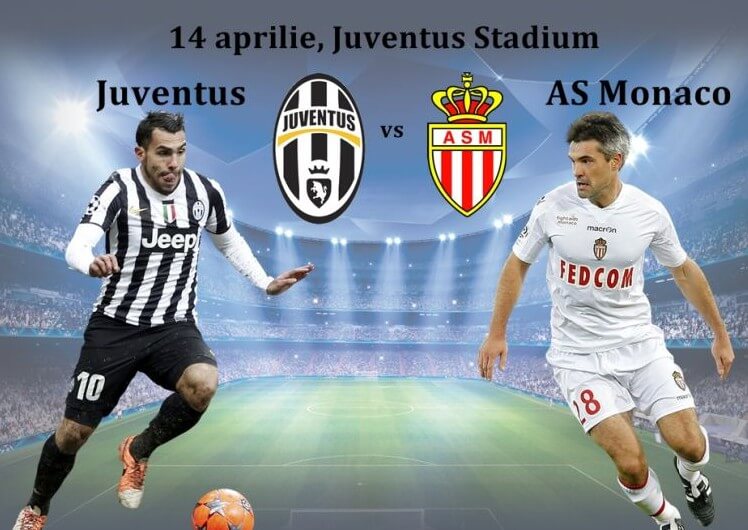 In this com­pet­i­tion, home side have won elev­en match at home which also includes win over Bor­us­sia Dortmund in last round.
If they qual­i­fies for semi final round of this sea­son, it'll be their first semi final appear­ance since 2002-03. Juventus defeated Bar­celona in UCL 2002-03 sea­son by an aggreg­ate score of 3–2.
Since 1998, AS Monaco will play against Itali­an team in this tour­na­ment. They will be look­ing for third straight vic­tory in this com­pet­i­tion after win­ning against Bay­er Leverkusen in group stage and against Arsen­al by 3–1.
Itali­an super­star Andrea Pirlo has not played since the first leg against Bor­us­sia Dortmund because of calf injury. He is not only in injury list, oth­er play­ers like Mar­tin Caceres [ankle] and Pogba [thigh] are also suf­fer­ing with injur­ies.
Cur­rent form
Juventus: LWWWW
AS Monaco: WDDWW
Pre­dic­tion: Foot­ball­wood pre­dicts 3–1