Borussia Dortmund's manager Jurgen Klopp announced that he is leaving BVB at the end of season. According to reports, the manager told to his club he wants to quit Borussia Dortmund at the end of this season. After seven large successful years at Borussia Dortmund, the manager is saying goodbye to one of the best German clubs. He has been linked with most Premier League clubs which which includes Manchester City and Arsenal.
Jurgen Klopp to quit Borussia Dortmund at the end of season
The BVB manager said "It's not that I'm tired, I've not had any contact with another club but don't plan to take a year off. I always said in that moment where I believe I am not the perfect coach anymore for this extraordinary club I will say so. I really think the decision is the right one. This club deserves to be coached from the 100% right manager."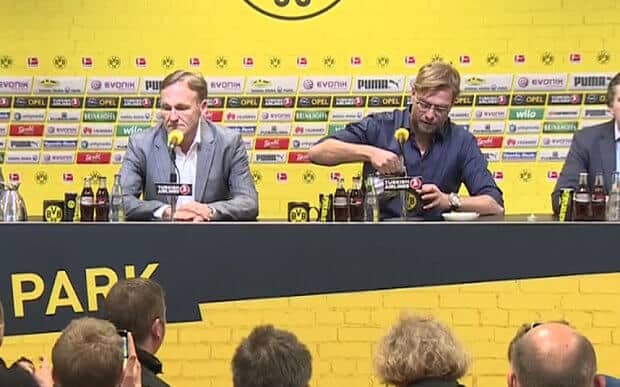 Jurgen Klopp was signed by German club in May 2008, replacing Thomas Doll for 2 year contract. The manager have had great first season at the club and raised the club to sixth spot which was 13th during Thomas Doll charge. Same year, he won T‑Home Supercup after defeating Bayern Munich in final. In his second season at BVB, he finished at 5th spot in Bundesliga.
His third season was more remarkable as he managed Dortmund to win Bundesliga title twice [2010–11 and 2011-12]. Borussia Dortmund played final of UEFA Champions League twice out of which one was in charge of Jurgen Klopp. In 2011 and 2012, he was named as the best German manager of the year.
The season 2014–15 didn't went like previous season. After 28 match days, the club won nine games, lost 13 and drew 6, bagging 33 points. They are eliminated from Champions League in round of 16 at the hands of Juventus. With 33 points in Champions League, BVB seems not capable to qualify for Champions League 2015–16.
But he added lots of trophies to BVB trophy cabinet that will be remembered forever. He didn't only let BVB to win trophies, he also won some individual awards at this club.
| | |
| --- | --- |
| Trophy | Year |
| Bundesliga | 2010-11. 2011-12 |
| German Cup | 2011-12 |
| DFL Supercup | 2013, 2014 |
| T‑Home Supercup | 2008 |
| Champions league 2nd place | 2012–13 |
| German manager of the year | 2011–2012 |
The news have activate Premier League clubs that are in search of new manager. Manchester City could be the most active club to sign Klopp after sudden fall. Which club should he join now?