Barcelona defender Jordi Alba stated that he always wants Real Madrid to lose. Barca are just one point behind the league leaders Real Madrid after playing one more game. Later he admitted that he prefers to focus on Barcelona. The defender also defended his teammate Neymar against recent incident. Read what he actually said about El Clasico rivalry.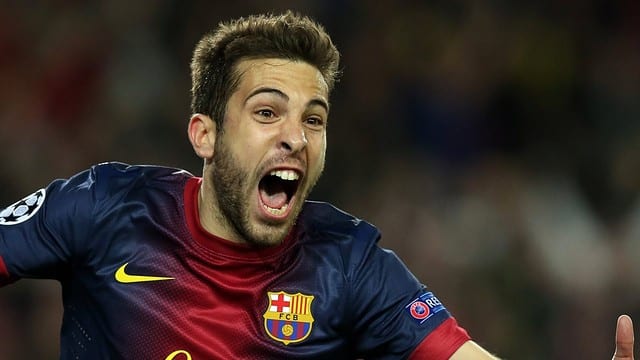 Jordi Alba said "As a Barcelona man, I always want Real Madrid to lose. But I prefer to focus on Barcelona, which is what matters the most. We need to win all of our games if we want to try and catch up, which is almost impossible."
He also spoke about Neymar's incident which looked like he was trying to defend the Brazilian winger. He said "Neymar is a very humble down to earth guy, who enjoys playing football and likes to play that way. Anyone that knows him understands this. He doesn't play that way intending to disrespect anybody. He doesn't kick or insult people."
Neymar was caught in some troubles with Atletico Madrid players during his last visit to Vicente Calderon in Copa Del Rey semi final. He scored a brace in return leg but was involved in criticism. Read La Liga 2014–15 Top goal scorers list.

The defender Jordi Alba also defended Luis Suarez for his current performance. About Suarez's performance he said "Luis is a different type of player. He fights for everything and creates space for the wide players and the forwards. He is a great team player and even though he would like to score more goals, what's important is what he is doing for the team."
Whether he's right or wrong about what he said, but at least the player said what he really thinks about Real Madrid. He didn't hesitate to express his feelings about El Clasico rivals. Are you agree with Jordi Alba's statement?