Italian Serie A 2016–17 Fixtures According To EDT (USA Time), BST (British Time), IST (Indian Time), GMT+0
Italian Serie A 2016–17 season fixtures has been officially announced. Here you will get the information about all Serie A upcoming matches according to EDT (USA Time), BST (British Summer Time), GMT+0 and Indian Standard Time The season is beginning on 20th of August 2016.
Dates of the significant derbies are:
20th November 2016 and 15th April 2017: Derby della Madonnina Milan Derby (Milan v Inter)
18th September 2016 and 5th Feb 2017: The Derby d'Italia (Inter v Juventus)
23rd October 2016 and 12th March 2017: Genoa Derby (Sampdoria v Genoa)
4th December 2016 and 30th April 2017: Eternal City Derby (Roma v Lazio)
11th December 2016 and 7th May 2017: Turin Derby (Juventus v Torino)
Potential Scudetto battle royal between Napoli and Juventus are set for the weekends of October 30th and April 2nd.
Italian Serie A 2016–17 Fixtures EDT (USA Time), BST (British Time), IST (Indian Time), GMT+0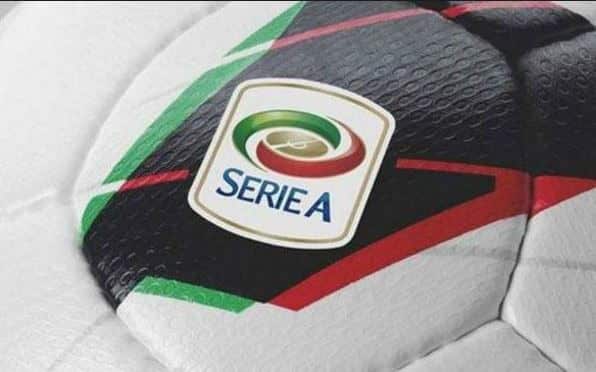 Matchweek 5 from 20.09.16 to 21.09.16
20.09. 19:45 (BST)
18:45 (GMT+0), 14:45 (EDT), 0:15 (21.09.16) (IST)

AC Milan

Lazio

21.09. 17:30 (BST)
16:30 (GMT+0), 12:30 (EDT), 22:00 (IST)

Bologna

Sampdoria

21.09. 19:45 (BST)
18:45 (GMT+0), 14:45 (EDT), 0:15 (22.09.16) (IST)

AS Roma

Crotone

21.09. 19:45 (BST)
18:45 (GMT+0), 14:45 (EDT), 0:15 (22.09.16) (IST)

Atalanta

Palermo

21.09. 19:45 (BST)
18:45 (GMT+0), 14:45 (EDT), 0:15 (22.09.16) (IST)

Chievo

Sassuolo

21.09. 19:45 (BST)
18:45 (GMT+0), 14:45 (EDT), 0:15 (22.09.16) (IST)

Empoli

Inter

21.09. 19:45 (BST)
18:45 (GMT+0), 14:45 (EDT), 0:15 (22.09.16) (IST)

Genoa

Napoli

21.09. 19:45 (BST)
18:45 (GMT+0), 14:45 (EDT), 0:15 (22.09.16) (IST)

Juventus

Cagliari

21.09. 19:45 (BST)
18:45 (GMT+0), 14:45 (EDT), 0:15 (22.09.16) (IST)

Pescara

Torino

21.09. 19:45 (BST)
18:45 (GMT+0), 14:45 (EDT), 0:15 (22.09.16) (IST)

Udinese

Fiorentina

Matchweek 6 from 24.09.16 to 26.09.16
24.09. 17:00 (BST)
16:00 (GMT+0), 12:00 (EDT), 21:30 (IST)

Palermo

Juventus

24.09. 19:45 (BST)
18:45 (GMT+0), 14:45 (EDT), 0:15 (25.09.16) (IST)

Napoli

Chievo

25.09. 11:30 (BST)
10:30 (GMT+0), 6:30 (EDT), 16:00 (IST)

Torino

AS Roma

25.09. 14:00 (BST)
13:00 (GMT+0), 8:00 (EDT), 18:30 (IST)

Genoa

Pescara

25.09. 14:00 (BST)
13:00 (GMT+0), 8:00 (EDT), 18:30 (IST)

Inter

Bologna

25.09. 14:00 (BST)
13:00 (GMT+0), 8:00 (EDT), 18:30 (IST)

Lazio

Empoli

25.09. 14:00 (BST)
13:00 (GMT+0), 8:00 (EDT), 18:30 (IST)

Sassuolo

Udinese

25.09. 19:45 (BST)
18:45 (GMT+0), 14:45 (EDT), 0:15 (26.09.16) (IST)

Fiorentina

AC Milan

26.09. 18:00 (BST)
17:00 (GMT+0), 12:00 (EDT), 22:30 (IST)

Crotone

Atalanta

26.09. 20:00 (BST)
19:00 (GMT+0), 15:00 (EDT), 0:30 (27.09.16) (IST)

Cagliari

Sampdoria

Matchweek 7 from 01.10.16 to 02.10.16
01.10. 17:00
16:00 (GMT+0), 12:00 (EDT), 21:30 (IST)

Pescara

Chievo

01.10. 19:45
18:45 (GMT+0), 14:45 (EDT), 0:15 (26.09.16) (IST)

Udinese

Lazio

02.10. 11:30
10:30 (GMT+0), 6:30 (EDT), 16:00 (IST)

Empoli

Juventus

02.10. 14:00
13:00 (GMT+0), 8:00 (EDT), 18:30 (IST)

Atalanta

Napoli

02.10. 14:00
13:00 (GMT+0), 8:00 (EDT), 18:30 (IST)

Bologna

Genoa

02.10. 14:00
13:00 (GMT+0), 8:00 (EDT), 18:30 (IST)

Cagliari

Crotone

02.10. 14:00
13:00 (GMT+0), 8:00 (EDT), 18:30 (IST)

Sampdoria

Palermo

02.10. 17:00
16:00 (GMT+0), 12:00 (EDT), 21:30 (IST)

AC Milan

Sassuolo

02.10. 17:00
16:00 (GMT+0), 12:00 (EDT), 21:30 (IST)

Torino

Fiorentina

02.10. 19:45
18:45 (GMT+0), 14:45 (EDT), 0:15 (26.09.16) (IST)

AS Roma

Inter

Matchweek 8 from 15.10.16 to 17.10.16
15.10. 14:00
13:00 (GMT+0), 8:00 (EDT), 18:30 (IST)

Napoli

AS Roma

15.10. 17:00
16:00 (GMT+0), 12:00 (EDT), 21:30 (IST)

Pescara

Sampdoria

15.10. 19:45
18:45 (GMT+0), 14:45 (EDT), 0:15 (16.10.16) (IST)

Juventus

Udinese

16.10. 11:30
10:30 (GMT+0), 6:30 (EDT), 16:00 (IST)

Fiorentina

Atalanta

16.10. 14:00
13:00 (GMT+0), 8:00 (EDT), 18:30 (IST)

Genoa

Empoli

16.10. 14:00
13:00 (GMT+0), 8:00 (EDT), 18:30 (IST)

Inter

Cagliari

16.10. 14:00
13:00 (GMT+0), 8:00 (EDT), 18:30 (IST)

Lazio

Bologna

16.10. 14:00
13:00 (GMT+0), 8:00 (EDT), 18:30 (IST)

Sassuolo

Crotone

16.10. 19:45
18:45 (GMT+0), 14:45 (EDT), 0:15 (17.10.16) (IST)

Chievo

AC Milan

17.10. 19:45
18:45 (GMT+0), 14:45 (EDT), 0:15 (18.10.16) (IST)

Palermo

Torino

Matchweek 9 from 22.10.16 to 23.10.16
22.10. 17:00 (BST)
16:00 (GMT+0), 12:00 (EDT), 21:30 (IST)

Sampdoria

Genoa

22.10. 19:45 (BST)
18:45 (GMT+0), 14:45 (EDT), 0:15 (23.10.16) (IST)

AC Milan

Juventus

23.10. 11:30 (BST)
10:30 (GMT+0), 6:30 (EDT), 16:00 (IST)

Udinese

Pescara

23.10. 14:00 (BST)
13:00 (GMT+0), 8:00 (EDT), 18:30 (IST)

Atalanta

Inter

23.10. 14:00 (BST)
13:00 (GMT+0), 8:00 (EDT), 18:30 (IST)

Cagliari

Fiorentina

23.10. 14:00 (BST)
13:00 (GMT+0), 8:00 (EDT), 18:30 (IST)

Crotone

Napoli

23.10. 14:00 (BST)
13:00 (GMT+0), 8:00 (EDT), 18:30 (IST)

Empoli

Chievo

23.10. 14:00 (BST)
13:00 (GMT+0), 8:00 (EDT), 18:30 (IST)

Torino

Lazio

23.10. 17:00 (BST)
16:00 (GMT+0), 12:00 (EDT), 21:30 (IST)

Bologna

Sassuolo

23.10. 19:45 (BST)
18:45 (GMT+0), 14:45 (EDT), 0:15 (24.10.16) (IST)

AS Roma

Palermo

Matchweek 10 from 25.10.16 to 27.10.16
25.10. 19:45

Genoa

AC Milan

26.10. 19:45

Chievo

Bologna

26.10. 19:45

Fiorentina

Crotone

26.10. 19:45

Inter

Torino

26.10. 19:45

Juventus

Sampdoria

26.10. 19:45

Lazio

Cagliari

26.10. 19:45

Napoli

Empoli

26.10. 19:45

Pescara

Atalanta

26.10. 19:45

Sassuolo

AS Roma

27.10. 19:45

Palermo

Udinese

Matchweek 11 from 29.10.16 to 31.10.16
29.10. 17:00

Bologna

Fiorentina

29.10. 19:45

Juventus

Napoli

30.10. 12:30

Atalanta

Genoa

30.10. 15:00

AC Milan

Pescara

30.10. 15:00

Crotone

Chievo

30.10. 15:00

Empoli

AS Roma

30.10. 15:00

Lazio

Sassuolo

30.10. 20:45

Sampdoria

Inter

31.10. 19:00

Udinese

Torino

31.10. 21:00

Cagliari

Palermo

Matchweek 12 from 05.11.16 to 06.11.16
05.11. 18:00 UK

Torino

Cagliari

05.11. 20:45 UK

Napoli

Lazio

06.11. 12:30 UK

Pescara

Empoli

06.11. 15:00 UK

Chievo

Juventus

06.11. 15:00 UK

Genoa

Udinese

06.11. 15:00 UK

Palermo

AC Milan

06.11. 15:00 UK

Sassuolo

Atalanta

06.11. 18:00 UK

Fiorentina

Sampdoria

06.11. 18:00 UK

Inter

Crotone

06.11. 20:45 UK

AS Roma

Bologna

Matchweek 13 from 19.11.16 to 20.11.16
19.11. 14:00

Chievo

Cagliari

19.11. 17:00
12:00 EST, 22:30 IST

Udinese

Napoli

19.11. 19:45
14:45 EST, 1:15 IST (November 20th)

Juventus

Pescara

20.11. 11:30

Sampdoria

Sassuolo

20.11. 14:00

Atalanta

AS Roma

20.11. 14:00

Bologna

Palermo

20.11. 14:00

Crotone

Torino

20.11. 14:00

Empoli

Fiorentina

20.11. 14:00

Lazio

Genoa

20.11. 19:45
14:45 EST, 1:15 IST (November 21st)

AC Milan

Inter

Matchweek 14 from 26.11.16 to 28.11.16
26.11. 18:00

Torino

Chievo

26.11. 20:45

Empoli

AC Milan

27.11. 12:30

Palermo

Lazio

27.11. 15:00

Bologna

Atalanta

27.11. 15:00

Cagliari

Udinese

27.11. 15:00

Crotone

Sampdoria

27.11. 15:00

Genoa

Juventus

27.11. 20:45

AS Roma

Pescara

28.11. 19:00

Napoli

Sassuolo

28.11. 21:00

Inter

Fiorentina

Matchweek 15 from 02.12.16 to 05.12.16
02.12. 20:45

Napoli

Inter

03.12. 20:45

Juventus

Atalanta

04.12. 12:30

AC Milan

Crotone

04.12. 15:00

Lazio

AS Roma

04.12. 15:00

Pescara

Cagliari

04.12. 15:00

Sampdoria

Torino

04.12. 15:00

Sassuolo

Empoli

04.12. 20:45

Fiorentina

Palermo

05.12. 19:00

Chievo

Genoa

05.12. 21:00

Udinese

Bologna

Matchweek 16 from 10.12.16 to 12.12.16
10.12. 18:00

Crotone

Pescara

10.12. 20:45

Sampdoria

Lazio

11.12. 12:30

Cagliari

Napoli

11.12. 15:00

Atalanta

Udinese

11.12. 15:00

Bologna

Empoli

11.12. 15:00

Palermo

Chievo

11.12. 15:00

Torino

Juventus

11.12. 20:45

Inter

Genoa

12.12. 19:00

Fiorentina

Sassuolo

12.12. 21:00

AS Roma

AC Milan

Matchweek 3
15.12. 20:00

Genoa

Fiorentina

Matchweek 17 from 17.12.16 to 18.12.16
17.12. 15:00

Empoli

Cagliari

17.12. 18:00

AC Milan

Atalanta

17.12. 20:45

Juventus

AS Roma

18.12. 12:30

Sassuolo

Inter

18.12. 15:00

Chievo

Sampdoria

18.12. 15:00

Napoli

Torino

18.12. 15:00

Pescara

Bologna

18.12. 15:00

Udinese

Crotone

18.12. 20:45

Genoa

Palermo

18.12. 20:45

Lazio

Fiorentina

Matchweek 18 from 20.12.16 to 22.12.16
20.12. 20:45

Atalanta

Empoli

21.12. 20:45

Inter

Lazio

22.12. 20:45

AS Roma

Chievo

22.12. 20:45

Bologna

AC Milan

22.12. 20:45

Cagliari

Sassuolo

22.12. 20:45

Crotone

Juventus

22.12. 20:45

Fiorentina

Napoli

22.12. 20:45

Palermo

Pescara

22.12. 20:45

Sampdoria

Udinese

22.12. 20:45

Torino

Genoa

Matchweek 19
08.01. 15:00

AC Milan

Cagliari

08.01. 15:00

Chievo

Atalanta

08.01. 15:00

Empoli

Palermo

08.01. 15:00

Genoa

AS Roma

08.01. 15:00

Juventus

Bologna

08.01. 15:00

Lazio

Crotone

08.01. 15:00

Napoli

Sampdoria

08.01. 15:00

Pescara

Fiorentina

08.01. 15:00

Sassuolo

Torino

08.01. 15:00

Udinese

Inter

Matchweek 20
15.01. 15:00

Cagliari

Genoa

15.01. 15:00

Crotone

Bologna

15.01. 15:00

Fiorentina

Juventus

15.01. 15:00

Inter

Chievo

15.01. 15:00

Lazio

Atalanta

15.01. 15:00

Napoli

Pescara

15.01. 15:00

Sampdoria

Empoli

15.01. 15:00

Sassuolo

Palermo

15.01. 15:00

Torino

AC Milan

15.01. 15:00

Udinese

AS Roma

Matchweek 21
22.01. 15:00

AC Milan

Napoli

22.01. 15:00

AS Roma

Cagliari

22.01. 15:00

Atalanta

Sampdoria

22.01. 15:00

Bologna

Torino

22.01. 15:00

Chievo

Fiorentina

22.01. 15:00

Empoli

Udinese

22.01. 15:00

Genoa

Crotone

22.01. 15:00

Juventus

Lazio

22.01. 15:00

Palermo

Inter

22.01. 15:00

Pescara

Sassuolo

Matchweek 22
29.01. 15:00

Cagliari

Bologna

29.01. 15:00

Crotone

Empoli

29.01. 15:00

Fiorentina

Genoa

29.01. 15:00

Inter

Pescara

29.01. 15:00

Lazio

Chievo

29.01. 15:00

Napoli

Palermo

29.01. 15:00

Sampdoria

AS Roma

29.01. 15:00

Sassuolo

Juventus

29.01. 15:00

Torino

Atalanta

29.01. 15:00

Udinese

AC Milan

Matchweek 23
05.02. 15:00

AC Milan

Sampdoria

05.02. 15:00

AS Roma

Fiorentina

05.02. 15:00

Atalanta

Cagliari

05.02. 15:00

Bologna

Napoli

05.02. 15:00

Chievo

Udinese

05.02. 15:00

Empoli

Torino

05.02. 15:00

Genoa

Sassuolo

05.02. 15:00

Juventus

Inter

05.02. 15:00

Palermo

Crotone

05.02. 15:00

Pescara

Lazio

Matchweek 24
12.02. 15:00

Cagliari

Juventus

12.02. 15:00

Crotone

AS Roma

12.02. 15:00

Fiorentina

Udinese

12.02. 15:00

Inter

Empoli

12.02. 15:00

Lazio

AC Milan

12.02. 15:00

Napoli

Genoa

12.02. 15:00

Palermo

Atalanta

12.02. 15:00

Sampdoria

Bologna

12.02. 15:00

Sassuolo

Chievo

12.02. 15:00

Torino

Pescara

Matchweek 25
19.02. 15:00

AC Milan

Fiorentina

19.02. 15:00

AS Roma

Torino

19.02. 15:00

Atalanta

Crotone

19.02. 15:00

Bologna

Inter

19.02. 15:00

Chievo

Napoli

19.02. 15:00

Empoli

Lazio

19.02. 15:00

Juventus

Palermo

19.02. 15:00

Pescara

Genoa

19.02. 15:00

Sampdoria

Cagliari

19.02. 15:00

Udinese

Sassuolo

Matchweek 26
26.02. 15:00

Chievo

Pescara

26.02. 15:00

Crotone

Cagliari

26.02. 15:00

Fiorentina

Torino

26.02. 15:00

Genoa

Bologna

26.02. 15:00

Inter

AS Roma

26.02. 15:00

Juventus

Empoli

26.02. 15:00

Lazio

Udinese

26.02. 15:00

Napoli

Atalanta

26.02. 15:00

Palermo

Sampdoria

26.02. 15:00

Sassuolo

AC Milan

Matchweek 27
05.03. 15:00

AC Milan

Chievo

05.03. 15:00

AS Roma

Napoli

05.03. 15:00

Atalanta

Fiorentina

05.03. 15:00

Bologna

Lazio

05.03. 15:00

Cagliari

Inter

05.03. 15:00

Crotone

Sassuolo

05.03. 15:00

Empoli

Genoa

05.03. 15:00

Sampdoria

Pescara

05.03. 15:00

Torino

Palermo

05.03. 15:00

Udinese

Juventus

Matchweek 28
12.03. 15:00

Chievo

Empoli

12.03. 15:00

Fiorentina

Cagliari

12.03. 15:00

Genoa

Sampdoria

12.03. 15:00

Inter

Atalanta

12.03. 15:00

Juventus

AC Milan

12.03. 15:00

Lazio

Torino

12.03. 15:00

Napoli

Crotone

12.03. 15:00

Palermo

AS Roma

12.03. 15:00

Pescara

Udinese

12.03. 15:00

Sassuolo

Bologna

Matchweek 29
19.03. 15:00

AC Milan

Genoa

19.03. 15:00

AS Roma

Sassuolo

19.03. 15:00

Atalanta

Pescara

19.03. 15:00

Bologna

Chievo

19.03. 15:00

Cagliari

Lazio

19.03. 15:00

Crotone

Fiorentina

19.03. 15:00

Empoli

Napoli

19.03. 15:00

Sampdoria

Juventus

19.03. 15:00

Torino

Inter

19.03. 15:00

Udinese

Palermo

Matchweek 30
02.04. 14:00

AS Roma

Empoli

02.04. 14:00

Chievo

Crotone

02.04. 14:00

Fiorentina

Bologna

02.04. 14:00

Genoa

Atalanta

02.04. 14:00

Inter

Sampdoria

02.04. 14:00

Napoli

Juventus

02.04. 14:00

Palermo

Cagliari

02.04. 14:00

Pescara

AC Milan

02.04. 14:00

Sassuolo

Lazio

02.04. 14:00

Torino

Udinese

Matchweek 31
09.04. 14:00

AC Milan

Palermo

09.04. 14:00

Atalanta

Sassuolo

09.04. 14:00

Bologna

AS Roma

09.04. 14:00

Cagliari

Torino

09.04. 14:00

Crotone

Inter

09.04. 14:00

Empoli

Pescara

09.04. 14:00

Juventus

Chievo

09.04. 14:00

Lazio

Napoli

09.04. 14:00

Sampdoria

Fiorentina

09.04. 14:00

Udinese

Genoa

Matchweek 32
16.04. 14:00

AS Roma

Atalanta

16.04. 14:00

Cagliari

Chievo

16.04. 14:00

Fiorentina

Empoli

16.04. 14:00

Genoa

Lazio

16.04. 14:00

Inter

AC Milan

16.04. 14:00

Napoli

Udinese

16.04. 14:00

Palermo

Bologna

16.04. 14:00

Pescara

Juventus

16.04. 14:00

Sassuolo

Sampdoria

16.04. 14:00

Torino

Crotone

Matchweek 33
23.04. 14:00

AC Milan

Empoli

23.04. 14:00

Atalanta

Bologna

23.04. 14:00

Chievo

Torino

23.04. 14:00

Fiorentina

Inter

23.04. 14:00

Juventus

Genoa

23.04. 14:00

Lazio

Palermo

23.04. 14:00

Pescara

AS Roma

23.04. 14:00

Sampdoria

Crotone

23.04. 14:00

Sassuolo

Napoli

23.04. 14:00

Udinese

Cagliari

Matchweek 34
30.04. 14:00

AS Roma

Lazio

30.04. 14:00

Atalanta

Juventus

30.04. 14:00

Bologna

Udinese

30.04. 14:00

Cagliari

Pescara

30.04. 14:00

Crotone

AC Milan

30.04. 14:00

Empoli

Sassuolo

30.04. 14:00

Genoa

Chievo

30.04. 14:00

Inter

Napoli

30.04. 14:00

Palermo

Fiorentina

30.04. 14:00

Torino

Sampdoria

Matchweek 35
07.05. 14:00

AC Milan

AS Roma

07.05. 14:00

Chievo

Palermo

07.05. 14:00

Empoli

Bologna

07.05. 14:00

Genoa

Inter

07.05. 14:00

Juventus

Torino

07.05. 14:00

Lazio

Sampdoria

07.05. 14:00

Napoli

Cagliari

07.05. 14:00

Pescara

Crotone

07.05. 14:00

Sassuolo

Fiorentina

07.05. 14:00

Udinese

Atalanta

Matchweek 36
14.05. 14:00

AS Roma

Juventus

14.05. 14:00

Atalanta

AC Milan

14.05. 14:00

Bologna

Pescara

14.05. 14:00

Cagliari

Empoli

14.05. 14:00

Crotone

Udinese

14.05. 14:00

Fiorentina

Lazio

14.05. 14:00

Inter

Sassuolo

14.05. 14:00

Palermo

Genoa

14.05. 14:00

Sampdoria

Chievo

14.05. 14:00

Torino

Napoli

Matchweek 37
21.05. 14:00

AC Milan

Bologna

21.05. 14:00

Chievo

AS Roma

21.05. 14:00

Empoli

Atalanta

21.05. 14:00

Genoa

Torino

21.05. 14:00

Juventus

Crotone

21.05. 14:00

Lazio

Inter

21.05. 14:00

Napoli

Fiorentina

21.05. 14:00

Pescara

Palermo

21.05. 14:00

Sassuolo

Cagliari

21.05. 14:00

Udinese

Sampdoria

Matchweek 38
28.05. 14:00

AS Roma

Genoa

28.05. 14:00

Atalanta

Chievo

28.05. 14:00

Bologna

Juventus

28.05. 14:00

Cagliari

AC Milan

28.05. 14:00

Crotone

Lazio

28.05. 14:00

Fiorentina

Pescara

28.05. 14:00

Inter

Udinese

28.05. 14:00

Palermo

Empoli

28.05. 14:00

Sampdoria

Napoli

28.05. 14:00

Torino

Sassuolo