The all new theme song of Indian Super League is now available in ringtone format. Here we are sharing the lyrics of the ISL competition "Come on Let's football". It is the most expensive football tournament in the history of Indian football. The main aim of ISL is to bring this world's most popular game to every corner of nation. Unlike, the majority of football leagues all over the world, the Indian Super League will not use the promotion and relegation system. In the first season, total of 8 teams which are Atletico de Kolkata, Mumbai City FC, Delhi Dynamos FC, Kerala Blasters, North East United FC, Chennai Titans, Goa FC, FC Pune.
Download Ringtone of ISL Theme
Method 1

Download ringtone from here: click here

After clicking, you'll land to a new page

Now click on "Download file" [Red text] and your downloading will begin.
Method 2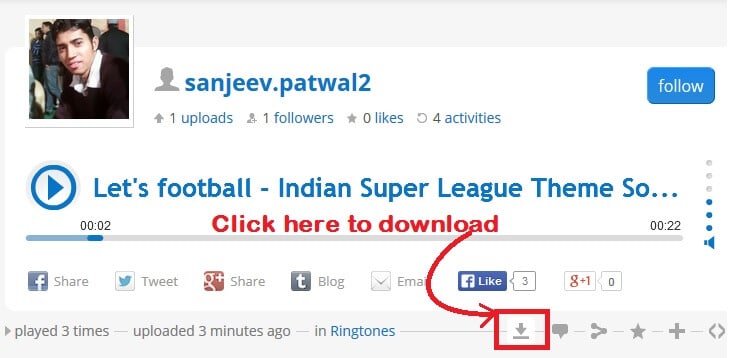 In order to download the ringtone, all you have to do is just follow the simple instructions which are given below. Link for downloading is also given.
Download ISL theme song ringtone for free: Download now

After clicking, you will land on new webpage where you can download as well as listen this ringtone.

Just click on the download icon as described in image. Select the targeted folder in which you want to save it.

Just click on save button & enjoy.
Indian Super League Theme Song Lyrics
https://www.youtube.com/watch?v=7CPAV3-PM18 Read also: Download ISL Ad Video To make this ringtone more interesting, here we have written lyrics of ISL theme song. So this with lyrics given below. Bajegi seeti bajegi seeti, udega ball udega ball Bajegi bajegi seeti -[2x] Udega udega ball Good morning India Hoyeee Lets football… Lets football O ooooo Lets football… Lets football O ooooo Dekhe sapne Kare Kamaal Dekhe dekhe sapne Kare kamaal Come on India Lets football Aaaaa.…. Lets football Aaaaa.…. Apne dil ka yahi hai haal Humne dekha yahi hai haal come on India let's football aaaa.… come on Inida let's football aaaa.… Lets football Lets football Aaa lets football Aaa Lets football… The competition will begin with first match between Atletico de Kolkata & Mumbai City FC. Salt Lake stadium, the home ground of Kolkata will organize the first ever game on 12th of October. So do you this ringtone of Indian Super League?