The first ever season of Indian Super League is ready to begin with an expected grand opening ceremony. Like Indian Premier League, the competition would be hosted with some Bollywood stars and other celebrities. All 8 teams have announced their team squads, launched their official logos and fixtures of ISL 2014 have been also announced. Hero, the sponsor of this tournament is doing at its best to make this competition at its best. Atletico de Kolkata and Mumbai City FC will play the first official match after the expected opening ceremony. On 12 October 2014, whole India will watch the first game of India's biggest football competition.
Indian Super League Opening Ceremony Date & Time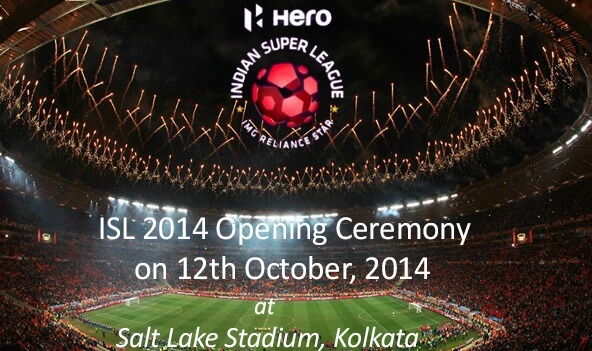 Date: 12 October 2014 Time: 5:30pm [IST], 12:00pm [GMT] There are no official confirmation about the opening ceremony, but the organizers are hopeful to witness a grand inauguration. The first match of this competition is expected to begin at 7:00pm. On TV advertisements, they have announced that, it will begin at 5:30pm. This means the opening ceremony is expected to start at 5:30pm. Given the presence of heavyweight to be quite an illustrious and star studded affair. At the ceremony, all teams with their respective captains, owners, managerial staff & other staff will be available. No words about the special celebrity have been spoken. However, Bollywood stars, Salman Khan, Varun Dhawan, Abhishek Bachchan, John Abraham and some others are expected to be present. It would be not as big as that of 2014 FIFA World Cup, but a new beginning football in India.
ISL Opening Ceremony Venue
It is expected that Salt Lake Stadium, the home ground of Atletico de Kolkata will organize the grand opening ceremony of inaugural season of ISL. The stadium is known to accomodate about 1,20,000 spectators. But it can accomodate more than this. In 1997, the stadium managed 1,31,000 spectators which is the highest attendance of this ground. It is located in Kolkata, approximately 10km to the east of Kolkata in West Bengal. About the design of ground, its roof is made of metal tubes and aluminum sheets and concrete. Salt Lake covers is designed on 76.40 acres and it was inaugurated in January 1984. It was opened in 1984. The stadium hosted some of the big football matches which includes match of Argentina vs Venezuela. In December 2012, a friendly match between the German football club Bayern Munich and Mohun Bagan was played. The match ended with 3–0 victory for Mohun Bagan. Total of 56 matches will be played in group stage which will be a two legged format [Home and Away]. Thereafter, two legged semi finals will be played on 13th, 14th, 16th and 17th December. On 20 December 2014, there will be the first champion of Indian Super League.