The Real Madrid and Spanish captain Iker Casillas finally revealed his words about sacking of Carlo Ancelotti. When most of players said warm words about their former manager, Casillas said something strange which could hurt some Madrid fans. He stated that Real Madrid made the best decision to sack Carlo Ancelotti. Later, he also said he wants to end his football career at Real Madrid. Read what he actually said after sack of Carlo Ancelotti.
Iker Casillas: Real Madrid made the best decision to sack Ancelotti
Casillas told to reporters "It is a demanding club and the president and the board have made the best decision. But I thank Carlo for what he has done for me, even though last year I was angry because he did not play me much. He is a noble person and I wish him well. Madrid will always be his home."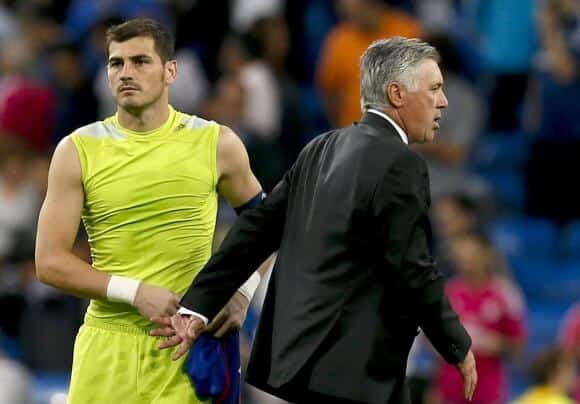 Casillas also speaks up about his career at Real Madrid and said he wants to retire at Real Madrid. He told "I am sure that I will continue here next season. I can't imagine I will not be at the club next season. I want to finish my career here.
"If things were not working I would have to leave, but now I feel good and I am strong. I will face the coming season as if it were my first here, that's my challenge."
Meanwhile Real Madrid are looking to sign Manchester United's No. 1 David De Gea. Reports in Spain earlier this year had suggested that De Gea would only move to the Bernabeu if club legend Casillas left in the summer. Casillas feels they could both thrive at the club and accepts he may be replaced as Real's No. 1