After announcing nominees of Golden Ball award, FIFA has released the Hyundai Young players shortlist of FIFA World Cup 2014. We have now best 3 young players of this competition who are the strongest competitor of this award. Winner of this award will be annoucned after the final match of Germany vs Argentina on 13th July. Check out the nomination list of best young players.
Young Players Nomination of 2014 FIFA World Cup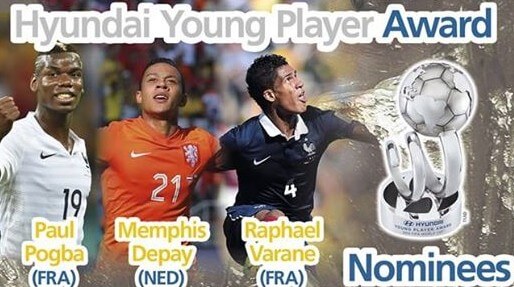 Raphael Varane [France]: The 21 years old center back defender played decent role in Francis defense. Although he missed his Under-20 FIFA World Cup, but he enjoyed this World Cup & is now listed on list of best young player. He played all 5 games with aggression, strength, accuracy & helped France to reach quarter final round. Varane is currently playing for Spanish club Real Madrid. He moved to Los Blancos in the year of 2011 from Lens. For France national football team, he played 11 games & performed as a strong wall for European side in whole tournament. Paul Pogba [France]: Here we have another French player who is listed in best young player of Brazil World Cup. He tasted huge success during FIFA U‑20 World Cup from which he was noticed by club like Manchester United. Later, he shifted to Italian club Juventus for which he is playing a stunning role. In this campaign, Pogba scored 1 goal against Nigeria went to clean sheet for France by 2–0 in Round of 16 match. Also, he made one assist in second match of group stage against Switzerland. After his brilliant performance, Pogba is likely to be one of the those players of France who could play for long time. Memphis Depay [Netherlands]: Before the start of tournament, The Flying Dutchmen were considered as one of the most experienced team. But Memphis Depay turned out a future star for Netherlands. During group stage match against Australia, he was brought in as substitute, scored a goal & made an assist. With 2 goals & 1 assist, Depay is the strongest competitor of this award. He was key player of Netherlands second group stage match. His last goal & one assists against Australia was the winning goal of Holland. He also scored one goal against Chile in last game of group stage game.