Neymar has certainly completed his journey to the signature status both on and outside the pitch. The A‑star Brazilian has been in the spotlight since his early childhood. The situation has not changed over the years. The PSG striker boasts millions of gross net in addition to enormous weekly salary, plenty of goals in addition to millions of fans and haters across the globe eager to buy Neymar soccer shoes.
Being the top player means following the latest fashion trends including sportswear. Neymar Jr soccer shoes have become the fashion icon for both professional football players and newbies. The Brazilian striker is about to replace CR7 on the throne of top Nike representative after the release of Neymar soccer cleat collection also known as "Written in the Stars".
Written In the Stars — Neymar Jr Soccer Cleats Collection
The future of Nike Football sportswear line has been clear and simple. The brand signed an infinite advertising agreement with Cristiano Ronaldo. One would hardly imagine a better promotion for the company. However, the situation seems to change in the nearest future. The brand is about to be passed by CR7 to Neymar.
We do not mean Ronaldo is off the ads campaign. What we are trying to say is that the PSG striker might take the Nike crown especially after the release of his signature soccer cleats collection. Mercurial Vapor XI is an award-winning soccer shoes collection that represents everything Neymar associates with football.
The Story behind Mercurial Neymar Soccer Shoes
The release of his signature cleats collection means a lot. Neymar grew up playing football in Mercurial soccer shoes. He loved those cleats as a kid. Everyone would dream of having the professional story to be continued on the signature boot collection. "Written In the Stars" depicts all glorious moments form Neymar Jr childhood while playing on the pitch with mates. According to his recent interview, the collection means a lot to Brazilian's entire family.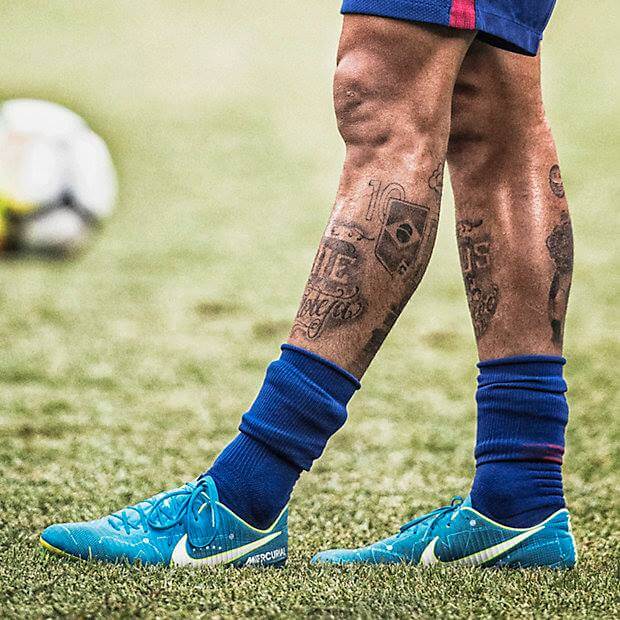 Mercurial Vapor XI is the reflection of footballers past and present. They symbolize the transformation of the player from the immature infant to a world's biggest and highly paid soccer star. The cleats feature the colors of the Brazilian flag. According to the designer's idea, the colors refer to vibrant "Volt' and "Blue Orbit" tones. Neymar soccer cleats remind off player's first goal for the international team back in 2010 as well as the astonishing success at the Olympics.
How to Buy Neyamr Jr Soccer Shoes?
Wanna play like Neymar or at least look like him on the pitch? There is nothing easier! You can find Neymar soccer cleats in all major online shops across the web. The price bites. Such a purchase will hardly put an ease on the wallet. The price starts at $152.04. However, you can find some cheaper variants. But remember that even the most expensive cleats will never add talent. It is all about passion, training and devotion to the best game ever!