After revealing new kit of Argentina, Adidas has unveiled new home & away kit of Germany. This new kits are specially designed for FIFA World Cup 2014. Few months ago team's home kits was leaked but not official kits were unveiled. This time we are sharing the latest pics of Germany latest home & away kit. The kit supplier has made lots of changes in the manufacturing of new uniforms. So have a look on new uniforms of German National Football team.
Germany New Home Kit for 2014 World Cup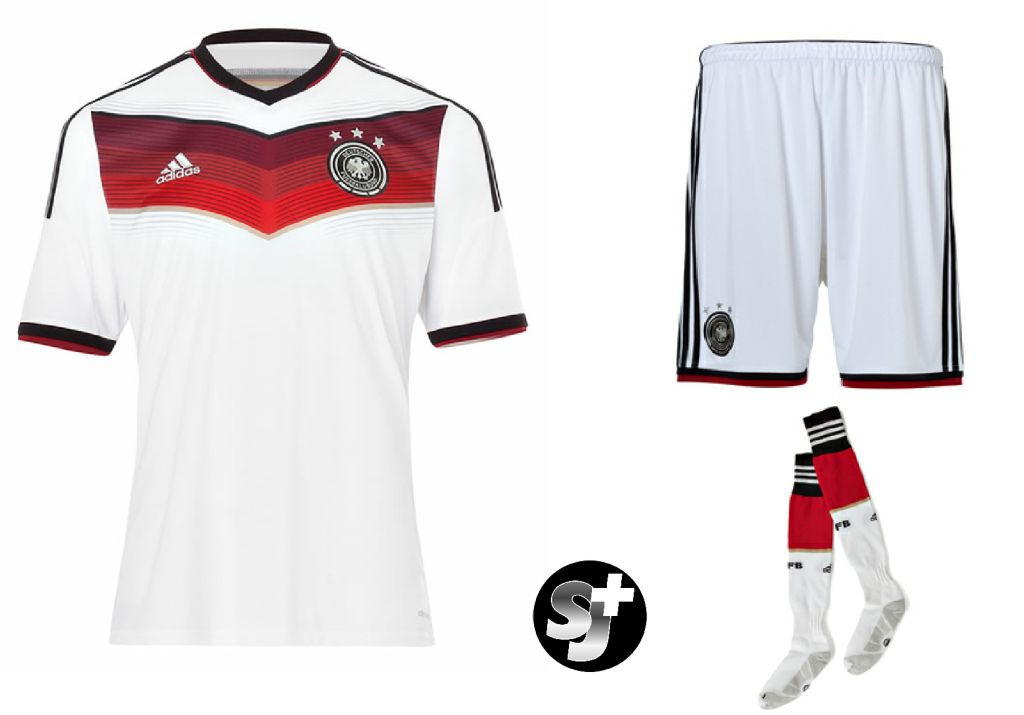 As white is the identical color of Germany, so Adidas used this color in major proportion. The home kit of Germany is almost designed with white color with combination of red as well as black color. As both kit supplier & team are of Germany, they have designed a well appreciated kit. Shirt: At the front of home shirt, V‑shaped stripes of red color are designed on chest which is acting as background for logos. On left chest, logo German national football team is there & at the right chest logo of Adidas is marked in white appearance. On shoulders, 3 black colored Adidas stripes are marked which starts from neck to center of arms. The ends of arms are finished with black & red rounds. On side of shirts, 2 black color stripes are also designed which are giving unique look to this jersey. The neck is designed in V‑shape with combination of black & red color. Shorts: For shorts, again, white is selected as main color. On white background, 3 black colored strips of brand are there at the sides of shorts. These are starting from waist to bottom of shorts. The ends are provided with black & red rounds. At the bottom of right foot, logo of team is designed. Socks: 4 colors are selected for designing of socks. At the top of socks, 3 round Adidas stripes are designed followed by single red stripe & single yellow one with different thickness. Badge of brand is designed in black color.
New Away Kit of Germany 2014 World Cup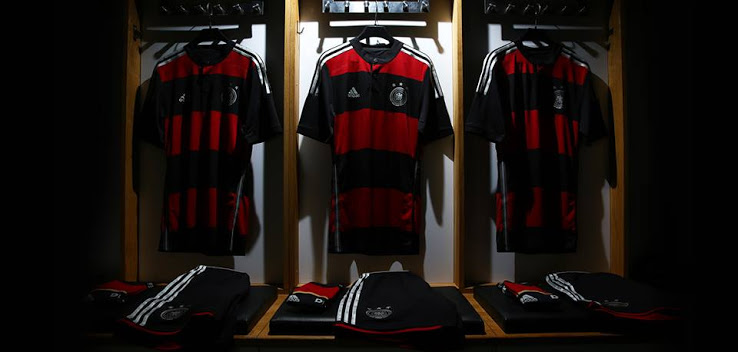 Jersey: The new away kit of Germany for 2014 world cup is totally different from home kit in both design & color selection. At front of jersey, very wide horizontal stripes are marked with black & red appearance in alternative order. In place of black, white is used for stripes on shoulder. Logo of National team & brand is also in white appearance. At the back of Jersey, player number is written. There is little bit change in collar of shirt. In away shirt, collars are little bit higher & are provided with black buttons also. Shorts: Black color is the main appearance in shorts & the design is same as that of home shorts. But white is used for stripes & logos. All kits are very light in weight which evaporates sweat with fast rate. Summer world cup will bring lots of sweat, so Adidas has made a kit which will help a player to be cool.
Goalkeeper Kit of Germany
The Goalkeeper kit of Germany is designed with only green color. But the green is selected with different appearance. Light green is the main appearance on which dark green colored stripes are there on shoulders. Logos of National team & Adidas are also in dark green appearance. At the back, a single orange colored stripe is also designed. You can say that all of these uniforms are simple in design. So after having looking on these new kits of Germany , Adidas has proved that simplicity does works. Buy your new kit today & support them.