German Bundesliga 2016–17 Fixtures According To EDT (USA Time), BST (British Time), IST (Indian Time), GMT+0
German Bundesliga 2016–17 season fixtures has been officially announced. Here you will get the information about all Bundesliga upcoming matches according to EDT (USA Time), BST (British Summer Time), GMT+0 and Indian Standard Time The season is beginning on 26th of August 2016.
Reigning champions Bayern Munich new head coach Carlo Ancelotti will manage for the first time in the German Bundesliga when they begin their title defence at home with a meeting against Werder Bremen. The game will be held at the Allianz Arena on Friday, August 26th and will act as the official debut fixture for the 2016–2017 Bundesliga season, with the eight other matches being played on the Saturday or Sunday. Last season's league runners-up Borussia Dortmund welcome manager Thomas Tuchel's former club Mainz at Westfalenstadion on the first weekend.
The showcase of the opening weekend could well be the fixture between UEFA Champions League qualifiers Borussia Monchengladbach and Bayer Leverkusen at Borussia Park. After following Robert Lewandowski and Mario Gotze's example in making the move from Dortmund to Bayern, Germany international central defender and former Borussia skipper Mats Hummels will make his return to BVB on Matchweek 11 (November 18–20).
German Bundesliga 2016–17 Fixtures EDT (USA Time), BST (British Time), IST (Indian Time), GMT+0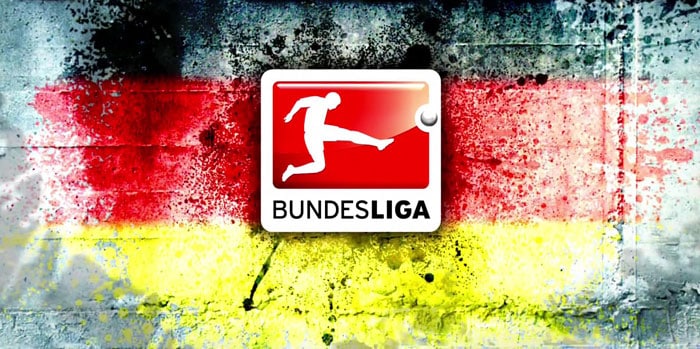 Matchweek 4 from 20.09.16 to 21.09.16
21.09. 19:00 (BST)
18:00 (GMT+0), 14:00 (EDT), 23:30 (IST)

Bayer Leverkusen

Augsburg

21.09. 19:00 (BST)
18:00 (GMT+0), 14:00 (EDT), 23:30 (IST)

Bayern Munich

Hertha Berlin

21.09. 19:00 (BST)
18:00 (GMT+0), 14:00 (EDT), 23:30 (IST)

RB Leipzig

B. Monchengladbach

21.09. 19:00 (BST)
18:00 (GMT+0), 14:00 (EDT), 23:30 (IST)

Schalke

1. FC Koln

21.09. 19:00 (BST)
18:00 (GMT+0), 14:00 (EDT), 23:30 (IST)

SV Werder Bremen

Mainz

Matchweek 5 from 23.09.16 to 25.09.16
23.09. 19:30 (BST)
18:30 (GMT+0), 14:30 (EDT), 0:00 (September 24th)(IST)

Dortmund

Freiburg

24.09. 14:30 (BST)
13:30 (GMT+0), 9:30 (EDT), 19:00 (IST)

Augsburg

Darmstadt

24.09. 14:30 (BST)
13:30 (GMT+0), 9:30 (EDT), 19:00 (IST)

B. Monchengladbach

Ingolstadt

24.09. 14:30 (BST)
13:30 (GMT+0), 9:30 (EDT), 19:00 (IST)

Eintracht Frankfurt

Hertha Berlin

24.09. 14:30 (BST)
13:30 (GMT+0), 9:30 (EDT), 19:00 (IST)

Hamburger SV

Bayern Munich

24.09. 14:30 (BST)
13:30 (GMT+0), 9:30 (EDT), 19:00 (IST)

Mainz

Bayer Leverkusen

24.09. 17:30 (BST)
16:30 (GMT+0), 12:30 (EDT), 22:00 (IST)

SV Werder Bremen

Wolfsburg

25.09. 14:30 (BST)
13:30 (GMT+0), 9:30 (EDT), 19:00 (IST)

Hoffenheim

Schalke

25.09. 16:30 (BST)
15:30 (GMT+0), 11:30 (EDT), 21:00 (IST)

1. FC Koln

RB Leipzig

Matchweek 5 from 30.09.16 to 02.10.16
30.09. 19:30
18:30 (GMT+0), 14:30 (EDT), 0:00 (October 1st)(IST)

RB Leipzig

Augsburg

01.10. 14:30
13:30 (GMT+0), 9:30 (EDT), 19:00 (IST)

Bayern Munich

1. FC Koln

01.10. 14:30
13:30 (GMT+0), 9:30 (EDT), 19:00 (IST)

Darmstadt

SV Werder Bremen

01.10. 14:30
13:30 (GMT+0), 9:30 (EDT), 19:00 (IST)

Freiburg

Eintracht Frankfurt

01.10. 14:30
13:30 (GMT+0), 9:30 (EDT), 19:00 (IST)

Hertha Berlin

Hamburger SV

01.10. 14:30
13:30 (GMT+0), 9:30 (EDT), 19:00 (IST)

Ingolstadt

Hoffenheim

01.10. 17:30
16:30 (GMT+0), 12:30 (EDT), 22:00 (IST)

Bayer Leverkusen

Dortmund

02.10. 14:30
13:30 (GMT+0), 9:30 (EDT), 19:00 (IST)

Wolfsburg

Mainz

02.10. 16:30
15:30 (GMT+0), 11:30 (EDT), 21:00 (IST)

Schalke

B. Monchengladbach

Matchweek 7 from 14.10.16 to 16.10.16
14.10. 19:30
18:30 (GMT+0), 14:30 (EDT), 0:00 (October 15th) (IST)

Dortmund

Hertha Berlin

15.10. 14:30
13:30 (GMT+0), 9:30 (EDT), 19:00 (IST)

1. FC Koln

Ingolstadt

15.10. 14:30
13:30 (GMT+0), 9:30 (EDT), 19:00 (IST)

Augsburg

Schalke

15.10. 14:30
13:30 (GMT+0), 9:30 (EDT), 19:00 (IST)

B. Monchengladbach

Hamburger SV

15.10. 14:30
13:30 (GMT+0), 9:30 (EDT), 19:00 (IST)

Eintracht Frankfurt

Bayern Munich

15.10. 14:30
13:30 (GMT+0), 9:30 (EDT), 19:00 (IST)

Hoffenheim

Freiburg

15.10. 17:30
16:30 (GMT+0), 12:30 (EDT), 22:00 (IST)

SV Werder Bremen

Bayer Leverkusen

16.10. 14:30
13:30 (GMT+0), 9:30 (EDT), 19:00 (IST)

Mainz

Darmstadt

16.10. 16:30
15:30 (GMT+0), 11:30 (EDT), 21:00 (IST)

Wolfsburg

RB Leipzig

Matchweek 8 from 21.10.16 to 23.10.16
21.10. 19:30 (BST)
18:30 (GMT+0), 14:30 (EDT), 0:00 (October 22nd) (IST)

Hamburger SV

Eintracht Frankfurt

22.10. 14:30 (BST)
13:30 (GMT+0), 9:30 (EDT), 19:00 (IST)

Bayer Leverkusen

Hoffenheim

22.10. 14:30 (BST)
13:30 (GMT+0), 9:30 (EDT), 19:00 (IST)

Darmstadt

Wolfsburg

22.10. 14:30 (BST)
13:30 (GMT+0), 9:30 (EDT), 19:00 (IST)

Freiburg

Augsburg

22.10. 14:30 (BST)
13:30 (GMT+0), 9:30 (EDT), 19:00 (IST)

Hertha Berlin

1. FC Koln

22.10. 14:30 (BST)
13:30 (GMT+0), 9:30 (EDT), 19:00 (IST)

Ingolstadt

Dortmund

22.10. 17:30 (BST)
16:30 (GMT+0), 12:30 (EDT), 22:00 (IST)

Bayern Munich

B. Monchengladbach

23.10. 14:30 (BST)
13:30 (GMT+0), 9:30 (EDT), 19:00 (IST)

RB Leipzig

SV Werder Bremen

23.10. 16:30 (BST)
15:30 (GMT+0), 11:30 (EDT), 21:00 (IST)

Schalke

Mainz

Matchweek 9 from 28.10.16 to 30.10.16
28.10. 19:30

B. Monchengladbach

Eintracht Frankfurt

29.10. 14:30

Augsburg

Bayern Munich

29.10. 14:30

Darmstadt

RB Leipzig

29.10. 14:30

Mainz

Ingolstadt

29.10. 14:30

SV Werder Bremen

Freiburg

29.10. 14:30

Wolfsburg

Bayer Leverkusen

29.10. 17:30

Dortmund

Schalke

30.10. 15:30

Hoffenheim

Hertha Berlin

30.10. 17:30

1. FC Koln

Hamburger SV

Matchweek 10 from 04.11.16 to 06.11.16
04.11. 20:30

Hertha Berlin

B. Monchengladbach

05.11. 15:30

Bayer Leverkusen

Darmstadt

05.11. 15:30

Bayern Munich

Hoffenheim

05.11. 15:30

Freiburg

Wolfsburg

05.11. 15:30

Hamburger SV

Dortmund

05.11. 15:30

Ingolstadt

Augsburg

05.11. 18:30

Eintracht Frankfurt

1. FC Koln

06.11. 15:30

RB Leipzig

Mainz

06.11. 17:30

Schalke

SV Werder Bremen

Matchweek 11 from 18.11.16 to 20.11.16
18.11. 19:30 UK
1:00 IST (November 19th), 14:30 EST

Bayer Leverkusen

RB Leipzig

19.11. 14:30 UK
20:00 IST, 19:30 EST

Augsburg

Hertha Berlin

19.11. 14:30 UK
20:00 IST, 19:30 EST

B. Monchengladbach

1. FC Koln

19.11. 14:30 UK
20:00 IST, 19:30 EST

Darmstadt

Ingolstadt

19.11. 14:30 UK
20:00 IST, 19:30 EST

Mainz

Freiburg

19.11. 14:30 UK
20:00 IST, 19:30 EST

Wolfsburg

Schalke

19.11. 17:30 UK
23:00 IST, 12:30 EST

Dortmund

Bayern Munich

20.11. 14:30 UK
20:00 IST, 19:30 EST

Hoffenheim

Hamburger SV

20.11. 16:30 UK
22:00 IST, 11:30 EST

SV Werder Bremen

Eintracht Frankfurt

Matchweek 12 from 25.11.16 to 27.11.16
25.11. 20:30

Freiburg

RB Leipzig

26.11. 15:30

1. FC Koln

Augsburg

26.11. 15:30

B. Monchengladbach

Hoffenheim

26.11. 15:30

Eintracht Frankfurt

Dortmund

26.11. 15:30

Hamburger SV

SV Werder Bremen

26.11. 15:30

Ingolstadt

Wolfsburg

26.11. 18:30

Bayern Munich

Bayer Leverkusen

27.11. 15:30

Schalke

Darmstadt

27.11. 17:30

Hertha Berlin

Mainz

Matchweek 13 from 03.12.16 to 03.12.16
03.12. 15:30

Augsburg

Eintracht Frankfurt

03.12. 15:30

Bayer Leverkusen

Freiburg

03.12. 15:30

Darmstadt

Hamburger SV

03.12. 15:30

Dortmund

B. Monchengladbach

03.12. 15:30

Hoffenheim

1. FC Koln

03.12. 15:30

Mainz

Bayern Munich

03.12. 15:30

RB Leipzig

Schalke

03.12. 15:30

SV Werder Bremen

Ingolstadt

03.12. 15:30

Wolfsburg

Hertha Berlin

Matchweek 14
10.12. 15:30

1. FC Koln

Dortmund

10.12. 15:30

B. Monchengladbach

Mainz

10.12. 15:30

Bayern Munich

Wolfsburg

10.12. 15:30

Eintracht Frankfurt

Hoffenheim

10.12. 15:30

Freiburg

Darmstadt

10.12. 15:30

Hamburger SV

Augsburg

10.12. 15:30

Hertha Berlin

SV Werder Bremen

10.12. 15:30

Ingolstadt

RB Leipzig

10.12. 15:30

Schalke

Bayer Leverkusen

Matchweek 15
17.12. 15:30

Augsburg

B. Monchengladbach

17.12. 15:30

Bayer Leverkusen

Ingolstadt

17.12. 15:30

Darmstadt

Bayern Munich

17.12. 15:30

Hoffenheim

Dortmund

17.12. 15:30

Mainz

Hamburger SV

17.12. 15:30

RB Leipzig

Hertha Berlin

17.12. 15:30

Schalke

Freiburg

17.12. 15:30

SV Werder Bremen

1. FC Koln

17.12. 15:30

Wolfsburg

Eintracht Frankfurt

Matchweek 16
21.12. 20:00

1. FC Koln

Bayer Leverkusen

21.12. 20:00

B. Monchengladbach

Wolfsburg

21.12. 20:00

Bayern Munich

RB Leipzig

21.12. 20:00

Dortmund

Augsburg

21.12. 20:00

Eintracht Frankfurt

Mainz

21.12. 20:00

Hamburger SV

Schalke

21.12. 20:00

Hertha Berlin

Darmstadt

21.12. 20:00

Hoffenheim

SV Werder Bremen

21.12. 20:00

Ingolstadt

Freiburg

Matchweek 17
21.01. 15:30

Augsburg

Hoffenheim

21.01. 15:30

Bayer Leverkusen

Hertha Berlin

21.01. 15:30

Darmstadt

B. Monchengladbach

21.01. 15:30

Freiburg

Bayern Munich

21.01. 15:30

Mainz

1. FC Koln

21.01. 15:30

RB Leipzig

Eintracht Frankfurt

21.01. 15:30

Schalke

Ingolstadt

21.01. 15:30

SV Werder Bremen

Dortmund

21.01. 15:30

Wolfsburg

Hamburger SV

Matchweek 18
28.01. 15:30

Bayer Leverkusen

B. Monchengladbach

28.01. 15:30

Darmstadt

1. FC Koln

28.01. 15:30

Freiburg

Hertha Berlin

28.01. 15:30

Ingolstadt

Hamburger SV

28.01. 15:30

Mainz

Dortmund

28.01. 15:30

RB Leipzig

Hoffenheim

28.01. 15:30

Schalke

Eintracht Frankfurt

28.01. 15:30

SV Werder Bremen

Bayern Munich

28.01. 15:30

Wolfsburg

Augsburg

Matchweek 19
04.02. 15:30

1. FC Koln

Wolfsburg

04.02. 15:30

Augsburg

SV Werder Bremen

04.02. 15:30

B. Monchengladbach

Freiburg

04.02. 15:30

Bayern Munich

Schalke

04.02. 15:30

Dortmund

RB Leipzig

04.02. 15:30

Eintracht Frankfurt

Darmstadt

04.02. 15:30

Hamburger SV

Bayer Leverkusen

04.02. 15:30

Hertha Berlin

Ingolstadt

04.02. 15:30

Hoffenheim

Mainz

Matchweek 20
11.02. 15:30

Bayer Leverkusen

Eintracht Frankfurt

11.02. 15:30

Darmstadt

Dortmund

11.02. 15:30

Freiburg

1. FC Koln

11.02. 15:30

Ingolstadt

Bayern Munich

11.02. 15:30

Mainz

Augsburg

11.02. 15:30

RB Leipzig

Hamburger SV

11.02. 15:30

Schalke

Hertha Berlin

11.02. 15:30

SV Werder Bremen

B. Monchengladbach

11.02. 15:30

Wolfsburg

Hoffenheim

Matchweek 21
18.02. 15:30

1. FC Koln

Schalke

18.02. 15:30

Augsburg

Bayer Leverkusen

18.02. 15:30

B. Monchengladbach

RB Leipzig

18.02. 15:30

Dortmund

Wolfsburg

18.02. 15:30

Eintracht Frankfurt

Ingolstadt

18.02. 15:30

Hamburger SV

Freiburg

18.02. 15:30

Hertha Berlin

Bayern Munich

18.02. 15:30

Hoffenheim

Darmstadt

18.02. 15:30

Mainz

SV Werder Bremen

Matchweek 22
25.02. 15:30

Bayer Leverkusen

Mainz

25.02. 15:30

Bayern Munich

Hamburger SV

25.02. 15:30

Darmstadt

Augsburg

25.02. 15:30

Freiburg

Dortmund

25.02. 15:30

Hertha Berlin

Eintracht Frankfurt

25.02. 15:30

Ingolstadt

B. Monchengladbach

25.02. 15:30

RB Leipzig

1. FC Koln

25.02. 15:30

Schalke

Hoffenheim

25.02. 15:30

Wolfsburg

SV Werder Bremen

Matchweek 23
04.03. 15:30

1. FC Koln

Bayern Munich

04.03. 15:30

Augsburg

RB Leipzig

04.03. 15:30

B. Monchengladbach

Schalke

04.03. 15:30

Dortmund

Bayer Leverkusen

04.03. 15:30

Eintracht Frankfurt

Freiburg

04.03. 15:30

Hamburger SV

Hertha Berlin

04.03. 15:30

Hoffenheim

Ingolstadt

04.03. 15:30

Mainz

Wolfsburg

04.03. 15:30

SV Werder Bremen

Darmstadt

Matchweek 24
11.03. 15:30

Bayer Leverkusen

SV Werder Bremen

11.03. 15:30

Bayern Munich

Eintracht Frankfurt

11.03. 15:30

Darmstadt

Mainz

11.03. 15:30

Freiburg

Hoffenheim

11.03. 15:30

Hamburger SV

B. Monchengladbach

11.03. 15:30

Hertha Berlin

Dortmund

11.03. 15:30

Ingolstadt

1. FC Koln

11.03. 15:30

RB Leipzig

Wolfsburg

11.03. 15:30

Schalke

Augsburg

Matchweek 25
18.03. 15:30

1. FC Koln

Hertha Berlin

18.03. 15:30

Augsburg

Freiburg

18.03. 15:30

B. Monchengladbach

Bayern Munich

18.03. 15:30

Dortmund

Ingolstadt

18.03. 15:30

Eintracht Frankfurt

Hamburger SV

18.03. 15:30

Hoffenheim

Bayer Leverkusen

18.03. 15:30

Mainz

Schalke

18.03. 15:30

SV Werder Bremen

RB Leipzig

18.03. 15:30

Wolfsburg

Darmstadt

Matchweek 26
01.04. 14:30

Bayer Leverkusen

Wolfsburg

01.04. 14:30

Bayern Munich

Augsburg

01.04. 14:30

Eintracht Frankfurt

B. Monchengladbach

01.04. 14:30

Freiburg

SV Werder Bremen

01.04. 14:30

Hamburger SV

1. FC Koln

01.04. 14:30

Hertha Berlin

Hoffenheim

01.04. 14:30

Ingolstadt

Mainz

01.04. 14:30

RB Leipzig

Darmstadt

01.04. 14:30

Schalke

Dortmund

Matchweek 27
05.04. 19:00

1. FC Koln

Eintracht Frankfurt

05.04. 19:00

Augsburg

Ingolstadt

05.04. 19:00

B. Monchengladbach

Hertha Berlin

05.04. 19:00

Darmstadt

Bayer Leverkusen

05.04. 19:00

Dortmund

Hamburger SV

05.04. 19:00

Hoffenheim

Bayern Munich

05.04. 19:00

Mainz

RB Leipzig

05.04. 19:00

SV Werder Bremen

Schalke

05.04. 19:00

Wolfsburg

Freiburg

Matchweek 28
08.04. 14:30

1. FC Koln

B. Monchengladbach

08.04. 14:30

Bayern Munich

Dortmund

08.04. 14:30

Eintracht Frankfurt

SV Werder Bremen

08.04. 14:30

Freiburg

Mainz

08.04. 14:30

Hamburger SV

Hoffenheim

08.04. 14:30

Hertha Berlin

Augsburg

08.04. 14:30

Ingolstadt

Darmstadt

08.04. 14:30

RB Leipzig

Bayer Leverkusen

08.04. 14:30

Schalke

Wolfsburg

Matchweek 29
15.04. 14:30

Augsburg

1. FC Koln

15.04. 14:30

Bayer Leverkusen

Bayern Munich

15.04. 14:30

Darmstadt

Schalke

15.04. 14:30

Dortmund

Eintracht Frankfurt

15.04. 14:30

Hoffenheim

B. Monchengladbach

15.04. 14:30

Mainz

Hertha Berlin

15.04. 14:30

RB Leipzig

Freiburg

15.04. 14:30

SV Werder Bremen

Hamburger SV

15.04. 14:30

Wolfsburg

Ingolstadt

Matchweek 30
22.04. 14:30

1. FC Koln

Hoffenheim

22.04. 14:30

B. Monchengladbach

Dortmund

22.04. 14:30

Bayern Munich

Mainz

22.04. 14:30

Eintracht Frankfurt

Augsburg

22.04. 14:30

Freiburg

Bayer Leverkusen

22.04. 14:30

Hamburger SV

Darmstadt

22.04. 14:30

Hertha Berlin

Wolfsburg

22.04. 14:30

Ingolstadt

SV Werder Bremen

22.04. 14:30

Schalke

RB Leipzig

Matchweek 31
29.04. 14:30

Augsburg

Hamburger SV

29.04. 14:30

Bayer Leverkusen

Schalke

29.04. 14:30

Darmstadt

Freiburg

29.04. 14:30

Dortmund

1. FC Koln

29.04. 14:30

Hoffenheim

Eintracht Frankfurt

29.04. 14:30

Mainz

B. Monchengladbach

29.04. 14:30

RB Leipzig

Ingolstadt

29.04. 14:30

SV Werder Bremen

Hertha Berlin

29.04. 14:30

Wolfsburg

Bayern Munich

Matchweek 32
06.05. 14:30

1. FC Koln

SV Werder Bremen

06.05. 14:30

B. Monchengladbach

Augsburg

06.05. 14:30

Bayern Munich

Darmstadt

06.05. 14:30

Dortmund

Hoffenheim

06.05. 14:30

Eintracht Frankfurt

Wolfsburg

06.05. 14:30

Freiburg

Schalke

06.05. 14:30

Hamburger SV

Mainz

06.05. 14:30

Hertha Berlin

RB Leipzig

06.05. 14:30

Ingolstadt

Bayer Leverkusen

Matchweek 33
13.05. 14:30

Augsburg

Dortmund

13.05. 14:30

Bayer Leverkusen

1. FC Koln

13.05. 14:30

Darmstadt

Hertha Berlin

13.05. 14:30

Freiburg

Ingolstadt

13.05. 14:30

Mainz

Eintracht Frankfurt

13.05. 14:30

RB Leipzig

Bayern Munich

13.05. 14:30

Schalke

Hamburger SV

13.05. 14:30

SV Werder Bremen

Hoffenheim

13.05. 14:30

Wolfsburg

B. Monchengladbach

Matchweek 34
20.05. 14:30

1. FC Koln

Mainz

20.05. 14:30

B. Monchengladbach

Darmstadt

20.05. 14:30

Bayern Munich

Freiburg

20.05. 14:30

Dortmund

SV Werder Bremen

20.05. 14:30

Eintracht Frankfurt

RB Leipzig

20.05. 14:30

Hamburger SV

Wolfsburg

20.05. 14:30

Hertha Berlin

Bayer Leverkusen

20.05. 14:30

Hoffenheim

Augsburg

20.05. 14:30

Ingolstadt

Schalke