Nike has launched new uniform kit for France. The team will play their upcoming matches of FIFA world cup 2014 in Brazil with this new uniform. France has qualified for next year World Cup & the team looking stronger with its star player like Franck Ribery who is nominated for Top 3 players of FIFA ballon d'or 2013. Read full details of France new Jersey & shorts for home & away matches of next year world Cup.
France New Home Kit for 2014 World Cup
In the design of jersey, Nike has used Blue as major color. The color of whole jersey is blue with white colored collar. On left side of jersey, logo of Nike is designed & on the other side logo of France National football team is marked. The new French kit captures the innate style & national pride of France.
During the launch of this new Kit of France, the Creative director of Nike Football, Martin Lotti said "By managing sweat & keeping the body cooler longer feel more comfortable, sweat less & players will perform better".
Features of new Jersey & Shorts
Nike has stated that the design of jersey will provide ultimate cooling & comfort to the football player. The ventilation holes on this jersey helps to minimize the level of sweat. These holes evaporates sweat more quickly. They have used Nike Dri-FIT technology which helps the moisture to stay away from footballer's skin.
The jersey & shorts are designed with perfect fitness which are very light in weight & the player feels high level of comfort. Nike has also used 3D body scans for the manufacture of this kit. Earlier, wide type of jersies were used but today, most of players prefer fit jersey in which they feel comfortable during fast run.
France 2014 World Cup Away Kit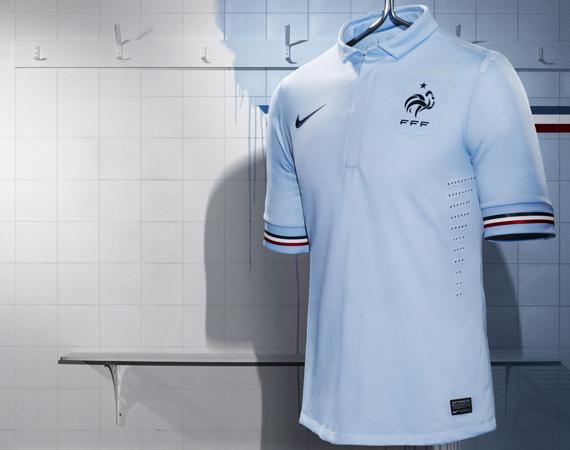 The away kit of France team is white in color with dark blue appearance. The new 2014 France away Kit comes with dark navy shorts & white long shorts. The socks are red in color with white colored Nike logo printed in each leg.
Out of all Nike designs, the Nike Pro base layer is the lightest ever designed by Nike. This type of layer helps to increase venting & breath ability. For the shorts, the base layer was redesigned by the Nike for which the insights were taken directly form some best football players.