The best inspirational quotes of football of all time are here. Get the all time most popular motivational lines of football sport. Today, we are bringing one of the best famous quotes of soccer with you. Lots of football legends have said about this most popular sport. We have selected the best quotes by authors and crafted only for the football fans. All you need to do is just continue your reading and you'll get access to the most naming inspirational sayings about football. Here we go.
Football best inspirational quotes of all time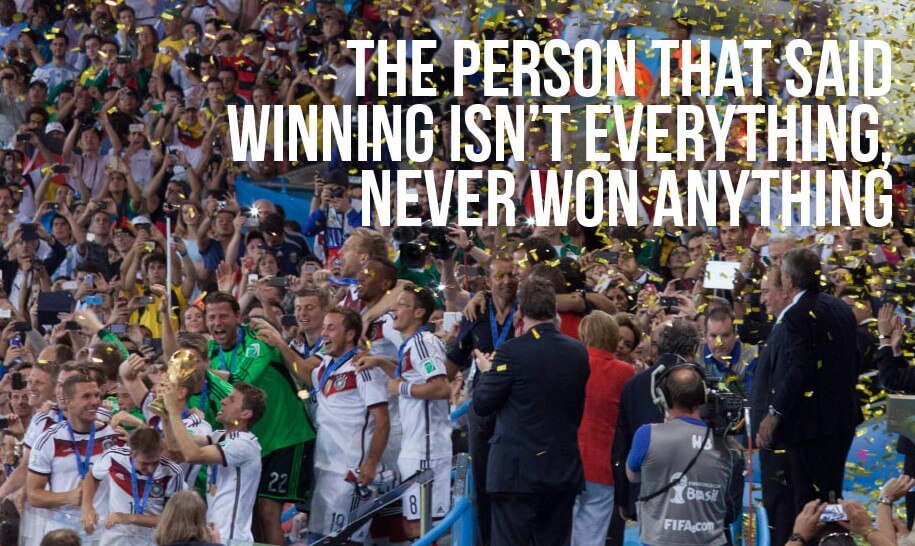 "Ability is what you're capable of doing. Motivation determines what you do. Attitude determines how well you do it." — Lou Holtz
"Anyone who's just driven ninety yards against huge men trying to kill them has earned the right to do Jazz hands." — Craig Ferguson
"Success comes in a lot of ways, but it doesn't come with money and it doesn't come with fame. It comes from having a meaning in your life, doing what you love and being passionate about what you do. That's having a life of success when you have the ability to do what you love, love what you do and have the ability to impact people. That's having a life of success. That's what having a life of meaning is." — Tim Tebow.
"When I meet a European, the first thing I say is, "I would much rather watch footabll that football." But I'm just teasing them, and they know I'd really rather watch football than football." — Jarod Kintz
"Football is like life — it requires perseverance, self-denial, hard work, sacrifice, dedication and respect for authority." — Vince Lombardi
"Football combines two of the worst things in American life. It is violence punctuated by committee meetings". — George F. Will
Best Motivational Quotes From Ronaldo, Messi & Others
Given below are the best football quotes by Zidane, Cristiano Ronaldo, Lionel Messi and other legends. Have a look.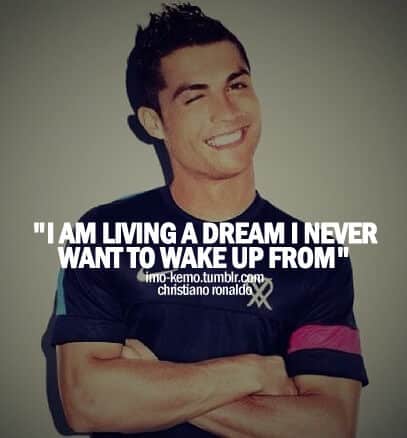 "I am living a dream I never want to wake up from." — Cristiano Ronaldo
"I once cried because i had no shoes to play football with my friends, but one day i say a man who had no feet, and I realized how rich I am." — Zinedine Zidane
"You have to fight to reach your dream. You have to sacrifice and work hard for it." — Lionel Messi
"We don't want to tell our dreams, we want to show them." — Cristiano Ronaldo
"I'm very inspired by him-it was my father who taught us that an immigrant must work twice as hard as anybody else, that he must never give up." — Zinedine Zidane
"Money is not a motivating factor. Money doesn't thrill me or make me play better because there are benefits to being wealthy. I'm just happy with a ball at my feet. My motivation comes from playing the game I love. If I wasn't paid to be a professional footballer I would willingly play for nothing." — Lionel Messi
"I'm going to tell you the story about the geese which fly 5,000 miles from Canada to France. They fly in V‑formation but the second ones don't fly. They are the subs for the first ones. And then the second ones take over — so it's teamwork." — Sir Alex Ferguson
"Over the years I've learnt to live with two persons in my heart. One is Edson, who has fun with his friends and family; the other is the football player Pele. I didn't want the name. 'Pele' sounds like baby-talk in Portuguese." — Pele
"There is no harm in dreaming of becoming the World's best player. It's all about trying to be the best. I will keep working hard to achieve it, but it is within my capabilities." — Cristiano Ronaldo
"We are well aware of the task ahead of us in what will be a very difficult match but which we all dream of playing." — Zinedine Zidane
"I've never stopped being Argentine, and I've never wanted to. I feel very proud of being Argentine, even though I left there. I've been clear about this since I was very young, and I never wanted to change. Barcelona is my home because both the club and the people here have given me everything, but I won't stop being Argentine." — Lionel Messi
"Myths grow all the time. If I was to listen to the number of times I've thrown teacups then we've gone through some crockery in this place. It's completely exaggerated, but I don't like people arguing back with me. — Sir Alex Ferguson."
"Your love makes me strong. Your hate makes me unstoppable." — Cristiano Ronaldo
"It's the first time it's happened to me and maybe the last. It's a strange sensation, not normal for me. I can't remember scoring three goals, even when I was a kid." — Zinedine Zidane
"Football management is such a pressurized thing — horse racing is a release. I'm also learning to play the piano — I'm quite determined — It's another release from the pressure of my job." — Sir Alex Ferguson
"I've come to accept that the life of a frontrunner is a hard one, that he will suffer more injuries than most men and that many of these injuries will not be accidental." — Pele
"Lots of young players have triumphed at United, so why can't it happen to me? I'm not worried that I'm young. It's an incentive to do the best I can." — Cristiano Ronaldo
"I was lucky to come from a difficult area. It teaches you not just about football but also life. There were lots of kids from different races and poor families. People had to struggle to get through the day." — Zinedine Zidane.
"There's nothing more satisfying than seeing a happy and smiling child. I always help in any way I can, even if it's just by signing an autograph. A child's smile is worth more than all the money in the world." — Lionel Messi
"I feel sympathy for the working class lad. I've always championed about ticket prices and try to equate that to people's salaries." — Sir Alex Ferguson
"I have to trust something that gives me power; I have to believe in something, but in my career I have a lot of moments I cannot explain with God." — Pele
So these are the best ever inspirational / motivational quotes on football by famous authors and players. Read and share these quotes with other football fans across the globe.