Real Madrid president Florentino Perez finally announced that club manager Carlo Ancelotti will not be sacked. After awful start in this year, lots of rumors have been said about the sack of Italian manager, but Perez made it clear whether the manager will remain or not. The club tasted great success last year in which they won 4 trophies under the charge of Ancelotti. Read what the president said during press conference.
Florentino Perez: Ancelotti will not be sacked
In last game of UEFA Champions League, the vikings suffered first loss after their 10 consecutive wins in same competition. They were defeated by 4–3 at their home without presence of Sergio Ramos. Although they qualified for quarter final round, but it was a defeat which cannot be forget easily.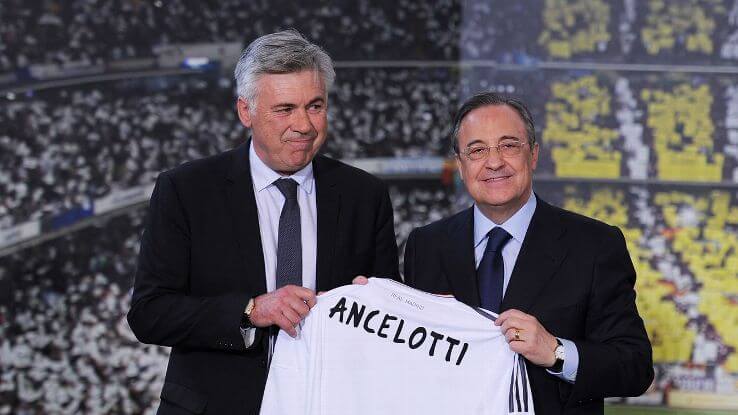 Perez was reacting to front page of Marca and said "To clear up statements that have nothing to do with reality, and have created a poor atmosphere around club for players."
"Our greatness is in our self-criticism and self demanding nature, but to take advantage of our low moment in form, to attack coach and the players is disproportionate."
"I want to show our club has full confidence in our coach and our players. Whatever happens in coming weeks, Carlo Ancelotti will remain Madrid coach. And all players have the support and affection of the club, board and president."
"We have best coach and players for Madrid. They have won respect of all football fans, and especially all Madridistas. We feel very proud of all of them. They have won the trophies Madridismo waited may years for: Copa Del Rey, plys the decima European Cup, Super Cup, Club World Cup, playing amazing football just months ago. For some it was best football of all time at this club."
"We had never won four trophies in one calender year, so this coach and players form part of the history of this club. We will keep battling for the Champions League and La Liga, and remain united despite all from outside."
"We ask all our socios and fans to support our coach, and be proud of them, for all they have done, and all they will do. They need our support, as that is our strength, and always has been."
"We cannot always win these trophies, but we are the club with most La Liga titles and most European Cups. So responsible and intelligent self criticism is accepted, but not that which does us damage."