As we all know FIFA World Cup is the biggest football event which is played between top 32 nations after every 4 years. The competition has great football World Cup history with lots of interesting facts & figures. Winning this trophy is the dream of every football player. Some legends have won it, created history while some are looking to lift this trophy for the first time. Here we have made a list of great interesting facts & figures of this tournament which you must know, if you are a die hard football fan.
FIFA World Cup Facts & Figures & Trivia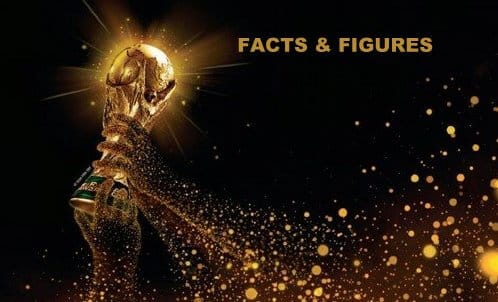 FIFA World Cup is the most widely watched event all across the world. For the first time, it was telecasted in the year of 1954 which resulted flood of football fans. That was the first step of Governing body in making this sport world's number one. Given below are the facts of FIFA World Cup. Have a look!
The former Brazilian & Real Madrid player Ronaldo is still the highest goal scorer of FIFA World Cup. In his career, the player scored total of 15 goals.
Brazil is the only nation which has played all World Cups. So far, the national team has played 20 FIFA World Cup tournaments.
West Germany's Franz Beckenbauer & Brazil's Mario Zagallo are the only persons to date to win the World Cup as both player & head coach.
In this competition, Brazil has scored maximum number of goals with count of 210. Goals of 2014 competitions are not included.
Pele from Brazil & Uwe Seeler from West Germany have in four consecutive finals in 1958, 1962, 1966 & 1970.
Germany have played maximum number of games [99]. Brazil & Germany have played against each other only one time in 2002 World Cup final.

Lothar Matthaus has played highest number of games in this campaign. He played 25 matches overall.

There is only one player who played both World Cup of football as well as of cricket & his name is Sir Viv Richards.

European & South American countries have won all 19 tournaments. There is no other continent which has produced World Cup winner.

Turkey's Hasan Sukur holds the record of scoring fastest goal this competition. The player scored an early goal in 11 seconds against South Korea in World Cup tournament of 2002.

Asian national team India qualified for this tournament in 1950 for the first time. But the Indian players wanted to play barefooted which was against FIFA's rules & regulations. So were knocked out automatically.

Mexico is the national team which is known for highest defeats with a record of losing 20 games.

Cameroonian player Roger Milla is the oldest footballer who scored in 1994 FIFA World Cup at the age of 42 years.
First hat-trick was scored by United States player Bert Patenuade during a match against Paraguay in 1930.

Brazil is the most successful national football team in the history with 5 times champions: 1958, 1962, 1970 & 2002.

Maximum audience attendence of 3,587,538 was record during the FIFA World Cup of 1994 which was hosted by United States of America. The average attendence of that campaign was 68,991 which is also the highest average attendence.
Goal Line technology will be used for the first time in 2014 Brazil World Cup.