As the 20th edition of FIFA World Cup is approaching, everyone is desperate to enjoy this greatest football tournament. But before watching your favorite team players in action, you must know all awards of this football competition. Here we have made a list of all world cup awards. These awards given to those players who performs best during whole tournament.
All Awards of FIFA World Cup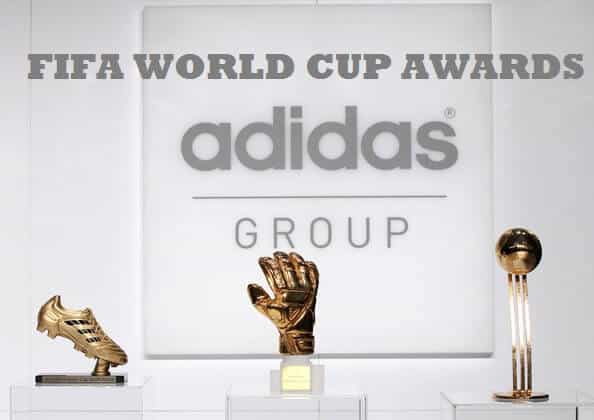 The governing body FIFA honors best players with total of 7 main awards. Given below is the list of all major awards of FIFA World Cup. 1. Golden Boot: Golden boot is also called as golden shoe which is given to a player who scores maximum number of goals. Early name of it was "Adidas Golden Shoe" as Adidas is the official partner of FIFA. Now, it is called as Golden boot from 1982. Guillermo Stabile is the first player winning this trophy. It was first introduced in 1930 World Cup. Second & third place winners receives Silver & Bronze boot respectively. 2. Golden Ball: This is the award which is given to the best player based on votes by staff & media. Golden ball should not be confused with Golden boot award as the above award is only given to highest goal scorer. Thos who finishes as runners-up receive Silver Ball & Bronze ball for third place winner. It was first won by Jose Nasazzi. 3. Golden Glove: As the name suggests, it is given to best goalkeeper of world cup tournament. The FIFA technical study group recognizes the top goalkeeper of the tournament based on the performance during whole campaign. Enrique Ballesteros was the first winner of this trophy. In last world cup of South Africa, the Spanish captain Iker Casillas won it. He conceded just 2 goals throughout the competition. 4. Best Young Player: The best young player award is given to young player who is at most 21 years old in the competition. In 2006 FIFA World Cup of Germany, the award was first introduced & the German player Lucas Podolski won the first award. Again, another German player Thomas Muller won it in next world cup [2010]. In same competition, he was awarded with Golden boot for scoring maximum number of goals. 5. FIFA Fair Play Trophy: Name of this award describes its honoring. The team with best record of fair play receives this trophy. Winners of this award receives a FIFA Fair play trophy, a diploma, $50,000 & a fair play medal for each player. During 1970 WC, Peru was the first ever country which received no yellow card through the competition. 6. Most Entertaining Team: The team which entertains people most with a positive impact on the game receives this award. So far, there are 4 winners of this trophy which are Brazil [1994], France [1998], South Korea [2002] & Portugal [2006]. It was not included 2010 World Cup. 7. All Star Teams: This award is given to players from different nations who builds best team of the competition. In 1998 finals, the number of best players expanded from 11 to 16 & thereafter from 16 to 23 in 2006, but in 2010 the number of all star teams reduced to 11 with best coach. The All star team of last world is: Goalkeeper: Iker Casillas Defenders: Philipp Lahm, Sergio Ramos, Carles Puyol, Maicon Midfielders: Andres Iniesta, Bastian Schweinsteiger, Wesley Sneijder, Xavi Hernandez Forwards: David Villa, Diego Forlan Coach: Vicente del Bosque.