The football world cup will start on 12 June, 2014 & the qualification rounds are started. Again this time total 32 teams will compete for the title. One team is already qualified for the tournament which is Brazil as the country is hosting the world cup. The remaining 31 teams will now play matches of qualification & even the place of last world cup champions i.e. Spain is not fixed for the world cup. The qualification process was started from 15th June, 2011 & will end on 19 November 2013.
World Cup 2014 Qualification Details:-
Started Date: 15 June, 2011
End Date: 19 November, 2013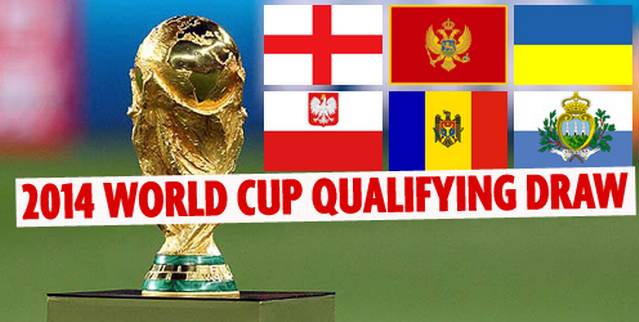 On 15 June, 2011 the first qualification match was played between Belize & Montserrat. In that match, the first goal was scored by Belizean striker Deon McCaulay. For the License of this world cup, 203 teams will compete & only 32 teams will get chance to play in World war of football in Brazil.
FIFA World Cup 2014 qualification fixtures

Match
Date
Venue

Oman vs. Iraq

4–6‑2013

Muscat

Qatar vs. Iran

4–6‑2013

Doha

Japan vs. Australia

4–6‑2013

Saitama

Jamaica vs. Mexico

4–6‑2013

Kingston

Lebanon vs. Korea Republic

4–6‑2013

Beirut

Malawi vs. Namibia

5–6‑2013

TBA

Kenya vs. Nigeria

5–6‑2013

Nairobi

Central African Republic vs. South Africa

7–6‑2013

TBA

Bolivia vs. Venezuela

7–6‑2013

La Paz

Libya vs. Congo DR

7–6‑2013

Tripoli

Iceland vs. Slovenia

7–6‑2013

Reykjavik

Finland vs. Belarus

7–6‑2013

Helsinki

Argentina vs. Colombia

7–6‑2013

Buenos Aires

Latvia vs. Bosnia Herzegovina

7–6‑2013

Riga

Republic of Ireland vs. Faroe island

7–6‑2013

Dublin

Costa Rica vs. Honduras

7–6‑2013

San Jose

Armenia vs. Malta

7–6‑2013

Yerevan

Sudan vs. Ghana

7–6‑2013

Khartoum

Liechtenstein vs. Slovakia

7–6‑2013

Vaduz

Paraguay vs. Chile

7–6‑2013

Asuncion

Croatia vs. Scotland

7–6‑2013

Zagreb

Jamaica vs. USA

7–6‑2013

Kingston

Albania vs. Norway

7–6‑2013

Tirana

Montenegro vs. Ukraine

7–6‑2013

Podgorica

Belgium vs. Serbia

7–6‑2013

Brussels

Czech republic vs. Italy

7–6‑2013

Prague

Austria vs. Sweden

7–6‑2013

Vienna

Portugal vs. Russia

7–6‑2013

Lisbon

Lithuania vs. Greece

7–6‑2013

Vilnius

Panama vs. Mexico

7–6‑2013

Panama city

Azerbaijan vs. Luxembourg

7–6‑2013

Baku

Peru vs. Ecuador

7–6‑2013

Lima

Moldova vs. Poland

7–6‑2013

Chisinau

Botswana vs. Ethiopia

8–6‑2013

Lobaste

Zambia vs. Lesotho

8–6‑2013

Ndola

Gabon vs. Congo

8–6‑2013

Franceville

Angola vs. Senegal

8–6‑2013

Luanda

Uganda vs. Liberia

8–6‑2013

Kampala

Cape Verde island vs. Equatorial Guinea

8–6‑2013

Praia

Sierra Leone vs. Tunisia

8–6‑2013

Freetown

Gambia vs. Ivory Coast

8–6‑2013

Bakau

Switzerland vs. Cyprus

8–6‑2013

Geneva

Morocco vs. Tanzania

8–6‑2013

Marrakech

Zimbabwe vs. Egypt

9–6‑2013

Harare

Togo vs. Cameroon

9–6‑2013

Lome

Niger vs. Burkina Faso

9–6‑2013

Niamey

Benin vs. Algeria

9–6‑2013

Porto novo

Guinea vs. Mozambique

9–6‑2013

Conakry

Mali vs. Rwanda

9–6‑2013

Bamako

Colombia vs. Peru

11–6‑2013

Barranquila

Ecuador vs. Argentina

11–6‑2013

Quito

Iraq vs. Japan

11–6‑2013

Doha

Mexico vs. Costa Rica

11–6‑2013

Mexico city

Honduras vs. Jamaica

11–6‑2013

Tegucigalpa

USA vs. Panama

11–6‑2013

Seattle

Sweden vs. Faroe island

11–6‑2013

Solna

Venezuela vs. Uruguay

11–6‑2013

Puerto Ordaz

Australia vs. Jordan

11–6‑2013

Melbourne

Iran vs. Lebanon

11–6‑2013

Tehran

Korea Republic vs. Uzbekistan

11–6‑2013

Seoul

Belarus vs. Finland

11–6‑2013

Gomel

Denmark vs. Armenia

11–6‑2013

Copenhagen

Chile vs. Bolivia

11–6‑2013

Santiago De Chile

Malawi vs. Kenya

12–6‑2013

TBA

Namibia vs. Nigeria

12–6‑2013

Windhoek

Libya vs. Togo

14–6‑2013

Benina

Botswana vs. Central African Republic

15–6‑2013

Lobatse

Zambia vs. Sudan

15–6‑2013

Ndola

Congo vs. Burkina Faso

15–6‑2013

Pointe Noire

Gabon vs. Niger

15–6‑2013

Libreville

Uganda vs. Angola

15–6‑2013

Kampala

Liberia vs. Senegal

15–6‑2013

Monrovia

Cape Verde island vs. Sierra Leone

15–6‑2013

Praia

Morocco vs. Gambia

15–6‑2013

Marrakech

Tanzania vs. Ivory Coast

16–6‑2013

Dar Es Salaam

Lesotho vs. Ghana

16–6‑2013

Maseru

Mozambique vs. Egypt

16–6‑2013

Maputo

Rwanda vs. Algeria

16–6‑2013

Kigali

Congo DR vs. Cameroon

16–6‑2013

Kinshasa

Ethiopia vs. South Africa

16–6‑2013

Addis Abeba

Equatorial Guinea vs. Tunisia

16–6‑2013

Malabo

Guinea vs. Zimbabwe

16–6‑2013

Conakry

Mali vs. Benin

16–6‑2013

Bamako

Uzbekistan vs. Qatar

18–6‑2013

Tashkent

Jordan vs. Oman

18–6‑2013

Amman

USA vs. Honduras

18–6‑2013

Sandy

Australia vs. Iraq

18–6‑2013

Sydney

Costa Rica vs. Panama

18–6‑2013

San Jose

Korea Republic vs. Iran

18–6‑2013

Ulsan

Northern Ireland vs. Russia

14-08-2013

Belfast

FYR Macedonia vs. Wales

06-09-2013

TBA

Scotland vs. Belgium

06-09-2013

TBA

Serbia Croatia

06-09-2013

TBA

Columbia vs. Ecuador

06-09-2013

TBA

Chile vs. Venezuela

06-09-2013

TBA

Peru vs. Uruguay

06-09-2013

TBA

Paraguay vs. Bolivia

06-09-2013

TBA

South Africa vs. Botswana

06-09-2013

TBA

Central African Republic vs. Ethiopia

06-09-2013

TBA

Mexico vs. Honduras

06-09-2013

TBA

Panama vs. Jamaica

06-09-2013

TBA

Costa Rica vs. USA

06-09-2013

TBA

Jordan vs. Uzbekistan

06-09-2013

TBA

Tunisia vs. Cape Verde Island

06-09-2013

TBA

Sierra Leone vs. Equatorial

06-09-2013

TBA

Czech Republic vs. Armenia

06-09-2013

TBA

Italy vs. Bulgaria

06-09-2013

TBA

Malta vs. Denmark

06-09-2013

TBA

Ivory Coast vs. Morocco

06-09-2013

TBA

Gambia vs. Tanzania

06-09-2013

TBA

Germany vs. Austria

06-09-2013

TBA

Republic of Ireland vs. Sweden

06-09-2013

TBA

Kazakhstan vs. Faroe Island

06-09-2013

TBA

Romania vs. Hungary

06-09-2013

TBA

Estonia vs. Netherlands

06-09-2013

TBA

Turkey vs. Andorra

06-09-2013

TBA

Sudan vs. Lesotho

06-09-2013

TBA

Ghana vs. Zambia

06-09-2013

TBA

Burkina Faso

06-09-2013

TBA