The four times FIFA Ballon D'or winner Lionel Messi added another trophy to his trophy cabinet by winning FIFA Golden Ball of FIFA World Cup 2014. It was Messi who played key performance throughout the whole competition. Colombian star footballer James Rodriguez was also shortlisted for this award but he grabbed Golden Boot Award & Messi had to satisfy with Golden Ball after defeat against Germany in final match.
Lionel Messi Won Golden Ball of 2014 FIFA World Cup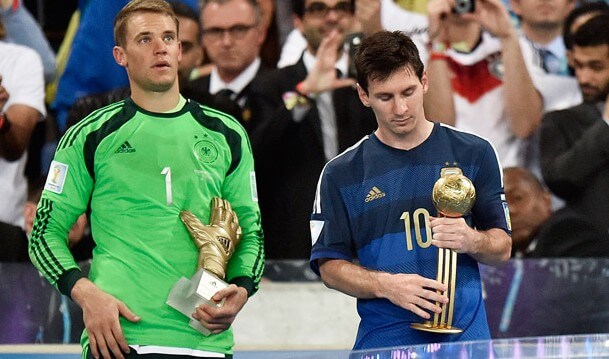 Golden Ball: Lionel Messi Silver Ball: Thomas Muller Bronze Ball: Arjen Robben It would be not incorrect to say that Argentine players were too dependent on Messi that cost them in final match. Leo won first four back to back man of the match trophies. He won man of the match award against Nigeria, Bosnia & Herzegovina, Switzerland & Iran. Remaining players who were shortlisted for this award are Philipp Lahm, Toni Kroos, Mats Hummels, Javier Mascherano, Angel Di Maria, Arjen Robben & Neymar. From host nation, only Neymar was in the list of Golden ball contenders. DFB eleven forward Thomas Muller won Silver ball & Arjen Robben [Netherlands] won Bronze ball. Muller also won silver boot being on second spot of scoring maximum goals in the competition. In 2010 World Cup, Thomas Muller was awarded with Golden Boot & Best Young player in South Africa. The German Goalkeeper Manuel Neuer was awarded with Golden Glove for best performance in 20th FIFA World Cup. While, Francis Paul Pogba won FIFA best young player of the competition. His team partner Raphael Varane & the flying Dutchmen Memphis Depay were also in list of best young player of this tournament. Colombian national football team were awarded with fair play award. For the first time in the history of FIFA World Cup, the team qualified for quarter final round. Team player James Rodriguez played role of Radamel Falcao who missed the tournament due to serious injury. Rodriguez scored 6 goals in 5 games.