It's one of Group B's most anticipated match in the Euro's this year and with a mixture of both pride and dignity adding to it, it surely looks like a promising match. Both outfits have a point to prove, but for very different reasons! The Welsh players have finally secured a spot in the finals and it seems like these newcomers have the potential to make it into the front pages of the history books of the competition as they have come with a whole bunch of exciting and improved players, of which some have already classed themselves as one of the bests in the world. England too has their fair share off amazing talents who have worked it all for their clubs this season, some of whom have outshined their potential. It is indeed a big match and both teams have high expectations too.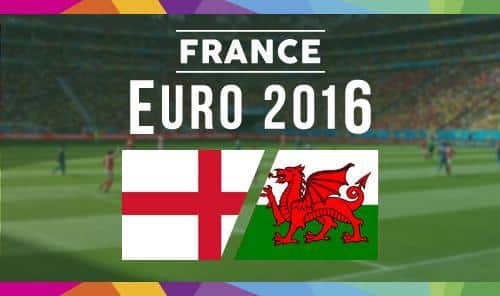 TV Timing of England Vs Wales Euro 2016
Match schedule
Competition
Euro 2016
Date
16 June 2016 [GMT & IST]
Time
1:00 pm [GMT], 2:00 pm [BST] 6:30 pm [IST]
Stadium
Stade Bollaert Delelis, Lens
Seating capacity
38,233 spectators
First team
England
Second team
Wales
Round
Group stage
Telecast channels
Sony Six, ESPN, beIN Sports Connect etc.
England vs Wales will begin at 6:30 pm on 16th June 2016 [according to Indian time]. You can watch the live telecast of this match on TV channels Sony Six. List of telecast providers is given below. England: BBC One UK Australia: beIN Sports Connect Australia Canada: TSN5, TSN Radio 1040 Croatia: HRT 2 Denmark: TV2 Denmark France: beIN Sports Connect Italy: Sky Go Italia Japan: WOWOW Norway: TV2 Sumo, TV2 Zebra United States: ESPN Deportes TV, WATCH ESPN, ESPN
England Vs Wales Euro 2016 Match Preview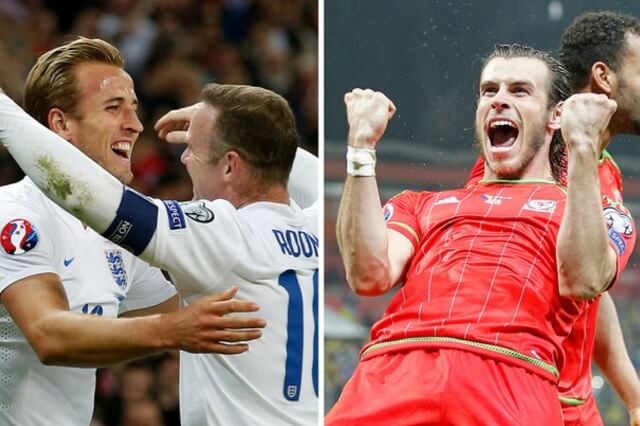 Wales will have a major confidence boost as their manager and brains behind the operation Chris Coleman, is on course to sign a contract extension with national outfit. He has made his mark on the international platform by taking this Welsh side into Europe's biggest completion in remarkable fashion. Read also: Germany vs Poland telecast channels His players have been in excellent form of late and if they manage to keep this momentum going into the finals they have a huge chance of qualifying and also in beating their long rivals. History suggests that England have the upper hand as they have outclassed their opponents 66 times so far and the Welsh side have only managed to return the favour 14 times so far. Don't miss: England team squad for Euro Cup 2016 But as we head into Europe's biggest national platform, history lacks few importance and with the presence of a tournament structure anything can happen as was highlighted back in Brazil were the host nation fell 7 goals short of making it into the finals. Wales hopes hugely rides on the backs of Gareth Bale who helped his side with 7 goals during qualification He has also been in more than decent form with his club too were he guided Real Madrid to victory in the absence of his attacking counterpart Cristiano Ronaldo. His pace will be key and the English defenders will have a hard time dealing with it, they'll need to close him down before he could start his run or else Joe Hart is going to have a very tough time between the sticks. The England side may hope to deal with him or at least hope he's not at his formidable best, but stopping him just doesn't end their troubles. Ashley Williams, Aaron Ramsey & Joe Allen are all excellent players and have shown it as the season drew its end. Joe Allen has been the super sub for Liverpool helping them more than once by coming off the bench to inject a bit of creativity and pace into the game. Writing off England is no option either; they have a formidable side with stars spread into every position in the field. Wayne Rooney is key to their success so far and the 30 year old skipper will look to take his side to glory as per their managers liking. Although England is a strong outfit, they have yet to prove themselves in a tournament situation as Roy Hodgson their manager rightly pointed out. PL top scorers Harry Kane and Jamie Vardy truly have the potential to step up and take the game into a whole different level. The game is surely one to look out for and fans should surely keep a reminder. Don't miss the action and be sure to catch it live in Sony Six. Interestingly, the Wales are favourites on paper, considering only the fans' reaction. Yet, England is favoured by most pundits as they feel England have the experience and backing to come out of any tough situation. It's yet to be found and I for one am surely excited! Both teams have something to prove but more to themselves than each other.