Here is the list of all time top goal scorers of England National Football Team. Nicknamed as The Three Lions, England is one of the most strongest, oldest and popular football teams in this sport. England is known as the joint oldest football team with Scotland. On 5th of March 1870, both teams played a representative game. Being one time champions of FIFA World Cup, England have played 14 World cup tournaments. Wembley football stadium is the home ground which is a multi-purpose stadium. Now it's time to know about the leading and highest all time top goal scorers of England football team. Take a look on the list of top 10 footballers which is given below.
England Top 10 All Time Goal Scorers List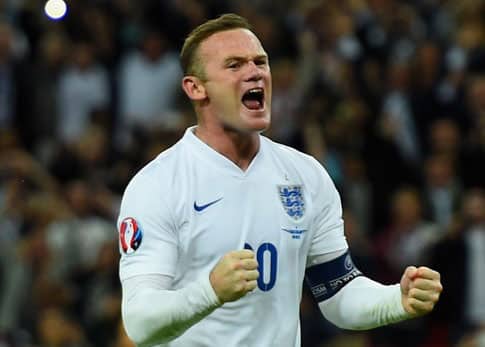 | | | | |
| --- | --- | --- | --- |
| Rank | Player Name | Goals | Matches |
| 1 | Wayne Rooney | 50 | 107 |
| 2 | Sir Bobby Charlton | 49 | 106 |
| 3 | Gary Lineker | 48 | 80 |
| 4 | Jimmy Greaves | 44 | 57 |
| 5 | Michael Owen | 40 | 89 |
| 6 | Nat Lofthouse | 30 | 33 |
| 6 | Alan Shearer | 30 | 63 |
| 6 | Tom Finney | 30 | 76 |
| 9 | Vivian Woodward | 29 | 23 |
| 9 | Frank Lampard | 29 | 106 |
Note: List was last updated on 12 September 2015
Manchester United's Wayne Rooney is the all time top goal scorer of England team. While playing against Switzerland, Wayne Rooney netted his 50th goal, surpassed the former leader Bobby Charlton with a penalty at Wembley stadium. It was a game of Euro 2016 qualifiers and with that win, England successfully qualified for the finals of UEFA Euro 2016 championship. This means, Sir Bobby Charlton is second most time goal scorers of England national football team.
Don't miss: England football team HD Wallpapers
Former Leicester City, Everton and Tottenham Hotspur player Gary Lineker is now the third highest goal scorer. The player used to play as a forward who netted 48 times on international duty in 80 appearances with goal score ratio of 0.6. Nat Lofthouse is the only player in this list with an average goal scoring rate of 0.9 [30 goals in 33 matches].
After that match Wayne Rooney said "When you create a bit of history it's a great feeling, obviously. I've been close to it in the last few games and to finally do it is a dream come true. I'm extremely proud. The record is a huge honour because Sir Bobby Charlton is an England and Manchester United legend. I know Sir Bobby will be extremely proud that a Manchester United captain has broken the record."
Wayne Rooney Can Score 70 Goals For England, Says Gary Lineker
Former England captain Gary Lineker have had some words for Wayne Rooney. He is confident that the current captain of England team can score 70 goals at international level. When Rooney netted the 50th goal, he said
"It's going to be a long time before anyone gets close to Wayne. He is still going so could take it to 60 or 70 if he maintains his fitness. It's a wonderful achievement for Wayne and he has been pretty consistent in terms of goal scoring since he burst on the scene in spectacular fashion."
The Britishers were the first to qualify for the European Championship 2016 via qualification round. They maintained their 100% performance in first eight matches in Euro qualifiers and booked their place in Euro 2016 which is going to be held in France.