A leading agency media of Spain has reported that the biggest football rivalry El Clasico will be hosted by India in 2015. Legends from Real Madrid & Barcelona will play an exhibition match next in 2015 [according to futbol.as.com]. These 2 clubs are one of the most popular in India. looking on this popularity, Spanish football federation have decided to gift a special present to their India fans.
El Clasico in India 2015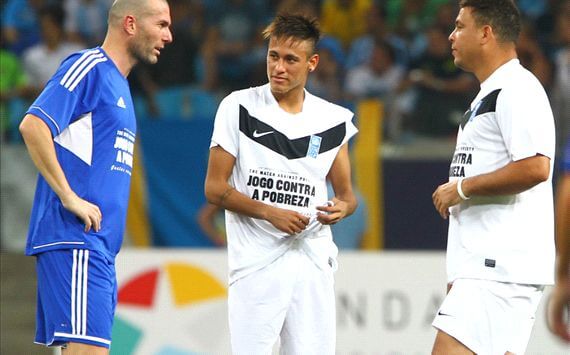 The presentation for this match was held on 24th of June in Madrid. In that presentation, the Indian Ambassador Mr. Sunil Lal was also there. Names of some Real Madrid & Barcelona legends also revealed who will pay this upcoming El Clasico in India. The actual date of this is not available right now, but it is expected to be played in March 2014 in New Delhi. Complete schedule is yet to be announced. Date: March 2015 [Expected] Venue: New Delhi For the first time in history of Indian football, the nation will organize one of the most awaited match between two Spanish giants. Also, India will also host the upcoming Under 17 FIFA World Cup in 2017. The fans will enjoy football at its best to see the veterans fight it out together in a match which would certainly be a crowd puller despite it being exhibition in nature. Legends of Real Madrid & Barcelona played last match against the Italian club Juventus on third June 2014. In that El Claisco, Salgado, Hierro, Makelele, Seedorf, Zinedine Zidane and Morientes made appearances. Former Los Blancos players Luis Figo, Zinedine Zidane, Roberto Carlos have played in last 12 months. On the other hand, Barcelona legends has included Gaizka Mendieta, Boudewijn Zenden and Miquel Angel Nadal have played in past. There are some words about few exhibition matches which will be played just before this clash. in 2014. Miami and Puerto Rico venues are selected to organize the upcoming exhibition games in 2014. La Liga is now becoming more popular in India because of its star power & world's best teams. Another Spanish club Atletico Madrid also stepped forward for financial & training help for newly formed Indian Super League club Atletico de Kolkata. Atletico Madrid also allowed for training session on its home ground Vicente Calderon.