Match date and time of El Clasico 2015–16 for La Liga have been announced. Here is scheduled fixture of Real Madrid vs Barcelona 2015–16 season with date and time in IST. The first leg is scheduled to be played at home ground of Real Madrid i.e. Santiago Bernabeu. Injured Lionel Messi is expected to play the first leg of El Clasico 2015–16 after picking up injury against Las Palmas. Having seating capacity of 81,044 spectators, the Santiago Bernabeu is expected to be jammed pack and why as two top teams from Spain are going to take on against each other.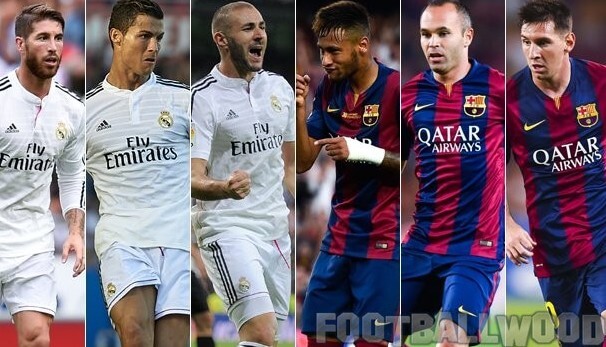 El Clasico 2015–16 Date, Time In IST
First Leg Of La Liga 2015–16
Date: 21 November 2015 [India] Time: 10:45 pm [IST] Telecast channels: Sony Six SD, Sony Six HD, Radio Barca etc. First leg of Real Madrid vs Barcelona of Liga BBVA is scheduled to be played on 21 Nov 2015. According to Indian Standard Time, it will begin at 10:45 pm. Indian TV channels Sony Six and Sony Six HD will provide the live telecast and live broadcasting.
Second Leg Of La Liga 2015–16
Date: 3 April 2016 Time: 12:00 am [IST] Telecast channels: Radio Barca, Sony ESPN, Sony Six, Sony Six HD, Sony Liv Read also: Real Madrid 2015–16 schedule in IST Home ground of Barcelona football club, Estadio Camp Nou will host the return leg on third April 2016. It is expected to being at 8:30 according to Indian timings. As Sony Kix holds the broadcasting rights of La Liga, this TV channel will provide the live broadcast of second leg.
Lionel Messi races against time to recover from injury
Argentine footballer Lionel Messi is doing everything possible to get recovered from injury. He will take time to recover and he is confident about making appearance against the Los Blancos. About his recovery , he said "I'm working on a day-by-day schedule, I prefer not to set any goals regarding my recovery. Since it's not up to me, I chose not to set a deadline. Even if I wanted to play tomorrow, the doctors would not allow me to, so this time I will do as they say and when the physicians tell me it's ok for me to play, then you'll see me on the pitch." There will be a minute of silence at the Santiago Bernabeu for the victims of France attack. Read also: Barcelona 2015–16 IST Schedule
First El Clasico of Zinedine Zidane
It will be first ever el clasico for Real Madrid's new manager Zinedine Zidane. The manager replaced Rafael Benitez this season and had decent start at Santiago Bernabeu. The vikings won two trophies in pre season friendlies and begun La Liga, Champions League seasons with couple of wins and unwanted draws. Former Real Madrid manager Carlo Ancelotti lost his first El Clasico. He won first trophy for Real Madrid [Copa Del Rey] after defeating Barcelona in the final. Gareth Bale was the man of the match who also lifted the first trophy for Real Madrid.