The Brazilian coach Dunga said his side do not have players who are making waves. He also said except Neymar, no other player have that much of talent to make Brazil a completely balanced football team. He admitted the Barcelona star is an increasingly rare talent, with the country failing to produce the quality for which they were once famed.
Brazil Coach Dunga: Neymar is Brazil's only superstar
Right from his childhood, Neymar showed his inner talent in front of football world. Neymar helped his national football team to reach the semi final round of 2014 FIFA World Cup. After getting injured in quarter final round against Colombia, Neymar missed the opportunity to play in semi final against Germany that went to 1–7 biggest defeat in history.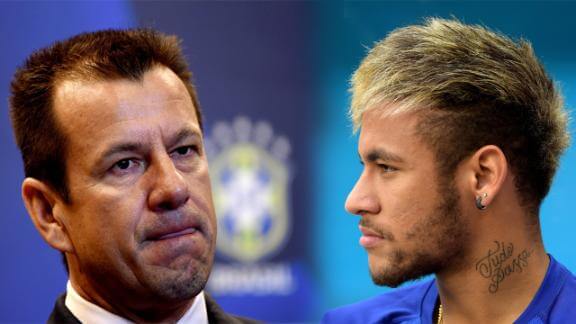 The 51 year old coach also admitted Brazil is no longer boast the array of attacking squad they once had. Dunga was announced as the new manager of Brazil National Football Team, returning to the position for the first time since the team's exit in the 2010
FIFA World Cup
. Dunga told to SporTV "What is happening in Brazilian football is that we used to have players who scored a lot of goals in Europe and who were points of references, but we no longer have players like that nowadays." "We used to have players like Careca, Ronaldo and Rivaldo, but countries like
Portugal
and Holland now produce those kinds of players. We do not have any players who are really making waves." "We only have Neymar at the moment. This is very worrying for Brazilian football. We need to have patience, though, and remain calm." Dunga have so much faith in Neymar that he announced the Barcelona's winger as the new captain of the team on 5th September 2014. He is most likely to lead the national team in the upcoming football competition of South America known as
Copa America
2015. Do you think
Neymar is the only superstar in Brazil
? If yes, then how will they perform in Copa America 2015 which is beginning from 11th June?