Real Madrid defeated Celta Vigo by 7–1 in a La Liga match at their home ground. The Portuguese winger scored four times. You can download the highlights video of Real Madrid vs Celta Vigo 7–1 as we are providing you a link. It was a tight first half for the home side, but the another Portuguese Pepe came forward and broke the deadlock in the 41st minute. Latest, all next four goals scored by Cristiano Ronaldo with one goal from Jese Rodriguez and Gareth Bale.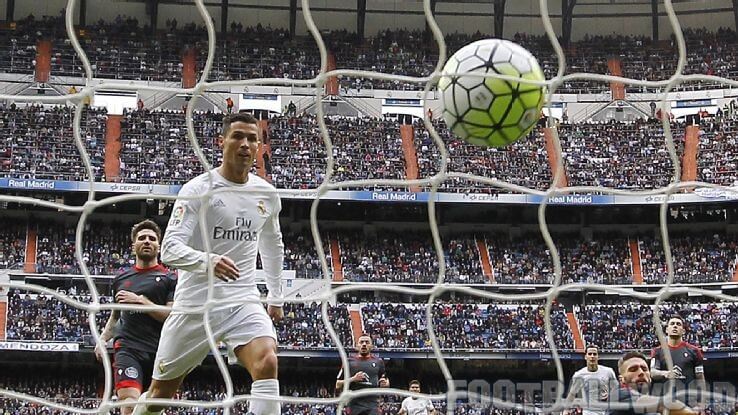 Download Real Madrid Vs Celta Vigo 7–1 Goals Highlights Video
This is the fifth hat-trick of Cristiano Ronaldo in all competition that counts 39 which means he has again taken the lead over Lionel Messi for scoring most hat-tricks in La Liga. He scored three goals within the interval of 15 minutes. Cristiano Ronaldo has scored 27 goals in La Liga this season and is second only to Lionel Messi in the league's all time standings after surpassing the 251 of former Athletic Bilbao striker Telmo Zarra.
Given below is the video of Real Madrid vs Celta Vigo 7–1 all goals in highlights. Watch the video and enjoy. A download link is also given at the bottom of video. https://youtu.be/JO07BIyEYdg Download video Celta Vigo fought well in first 401 minutes, but Pepe's first goal provided momentum to the team. It was a good night for Gareth Bale who made return after long term injury. The Welshman scored the last goal in Real Madrid vs Celta Vigo game. He has now scored 10 goals in last six games for Real Madrid.
After the brilliant performance, club manager Zinedine Zidane said "You know Cristiano, he is capable of scoring four goals and there are very few people capable of doing that. That is why he is unique. It is part of football that the fans whistle now and then." "They are demanding fans, but at the same time they know their players well and always want more. That is good to help us improve and do more." Line-ups Real Madrid: Navas, Carvajal, Ramos, Pepe, Danilo, Kovacic, Casemiro, Isco, Vazquez, Mayoral Moya, Ronaldo Celta Vigo: Blanco Veiga, Castro Otto, Mallo Novegil, Gomez Sola, Planas Antolinez, Wass, Diaz, Orellana Valenzuela, Hernandez, Agudo Duran, Iago Aspas.