Cristiano Ronaldo Android operating system theme for smartphone users.
If you are looking for a cool and high definition Android theme of Cristiano Ronaldo for your smartphone, then you have just landed to correct place. Here we are providing you the complete procedure of how to download Android theme of CR7. These days Android phones are become an essential part of our daily routines. They keeps us up-to-date. Themes are the elements that gives your smartphone extra attractiveness. So why wait more, let's have a look on this new theme of Ronaldo which is specially designed for Android based smartphone.
This is the brand new Android theme of Real Madrid forward Cristiano Ronaldo. Now make your device more impressive with this new theme featured with current best player in which each and every icon is arranged in symmetrical manner. This theme is mainly designed with dark orange application.
For the background, Ronaldo's portrait is there. It is supportable for Android 4.2 or above versions. Given below is the of this Cristiano Ronaldo theme, The Portuguese football team theme.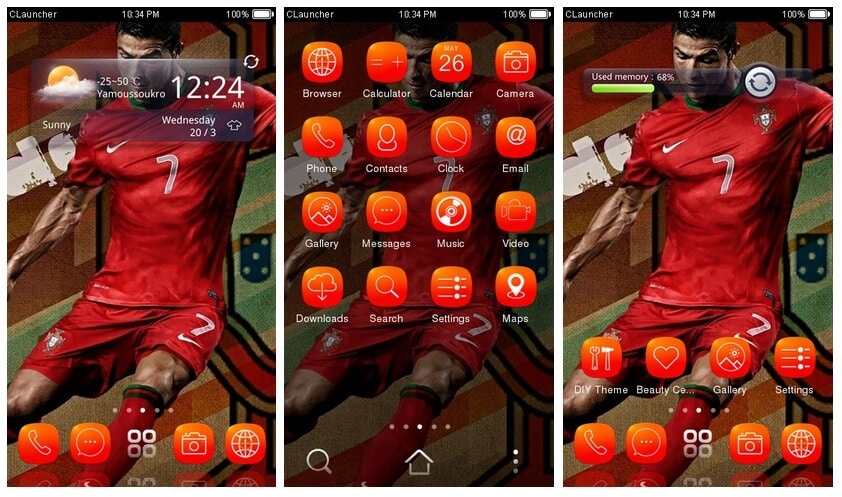 How to download Android theme of Cristiano Ronaldo?
Right now, this theme is available on www.c‑launcher from where you can save and install it to your device. To download this theme, all you have to do is just follow the simple steps which are provided below.
Save theme from here: Download Cristiano Ronaldo Android theme

Click on the above link and you will land to a new page where it is available for your device.

Click on pink color "download" button and it will be automatically saved to your Android phone.

After downloading, just open this theme and install it to your cell phone. Now set this theme as your primary and enjoy.
So download this theme of Ronaldo and share it with other Ronaldo's fans. If you have any other theme of CR7, then you can share it on the comment box below.